SuperChop Games' Ephemerid: A Musical Adventure began life as "Ambiguous Creature Project," inspired by the idea of a living thing that fluttered where the player touched.
Now the game -- "a rock fairy tale about a paper mayfly" -- is up for an Excellence in Audio award at this year's Independent Games Festival thanks to its unusual classical guitar soundtrack. The world of Ephemerid is hand-crafted and unique, made of paper, chalk, glass and other materials. As part of our ongoing series of interviews with IGF nominees, we catch up with the team's Brent Calhoun and Matt Meyer to discuss the game.
What's your background in game development, and what brought you to create Ephemerid?
Matt Meyer: I moved to Austin five years ago and got a phone running this new thing called "Android." I'd been writing software for many years, and it seemed like a fun idea to make something for my phone. So, I made a couple of quick and simple games on Android. They were all pretty bad, but I had proven to myself that it was doable. With this newfound presumption, I started thinking about a new, more intentional, game idea.
The new idea revolved around interesting and personal interactions with a little flying creature on a touch device. When Brent heard about it, he offered to help and I asked if he'd be interested in doing the art.
Brent Calhoun: I had no prior experience with development, just a misspent youth that became a lifelong love affair with games. Matt needed an artist and I thought "How hard could it be?" Turns out, "unbelievably hard" is the answer.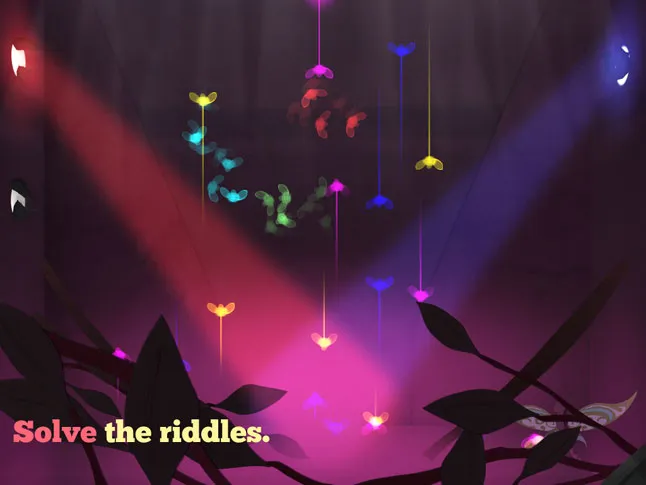 What tools did you use?
MM: Though the game started with me writing a custom engine in Objective C, I realized after a few months that it was a foolish idea. Switching to Unity allowed me to focus more on the game code itself, and was essential in our port to PC (on Steam soon).
The music was composed almost exclusively with an Ibanez guitar, Logic Pro, and a keyboard. Halfway through writing the album, I purchased a cheap little Scarlett preamp. It helped with the guitar sound, but also meant I had to re-record all of the existing guitar tracks.
BC: I used a Canon DSLR, a ton of papercrafts, and an image application called Pixelmator because I am far too cheap for Photoshop. Unity made it easy for a non-programmer like me to still muck about and work on the game.
How long did you spend working on Ephemerid?
MM: Ephemerid development started in 2011. Though it was around three years until its release on iPad, there have been substantial chunks of time where I took contract work to pay the bills, and other times where we were preparing for and traveling to events. In all, it was probably more like two solid years of development time.
Since it passed Greenlight on Steam a few months back, there has been extra time put toward porting the game to PC. Luckily, it's a very similar experience on PC, and the port has gone smoothly.
I love the idea of a classical rock opera in a game. How did it come together?
MM: Honestly, the first time I saw someone refer to Ephemerid as a "rock opera," it put a big ol' smile on my face. We hadn't necessarily thought of it that way, but it's a pretty accurate description. Even though Ephemerid is a game without words, it follows an intensely musical and dramatic journey of a vagabond mayfly.
I grew up listening to heavy metal and classical music, which had a big influence on my compositions. Another factor was that there simply aren't enough games with hard rock soundtracks and wailing guitar solos out there. Needless to say, we happily adopted the rock opera description when talking about the game.
How do the challenges and the music work together to create the experience?
MM: This was perhaps the single most important factor for us. We wanted Ephemerid to be just as much as musical album as a video game. For that to happen, the integration of music and interaction had to be seamless. And for that to happen, Ephemerid was developed almost exclusively by writing the music first, and creating gameplay around it.
This led to a lot of difficult decisions which made the game harder to develop, but also unlike anything we'd ever seen. There are no words, no fail states, no tutorials, no abstract visual music queues (think pulsing circles or moving lines), no abstract audio queues (think guitar screeches on failure), and very few adjustments to the musical tracks as they were originally written.
Any prototypes that didn't serve those goals were thrown out indiscriminately. It hurts to discard large chunks of work, but Ephemerid is a much tighter experience for it.
The visuals are all real handicrafts, right? What made you decide on that approach? Was it hard to do?
BC: Yeah, almost everything in the game is made of paper, chalk, paint and glass. I would craft elements by hand then shoot them with my camera to bring them into the game. The idea came from us wanting to make the game feel tactile. It sort of grounds the game in a reality. It was challenging, but I found it helpful to work within the limitations, it forced me to come up with some creative solutions. I learned a ton.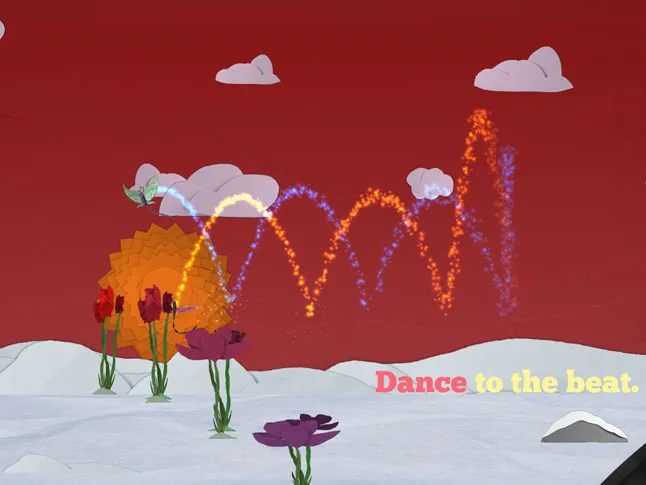 Is there anything about the game you'd have done differently, or want to implement in the future?
MM: We're proud of how Ephemerid turned out, and probably wouldn't change much about the game itself. There are some rough edges here and there, but there is nothing in the game that isn't intentional. When you spend three years making a 50-minute game, there's a reason for every pixel.
There have been plenty of requests for more story following our hero mayfly. That's something that we'll consider after the post-launch work on Ephemerid is complete.
BC: We approached the game with this super idealistic fervor. We shared this very precise vision of what we wanted to create. It was almost quixotic -- We launched ourselves at windmill after windmill. Looking back at it, I am shocked that it worked out. The limits we placed on ourselves, the goals that we set, these things increased our workload massively, but when I look at the final game I don't think there was any other way to get here.
Have you played any of the other IGF finalists? Any you've particularly enjoyed?
MM: We both had a chance to play Killer Queen back at IndieCade 2013. I recall everyone within a 20 meter radius of that game having a blast. I'd love to play it again.
Sadly, being so embedded in the developing our own game can make it difficult to explore all the other great games out there. I'll also be keeping an eye out for the nominees which have yet to be released.
BC: Every time I have had the chance to play Donut County, it has put a big smile on my face. Framed is such a sharp game; it's executed amazingly well. And I am super pumped that more people will get the opportunity to play Killer Queen. That game is special. I can't think of a better way 10 people can spend five minutes of their lives than by screaming their heads of at that pixelated snail.