This interview is part of our Road to the IGF series. You can find the rest by clicking here.
Keep Talking and Nobody Explodes is a uniquely tense and clever local multiplayer VR experience. It casts one player as the "defuser," who straps on a headset to interact with a briefcase bomb that's slowly ticking down to explode o'clock. It also casts one (or more) players in the role of "experts," who must verbally relay instructions to the defuser as they frantically flip through the hilariously abstruse and complex Bomb Defusal Manual. (You can also play sans VR, with the defuser looking at a computer screen, but that reduces the nerve wracking hilarity a tad.)
The game was nominated for Independent Game Festival award in the categories Design, Nuovo, and Seumas McNally Grand Prize. It was also nominated for Best Debut in the Game Developers Choice Awards.
Ben Kane, Brian Fetter, and Allen Pestaluky of Steel Crate Games answered some questions about Keep Talking and Nobody Explodes for Gamasutra.
What's your background in making games?
Ben Kane: My first foray into making games was in the form of modifying Half-Life, which at the time I felt didn't include enough Pokemon nor Steven Seagal. I ended up pursuing a degree in software engineering, which I suppose lands me in the "programmer" category, but as any indie will tell you, you end up wearing a heck of a lot of hats making games. I've been making games professionally for about seven years now -- the first two with Electronic Arts and surviving as an independent developer since then, largely making games for Xbox Live Indie Games such as DLC Quest.

Brian Fetter: This is actually my first real game. Previously I'd only made a few small prototypes while trying to learn how to use Unity in order to do virtual reality development. Prior to this I went to Carleton University for computer science and then worked as a software engineer at IBM for eight years, and independently for two.

Allen Pestaluky: I started off with a few university game projects: a bunch of simple Javascript/Flash games, a 3D racing game, a 3D arcade-adventure, and a 3D RTS. I got the chance to work on lots of video game projects in my program at Carleton University/Algonquin College (bIT, Interactive Multimedia and Design). With every one of my school projects I was compelled to make a game that was notably different than any other game I had played before, even though I de-risked the projects by building off of existing genres. I figured that there wasn't any point to making a game that had already been made by someone else.

After finishing up school I immediately started work at the local mobile game company, Magmic, where I worked for almost three years and developed my abilities as a programmer. On January 24, 2014 I took part in the Global Game Jam with a couple acquaintances from the local indie scene and the rest is history.


What development tools did you use/are you using?
Ben: Our team uses Unity for Keep Talking and Nobody Explodes. The usual stalwarts like Visual Studio, Maya, Photoshop, Sony Vegas, and others are all part of the toolbox too, so there's nothing too out of the ordinary. We make liberal use of things like Github, Google Drive, Trello, Skype and Slack to keep things running smoothly. Perhaps the most unusual aspect is how important HTML/CSS/PHP is to our project. The manual, and its layout and browser compatibility, is hugely important piece of the puzzle.
How much time did you spend working on the game?
Ben: The core team (Allen, Brian, and myself) have been working on the game full-time since shortly after we came up with the original prototype. We recently celebrated our two-year anniversary and we still have a lot of work ahead of us!
How exactly did you come up with the concept of this game?
Ben: Keep Talking and Nobody Explodes is a product of the 2014 Global Game Jam. We had a couple of Oculus Rift development kits and we were fiercely determined to use them for whatever game concept we came up with. Virtual Reality was still a rarity at that point though, so we quickly found ourselves putting other developers in VR to try out a roller coaster demo. It didn't take long for a crowd to form and soon we had a dozen people watching one person wearing a headset. The player in VR was having a great time! The observers? Not so much. We decided to make a game where the spectators could be involved in some way and really take advantage of the differing viewpoint they had. The crux would be that each side, VR and non-VR, would have different pieces of information and they would need to work together to solve a puzzle. A lot of scenarios came to mind but the concept of bomb defusing sounded the most exciting -- and the most doable in the 48 hours we had for the jam.
At what point did you realize in development that this is a concept that works great in practice?
Ben: At the end of the game jam, all the participating teams made a brief presentation and showed off their work while some members of the community tried out the game. When it came to our game, we pulled out a camera and filmed what was essentially the first real playthrough of the game. The reaction was fantastic and gave us an inkling that we might be on to something. We posted the video to YouTube and got something like 150K views in a few days. That was the moment where we decided to meet up again and have a more serious chat about where to take this thing next.


What are some of the most memorable interactions you've seen happen between players?
Ben: The most amusing to me is when couples get into heated arguments as their game spirals out of control. They always instantly switch to enthusiastically and pleasantly thanking us for the demo, before reverting to arguing as they walk away. Sometimes they'll show up again later to try again and you can tell that redemption has been the subject of the day since they left. Oh, and seeing kids chastise their parents for making mistakes is great fun too.

Brian: Penn Jillette from Penn and Teller was checking out some games at PlayStation Experience with his wife Emily accompanying him. When they came to our game I informed them that they would be playing together, whereas previously Emily hadn't participated. As Emily had not had much experience playing games before she chose to read the manual. After the round ended she had become so involved in the game that as Penn was about to walk off she called him back so that he would read the manual for her while she defused the bomb. This seemed to surprise him.

After the game was over she came over and told me that she had never played video games before in her life but that this was a game that she was looking forward to playing again in the future. It's exciting to me to see that people without much experience with video games can connect so much to ours.

Allen: Watching Ben and Brian play together. There were definitely a number of "you had to be there" moments that were simply hilarious. I think that's what makes Keep Talking and Nobody Explodes so valuable. It's the stories that you build on top of existing relationships that are the most deep and valuable. Also, LtHummus and his bomb squad are fantastic to watch, both in-person and on stream.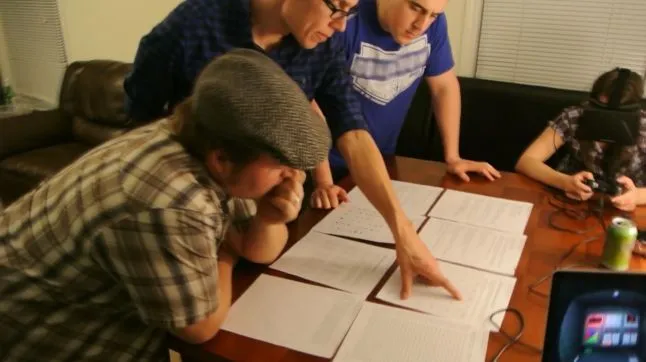 Have you played any of the other IGF finalists? Any games you've particularly enjoyed?
Ben: I think a common theme here will be, "I haven't had time to try them yet!". I know my backlog got a bit bigger when the finalists list came out. I have had a chance to play Fantastic Contraption with a friend, which has a wonderfully magical curiosity to it. It's a tough feeling to pin down but it's one I hope everybody gets a chance to experience.

Brian: Embarrassingly I've only had the chance to play a few of the finalists. I really liked Mini Metro's aesthetic and found Her Story's writing and structure very engrossing.

Allen: I try to make a habit of trying all the IGF finalists every year, but am a bit behind on trying out the games so far. But since I have an HTC Vive dev kit, I've had the chance to try Fantastic Contraption, which is one of my favorite VR experiences so far. There's something absolutely magical about sitting on the floor creating something that makes me feel like a child again. People say Minecraft is like Lego for today's generation of kids, but I think Fantastic Contraption reminds me most of the childhood feelings that I had with Lego.
Don't forget check out the rest of our Road to the IGF series right here.