Loveshack's FRAMED is one of those perfect marriages between hardware and software that tablet and mobile devices have seen far too little of over the past few years. Adopting a comic-book style, FRAMED has you rearrange the panels of the story to rearrange the story itself. It's incredibly intuitive, and constantly surprising as you see the results of your changes have a sort of butterfly effect on the events of the page.
Nominated for the Excellence in Design award at this year's IGF Main Competition, it's not hard to see how the elegance of its systems earned it the accolade of a nomination.
With pedigree from EA, Bullfrog, and Lionhead behind them, the team at Loveshack certainly had the experience necessary to go it alone. FRAMED itself has done particularly well, earning numerous awards from multiple different tradeshows and publications. I caught up with Joshua Boggs, Loveshack's coder and designer, to talk about FRAMED as part of our Road to the IGF series of interviews.
What is your background making games?
We all met while working together at EA and have experience as both designers and programmers/artists/composers. Prior to working together, Adrian worked at Bullfrog, Lionhead and a bunch of other places in England prior to making the move to Australia. Ollie previously worked at Atari House in Melbourne in QA and Design, while pursuing a rock'n'roll career in parallel. While Stu is the most talented animator we've ever worked with (he did all the animations in FRAMED by hand)!
What development tools did you use?
We bootstrapped everything we could. We're big proponents of iterating and paper prototyping so all our levels are designed on paper with little stickmen and paper cut-outs. Art and animation wise we primarily just used Photoshop, and Stuart Lloyd (our animator) used Premier and 3DSMAX. Adrian (our audio/composer) also used Reason and for mixing and composing the soundtrack.
How long have you been working on the game?
We went into full production in March 2013, so it was about 18 months of full time work.
How did you come up with the concept?
FRAMED is a game that revolves around manipulating a sequence of events. It all started with an idea about having ambiguous actions and then letting the player define the meaning of those actions through the order of events. Panels are a great way to encapsulate an action or event, so the comic metaphor grew naturally out of it.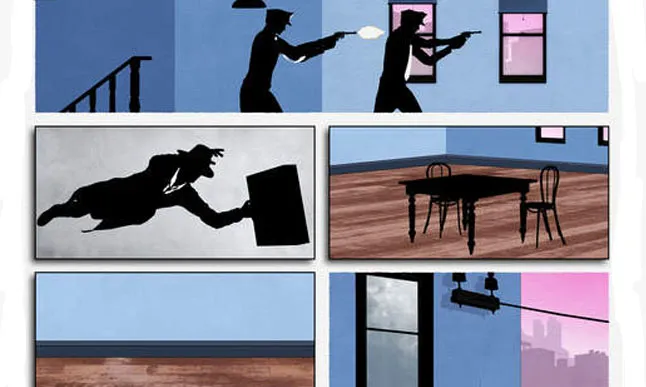 The amount of work to put in "failure" panels in FRAMED must have been enormous. How do you perceive that time investment's effect on the final game?
Oh, people love it! A key to the game is having the game being able to adapt to any order the panels are placed in. So the amount of work invested in the 'failures' was a key part of the design of the game. They also add a bunch of comedy and encourage players to explore the different outcomes a particular scene may have.
One of the most powerful aspect of FRAMED is how comfortable the touch controls are. What was the process of getting that just right?
Loads of playtesting at shows. I spent a decent amount of time tweaking the feel and feedback of moving panels (especially the rotating panels) so that it felt really natural and fit the touch interface. Most of the communication in the game is subtle and non verbal, which helps in making it feel natural and comfortable; you comprehend it at a subconscious level.
This feels like the year where iOS really came into its own, with some really impressive and well designed games being released. What do you think changed?
We feel that iOS has matured as a platform. With the audience as big as it is there's also much larger 'niche' audiences that are looking for different experiences, which means that we can create interesting experiences without having to tailor to any particular monetisation model - we can make great games tailored to the platform.
Have you played any of the other IGF finalists? Any games you've particularly enjoyed?
I'm so impressed with the lineup this year. It's a real honour. I personally love 80 Days, and am currently playing through The Talos Principle. I remember playing Killer Queen during a party at GDC last year which was a great time. Sailor's Dream (along with pretty much anything Simogo do), and Bounden are big iOS standouts for us too.