This interview is part of our Road to the IGF series. You can find the rest by clicking here.
"Out of the frying pan and into the fire" should be the unofficial mantra of Ghost Town Game's recent hit, Overcooked; a local-multiplayer cooking game that's charming and chaotic in equal measure.
Deceptively simple, Overcooked lures played in by asking them to work as a team to serve up a range of delectable dishes in a restaurant overflowing with hungry customers. How hard could it possibly be? There's four of you, after all.
Well, unless you're a team player, the answer is "improbably, painstakingly difficult." That's because Overcooked designers Phil Duncan and Oli De-Vine wanted to create a game that placed co-operation at its core, forcing players to work together and communicate to succeed in the cut-throat world of catering.
It's a design philosophy hat earned the Ghost Town team two nominations at this year's Independent Game Festival, with Overcooked receiving nods for the Excellence in Design Award and the Seumas McNally Grand Prize.
So, to learn more about how the studio created such a pure co-op experience, Gamasutra caught up with Duncan to dig deep into Overcooked's design and game dev processes.
What's your background in making games?
Oli (De-Vine) and I both worked together at Frontier Developments before starting Ghost Town Games (Oli was a coder and I was a designer there) We worked there for about eight years and we'd been making prototypes together for the last three to four years. We'd both been involved in various aspects of games development before then, but it was at Frontier that we started to get a feel for the type of games we wanted to create.
How did you come up with the concept?
We knew we wanted to make a co-operative game from the start, we used to meet up at lunch time with a group of friends and play multiplayer games together and we always felt the type of co-operative experience we wanted was in really short supply. Cooking just seemed like the perfect analogy for the experience we wanted. Having worked in various kitchen I knew first hand that it involved lots of teamwork, there was a lot of vocal communication and that when time was against you it would invariably end in lots and lots of shouting.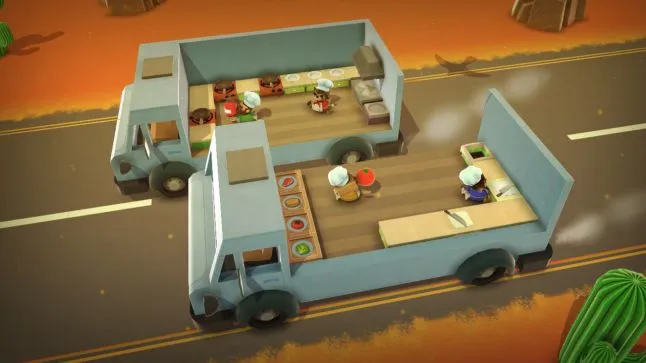 What development tools were used to build your game?
We built the game in Unity, it was an engine we were both familiar with and had used for projects in the past. It matched the project really well too as it allowed us to really quickly implement new ideas and features to see how well they worked with players. On top of that we also used, Maya, Photoshop, Google docs and Just Eat.
How much time did you spend working on the game?
Overall we worked on the game full time for about 18 months, starting in March 2015 right up until the release in August 2016
What drove you to make a co-operative, local multiplayer title? Were there any other games in particular that inspired you?
I've always been a fan of co-operative games and co-operative experiences in general. I really like sharing a challenge with my friends, that feeling that your combined experience and your ability to work well as a team means you can accomplish more than you could if you were on your own. I think we wanted to capture that with the game, rather than just make a game where one player could carry the rest of the team, with Overcooked all players are equally responsible for the success of the team.

I'm sure there are lots of different games which inspired us along the way, games like Space Team, an Xbox Indie game called Storage Inc, Lovers in a Dangerous Spacetime, there's even bits of Mario Kart and The Last of Us that were brought up as reference at various points during development.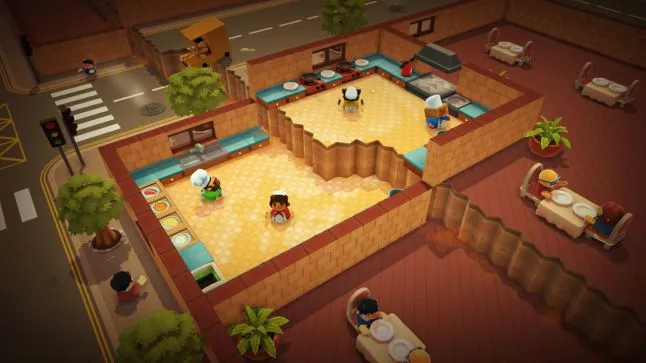 From a design point of view, what steps did you take to ensure Overcooked's competitive and co-operative aspects struck the perfect balance? How did you know when you'd hit on the right formula?
It was a real balancing act, we were constantly adjusting the ratio of freedom and restriction that we gave the players. At one point you could put as many ingredients as you wanted into a pan or into a burger, there were just so many different ways that the players could make a mistake on an order that we ended up having to add restrictions to stop players feeling frustrated.
At the same time if you restricted the players too much they wouldn't feel as attached to the experience so we needed to be sure we didn't go too far. We spent a lot of time making adjustments to this basic flow, putting the game in front of players, judging their reaction and then making more adjustments. I think we knew we'd hit a sweet spot when our friends still wanted to play the game without us having to bribe them with pizza.
How did that desire to create a co-operative experience impact your approach to level design? Were you refining gameplay and working on levels simultaneously, or did one come before the other?
At least initially we spent a lot of time working on both simultaneously. Occasionally we would add a mechanic, or introduce a change that would require a level to be completely redesigned or in some cases scrapped entirely. When designing levels we would generally work backwards: consider what experience we wanted to give the player and then shape the level to try and give them that.

One of the most difficult aspects was balancing the scoring for our levels. We have different scores boundaries for 1,2,3 and 4 players for all our 30+ levels. Which meant if you made a simple change to the game (change the movement speed or the chopping speed) suddenly all the scores in the game would need to be adjusted... that happened quite a few times in the last few weeks of development.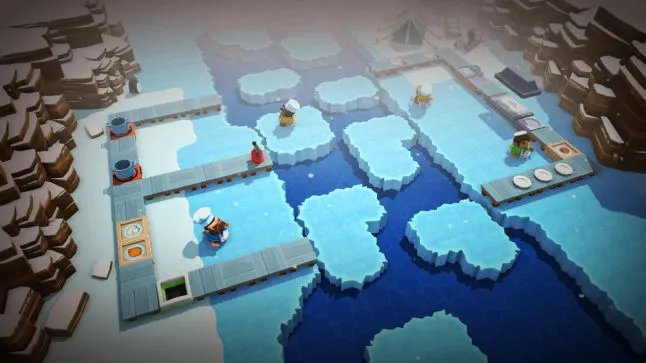 Have you played any of the other IGF finalists? Any games you've particularly enjoyed?
The list of finalists this year reads as a who's who of games I really want to play but haven't had the time. We haven't really stopped working on the game since the release last August, but we've had a bit more time this year to catch up on various titles we'd missed. Games like Inside and Hyper Light Drifter were really impressive, but honestly there's just so many games on the list that I know I'll love and I can't wait to play.
What do you think are the biggest hurdles (and opportunities) for indie devs today?
It's a constantly changing landscape so it's hard to say exactly what the biggest hurdles are on any given day. It's true there are a lot more independent games being produced these days but as a result of that there are more sub genres of games emerging and more players being introduced to games than ever before. In terms of opportunities, the good news is that a lot of individuals and organizations are out there to help independent developers who are struggling with particular aspects of the game development process, be that, funding, marketing, PR etc.