Goodbye Volcano High, a cinematic narrative adventure about love, change, and the end of an era featuring a cast of anthropomorphic dinosaurs, has undergone something of a metamorphosis since developer Ko_op revealed the project back in 2020.
The beautiful coming-of-age tale, which features a branching narrative and hand-drawn art, wants to ask some big questions about where we–and specifically younger people–fit in a world that seems to have become a ticking political, economic, and ecological time bomb.
In seeking answers, however, Ko_op says the narrative became "unwieldy," resulting in the studio bringing narrative director Jenna Yow into the fold to rescope those story beats without compromising the title's core themes.
"We wanted to tell a story that resonated with people, especially Gen Z," explains Yow, speaking to Game Developer earlier this year. "I'm a member of Gen Z [...] and I basically grew up staring down the barrel of climate change. I graduated school when Trump was inaugurated, and then I graduated college after the first full year of the pandemic.
"I have experience with being a queer teenager with creative ambitions, like our main character Fang, and feeling like that's at odds with the state of the world and what I'll actually be able to accomplish in the time we have left. Of course, in Goodbye Volcano High, it's a bit more literal because there's a meteor coming to end things, but I feel like a lot of media that's made for teens and young adults doesn't really encapsulate that feeling."
Yow suggests that a lot of media portrays younger people as more political, which some might say rings true, but also angry and naïve instead of desperate and hopeless. It was something Goodbye Volcano High lacked in its early stages, resulting in them asking the question: if these characters were real people dealing with a real apocalypse, what would they actually prioritize?
"Music is a big component of our game, and the creative ambition of being in a band and kick-starting a musical career. But how do you reconcile those ambitions and dreams with your actual reality? How do you hold onto each other in the end, when not everybody gets what they want? All of us are facing those same issues," Yow continues, highlighting how they were forced to grapple with those rather heady questions to create something that felt, above all else, honest.
The end of the world as we know it
By the time Yow joined the project, there were already storyboards in place that detailed the broad narrative structure, but the characters themselves needed fleshing out. That meant attempting to understand each one by comparing and contrasting them, categorizing their views, drawing parallels where possible, and emphasizing when they're likely to come into direct conflict–before intertwining all of those elements to weave the story together.
"The team had a pretty solid image of these characters from the jump, so it didn't take a long time for me to learn about them. But I had to understand where they differed and where they aligned and then figure out my own opinions on the cast. My opinions were also informed by the needs of the story, and where we needed to get in order to ship," they add.
Although the title employs a branching narrative, it's also made clear that the end of the world is imminent. That's why Ko_op chose to focus on the characters themselves, and the relationships they have with each other. "There's minor instances of branching, especially in the early game before the reality of the meteor has set in, but as the game nears its endpoint and nears the apocalypse things get more condensed and streamlined because options are limited," continues Yow. "[That's why] we focused a lot more on the relationships of the characters and their affinity with each other, as a matter of choice for the player."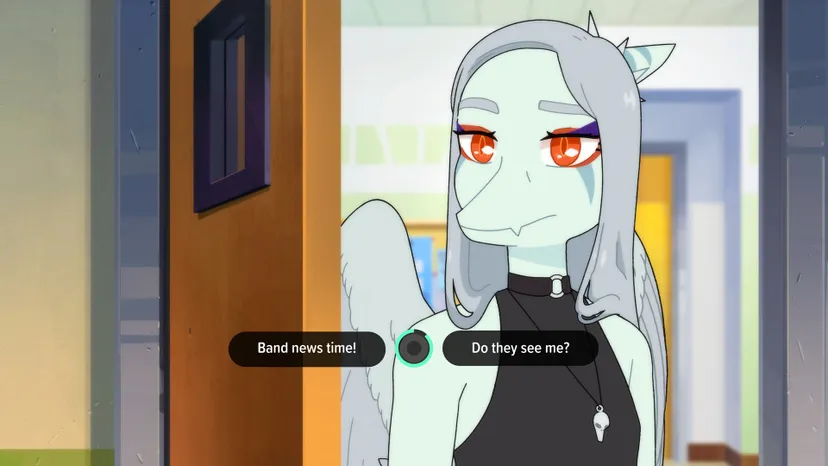 To make players care about those relationships, Yow explains they wanted to "cement their identities." They add that, for a long time, some character traits–including their sexuality and gender identity–were left open to interpretation, but Yow felt the team needed to be more explicit to better serve both players and the story itself.
"We know the main character of our game is queer and non-binary, but the rest of the core cast was left up to the interpretation of the audience. While that's a reasonable thing to do, and in a lot of instances is a representation of diversity, it actually means more to people that you concretely say, 'yes, this person is queer'," they say.
"There are some characters where we haven't officially stated anything about their identity, because we're alluding to the idea that maybe if they had their whole life ahead of them, they could have discovered other identities. But honing in on these characters and what facets of themselves are important and resonate with each other was really important, and allowed me to channel my own experiences as a non-binary person, meeting other trans people and queer people and growing up as a queer teenager."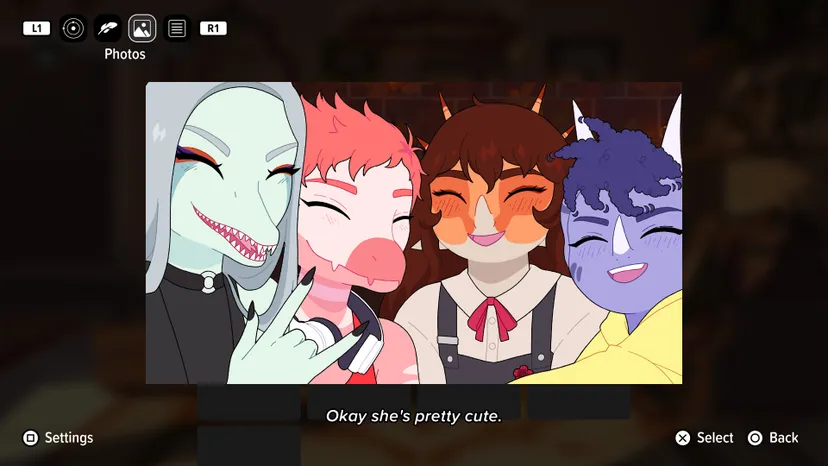 For Yow, the payoff was clear to see. They explain the more intimate scenes between characters, where they discuss their identities, are a personal highlight, and say both the positive and negative emotions showcased throughout the story feel punchier–thanks, in no small part, to the talented voice cast that bring each character to life.
Reflecting on the project as a whole as we approach launch (June 13, for those who want to know), Yow implores other developers to write everything with the knowledge that it might get cut later. Perhaps that sounds cynical, but given Yow was brought on to unburden a project that was buckling under its own narrative weight, they suggest it'll save you some heartache further down the line.
"If everything you write serves multiple purposes, it means that if you remove one part the whole thing won't come crashing down," Yow adds. "If there's one thing that become the crux of all the weight of the narrative, that's not great. It also makes for a more balanced story with more consistent threads, and also makes it easier for you, if you decided you have to scope down later on."