Game:
Ancient Dangers: A Bat's Tale

Developer:
Media Molecule
Publisher:
Sony Interactive Entertainment

Release Date:
11/30/2021
Platforms:
PS4/PS5 (
Dreams
)
Number of Developers:
Core team of 10 -- additional support of 11 plus QA team
Length of Development:
18 months
Development Tools:
Dreams
(PS4)
Who?
Richard Franke was Lead Designer/Game Director on Ancient Dangers: A Bat's Tale for Media Molecule. He can also be found parading around in drag as alter ego 'Kitty Powers'.
Catherine Woolley was a Designer on Ancient Dangers: A Bat's Tale and DreamsShaping Reshaped for Media Molecule.
Introduction

Richard: Like LittleBigPlanet before it, Dreams is a broad and unusual thing -- it not only offers players things to play and experience, but the chance to make and share their own creations. As such, our approach to our dungeon crawling adventure Ancient Dangers: A Bat's Tale had to be multi-dimensional; the release needed to offer something that felt great to play, but that also catered to the potential creators out there!
The evolution of Dreams' create kits
Richard: Ancient Dangers: A Bat's Tale was always intended to be part of our series of kits. Available in the Dreamiverse -- basically, our searchable in-game database of everything ever made by anyone in Dreams -- these are Media Molecule-made themed collections of assets, music, gameplay gadgets and other bits that anyone can easily put together to make their own games. Our kits began with Ancient Times, Dreamiverse Dash and Welcome Home during the beta, and continued with Welcome Garden and Ancient Temple upon official release. These kits evolved over time, as we became accustomed to what was useful to Dreams' "create" audience. Previously, the kit always came first, followed by development of the playable example levels. But with Ancient Dangers, there was a switch about a third of the way into development where we decided to focus on the playable content as a priority. I think this was because doing it the other way around had previously led to playable content that felt somewhat compromised by the fact that the kit had come first.
We also had feedback that our studio director Siobhan Reddy was passionate about addressing: we needed more trials and danger for the kits, things for creators to have their players overcome. Previously, the kits had been much more art-focused; with this new crop we wanted to add more contraptions, music, sound effects, enemies and hazards. Welcome Garden started this trend, but Ancient Dangers was to take it to the next level.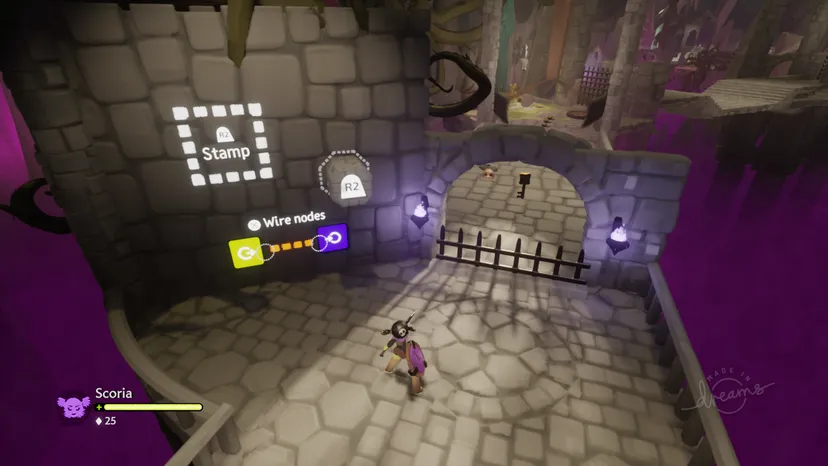 Catherine: I was lucky to be working with Richard on the Kits team, as we called it, after finishing up with him on the Dreamshaping Workshop -- a collection of tutorials designed to help out new users to Dreams wanting to get their hands dirty with creating.
Welcome Garden was a real evolution from the beta creations we made, as we had more time to create a game out of it, and Ash & Rowan's adventure was great -- although we did find a lot of users felt cheated by the abrupt end (sorry!). So we immediately knew the next game had to one-up Welcome Garden!
From the get-go, we were going for a different genre and creating a new set of mechanics for whatever our characters would be -- but we were making it in the mind of being a kit first again. This did make designing areas a little challenging, as if you're trying to keep things simple and easy for players to understand, you lose out on some of the polish you'd expect.
Something for our "play" audience
Richard: There was a general feeling that our "play" audience needed some Mm sugar poured on them, as it had been a while since Art's Dream had been released, and we had had plenty of feedback that we could try to react to with a sizable piece of new content. Creating isn't everyone's cup of tea, and not everyone is drawn to that side of Dreams -- but an official Mm game release could reconnect with our "play" audience and maybe draw some new eyes.
On a personal level, I wanted to add some replay value and gameplay depth to this next game -- reasons to come back and compete (albeit asynchronously) with other players. Once it was established that we were moving forward with the dungeon crawler, local cooperative play was a popular concept for me and Mm's creative director Mark Healey, having both grown up with Gauntlet. Social play is always important to us at Media Molecule, and we hadn't really pushed that button with Art's Dream. Art's Dream was also much more a demonstration of the capabilities of Dreams as a tool; with Ancient Dangers, we instead wanted to focus in on a more limited scope of core gameplay and achieve greater depth within it.
Catherine: When the decision was made to go game first, any form of worries went out the window. The next steps were to add to what we already had, and iterate until it felt better.
At this time I was working on Ancient Dangers solely. We added new enemies, created levels, refined character mechanics and added the Berserk mode after a super-fun team jam when we wanted to see how we could push the combat system.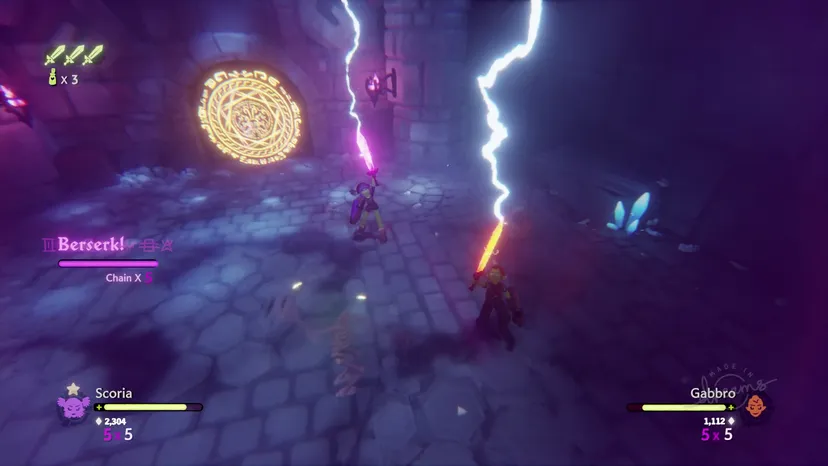 The need to reshape DreamShaping
Richard: After the change in priority from kit to game, there was a push from the community-focused part of the team -- and more specifically from Ed Hargrave, John Beech and Kevin Watt -- to revamp DreamShaping (the interface of Dreams' "create" mode) to get creators creating faster, and to address issues in the tutorials. The Ancient Dangers kit became a part of that push, and was actually expanded in scope, to fit that brief. So in the end, both the "play" and the "create" parts of Ancient Dangers became pretty big projects!
Catherine: As development on the Ancient Dangers campaign was drawing to a close and we were down to our last few bugs, I moved across onto the DreamShaping team, who were working on the next step in teaching players how to create within Dreams. By creating a collection with templates to show examples of how a finished game should play, how each element of different genres of games can be created, and how to use pre-made elements from the kits effectively, we hoped to give a whole new audience of potential creators the courage to give it a go on their own!
Kevin Watt -- our OG Designer who worked on DreamShaping Reshaped from the beginning -- had done so much amazing work on the templates already that I honestly felt a little nervous jumping in at a late stage. But I was welcomed into the team with open arms, and helped get those last few areas nailed down so we could be happy with what we were releasing to the Dreams community.
What went right

1. Time to shine
Richard: Ancient Dangers was a great platform for some members of Media Molecule to take center stage -- in their given discipline -- for the first time on a product of this scale: Cat, Lisa Devon, Maja-Lisa Kehlet and Dave Campbell in particular, with help from Christophe Villedieu (this was not his first rodeo!). Obviously, Ancient Dangers was a group effort and the extended team of support staff was sizable, but it was a real treat to see these talented artists, musicians, animators and designers shine. In a studio the size of Media Molecule it is wonderful -- and important -- to be able to give young creatives opportunities like this.
2. Testing, testing…
Richard: Several rounds of user testing resulted in a very polished product. Thanks to the user testing team at Sony, we managed to really hone the details that players and creators cared about with both the game and the DreamShaping content. Things like accessibility and the optional camera controls were iterated upon multiple times, and only improved with every round of testing.
3. Don't be precious
Richard: Being a small core team of creatives (numbers varied over the course of the project, but were usually below 10) enabled us to pivot several times over the course of the development, whether that was because of studio level priorities changing, feedback from internal reviews or feedback from user tests. Having a bigger team may have some benefits, but having a smaller one did enable us to be very agile during the development of Ancient Dangers --- for example, when we decided to switch priorities from kit to game, or when we were asked to implement a free camera option. Well, that and being open-minded to evolution, and not too precious about the details.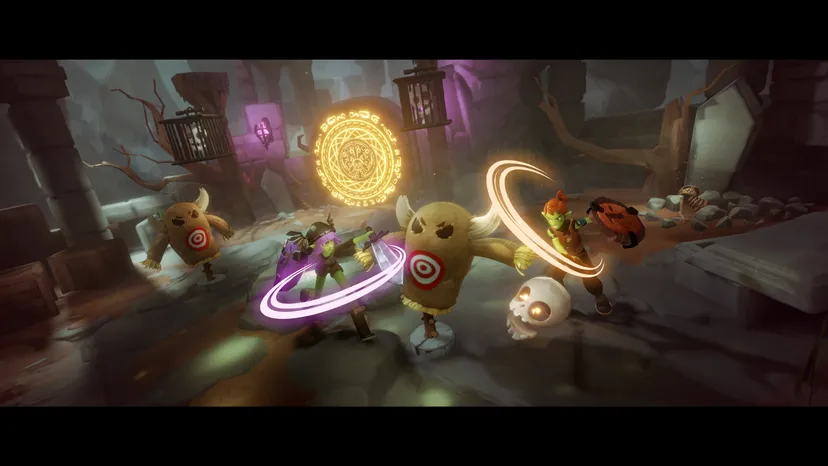 4. Teamwork makes the Dreams work
Richard: Having the support of the central writing team and the web team was really beneficial to the tone and polish of the product, as well as its supporting materials. I am not a professional writer, so although I came up with the story, it was Jen Simpkins and Luci Black that really made it shine with humour and panache. The web team did a great job interpreting our needs and using the assets we gave them to create the supporting materials such as the character bios, which were really fun and useful as promotional material on social media. Teamwork does make the dream work -- you can't do it all yourself!
5. Autonomy and you
Richard: I was lucky enough to be given a lot of autonomy by the franchise leadership team at Media Molecule. While I do have many years of experience making games, I still appreciated this show of confidence from the team on this project. I'm glad my previous experience told me to not let it go to my head, and to keep a low profile and give the team as much creative freedom as possible, while still being able to perform my role.There was one wobble in that strategy as you'll read below, but for the most part it was extremely creatively successful.
What went wrong
1. Words, words, words
Catherine: There were a lot of firsts for us when it came to the Dungeons, Dragons & Templates update (our name for the combined release of Ancient Dangers and the DreamShaping changes). We'd released lots of content previously, but never with so much text! The Ancient Dangers Kit was bigger than any other kit we'd released, with a whopping 192 elements. This meant a lot of text needed to be translated into different languages. But the challenge didn't stop there: thanks to our user tests on the DreamShaping update, we came to the conclusion that additional tutorial documentation hosted on our Dreams web portal, indreams.me, could really help users out. However, as we were working on the content too, this ended up pushing the writing of documentation back -- whether that was walkthroughs of the 'Play & Edit' exercises, general troubleshooting tips, or ideas of things players could create that would work well with the Ancient Dangers Kit. We then had to add even more text fairly late in the day, then get it worked on by Luci, implemented onto the website by Taty Bernado -- and THEN localized!
2. Learning too late
Catherine: One thing that was great when working on the DreamShaping templates was that if something wasn't quite right with how something was being taught, we could go in and do some little changes to the elements in the kit, and everything would work in the best light. When it came to making the templates for Ancient Dangers, however, the game was practically finished bar some bugs -- so we didn't have a huge amount of wiggle room. This meant we either didn't teach some areas of the kit, or could only write out supporting documents for the web to explain certain parts of it. Going forward, if we do make more templates, we'll be making them in tandem with content, so that the content and templates can inform each other. Plus it then means the content gets more user testing too, which is always great!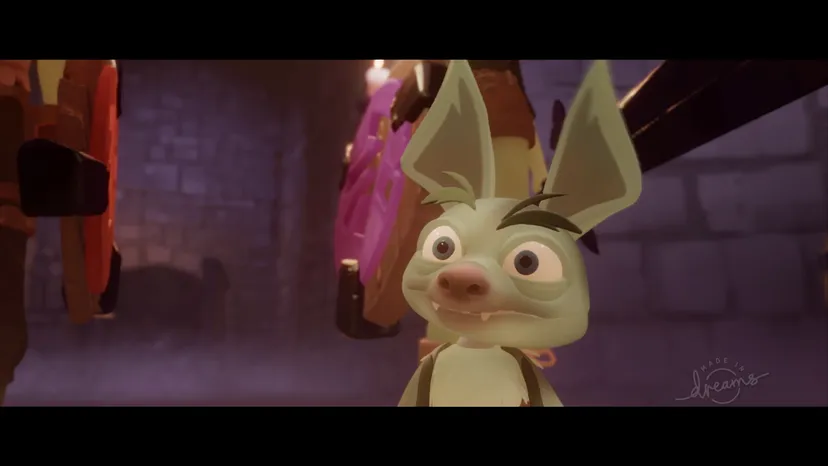 3. Bugging out
Richard: Upon release, there were a couple of bugs found that affected the unlocking of one or two rewards -- namely, our new Ancient Dangers 'imp' cursors and PlayStation trophies -- that were quite meaningful to some players. We had been very rigorous with bug testing, but making a game of this scale in Dreams is a huge challenge for debugging, so it's hardly surprising that a touch of human error slipped in there. Definitely a case for improving the debugging tools in a future update, I think.
4. Being green
Richard: Originally, Herb the bat was called Alby and was based on my rabbit, Albert, who has albinism. I had wanted to give the characters some humanity, and real-world emotional struggles. Basing Alby on my own fears of rejection having grown up in the closet, I wanted to make his 'difference' more visual so it would be easier to convey in a gameplay setting. It dawned on me upon sharing the idea more widely that this had additional parallels to other forms of inequality, which I am not qualified to discuss -- so we decided to make Alby into Herb, a green bat who had been the victim of some kind of misfired magic spell. Centring the idea of feeling like an outsider in general, rather than albinism in particular, put the character more specifically in the ballpark of what I'm actually qualified to talk about from my own experience.
5. Subjective subjects
Richard: Being the all-round nice person I am (some would disagree, I'm sure), when it came to the altogether subjective challenge of naming the characters, I decided to throw the net wide and ask the whole team for ideas. As a game director I thought this was the noble thing to do, but it backfired when I decided to go with my gut and choose the names I had initially come up with. Understandably it left some with a bad taste in their mouths, which I regret. In future I would probably hold back from doing the same thing with such subjective subject matter.
Conclusion

Richard: Overall, I had a great time making Ancient Dangers -- the fact that I struggled to think of many 'wrongs' says it all. I was given the enviable job of making a game in one of my favourite genres alongside a team of some of the most talented people I've ever collaborated with, with tools and on a platform that I love.
We managed to pull inspiration from a wide variety of sources, across generations of games and movies, to produce a story that -- even having written it -- I thoroughly enjoyed because of the magic of everyone that was involved. We've had more than 20,000 users play Ancient Dangers: A Bat's Tale, with over 400 total days of playtime -- I hope everyone else enjoyed it as much as I did!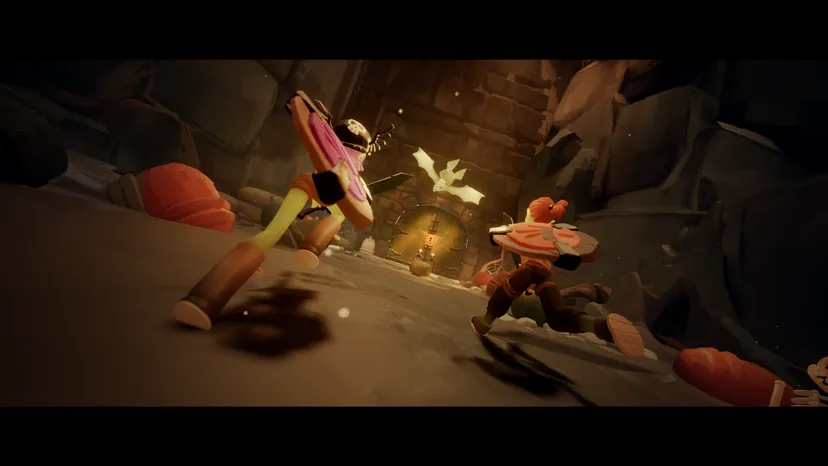 Catherine: It was absolutely amazing to be able to work on some many aspects of the Dungeons, Dragons and Templates release, and seeing Ancient Dangers: A Bat's Tale from Kit, to Game, to Kit while working with a bunch of amazingly talented developers. It was also fantastic to be able to do some more teaching within Dreams as I loved my work on the Dreams Workshop and the Templates really do feel like the next evolution in our teaching methodologies.
The early results of the DreamShaping overhaul are really promising; we've seen a 19% increase in users unlocking the DreamShaping mode, leading to an overall increase in the net number of users creating in DreamShaping. Tutorial usage is up 7% --and we've had a 5% increase in new users actually saving a creation.
Specifically from the Ancient Dangers 'create' content we released, we've tracked 90,000 elements stamped into people's own creations, inspired over 6,000 new creations, and generated over 3 total years of play time!
Richard: As you can imagine, the Ancient Dangers team will be absorbed back into the wider studio at Media Molecule to be reassigned to the various projects we have planned to support the ongoing service that is Dreams.