The team at Polish studio 11bit have long pitched their award-winning This War Of Mine as a game about the tragedy of war and the importance of empathizing with the civilians who live through it.
Now they're aiming to take that one step further by adding children into the game, using some of their own kids as models -- a remarkable move that, at least to my knowledge, few other developers have tried.
It's all part of a significant update to the game that roll out later this month alongside the January 29th console release This War Of Mine: The Little Ones.
While this isn't the first time a developer has added significant new characters and AI to their game -- nor, for that matter, is it the first time 11bit has shined a spotlight on children impacted by warfare, as the studio began raising money in 2014 (through DLC sales) for the international charity War Child -- it's intriguing because it is the first time (at least, that I can recall) that a group of game makers have motion-captured their own kids and imported them into a war game with the express purpose of making players care more.
According to 11bit's Pawel Miechowski, that's the ultimate design goal -- to accurately recreate for players the additional pressures and pleasures that come with being a parent. Mechowski and 11bit compatriot Michal Drozdowski shared some of their thoughts on the experience with Gamasutra via email, which I've taken the liberty of editing for clarity and publishing below.
Does anyone on the development team have children of their own? How do they feel about this update?
Many of the developers here have children, and the kids appearing in The Little Ones are actually our own kids. For the PC edition we scanned ourselves and our friends to have the most realistic people, and we did the same with the children for the new content.
During development, we didn't necessarily see this as anything extraordinary -- except for the fact that motion capture and 3D scanning of kids is already an extraordinary thing.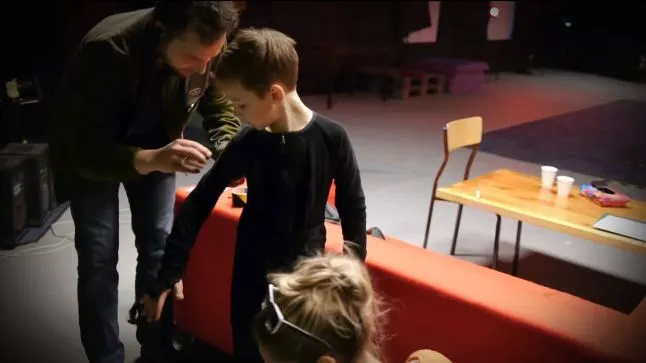 Image of a child preparing for Little Ones motion capture work captured from 11Bit's dev diary
But later I saw my daughter in the game - she was a sick and wounded child (in the game) and then I felt the digital world extended beyond itself to reality. I felt like it could be more real than just a digital experience.
Developing this game made me think about war more often anyway, and This War of Mine: The Little Ones just strengthened that.
Can the children be harmed? How does that reflect your design goals for This War of Mine?
Children don't die in the game, but you can lose them. The narrative is designed in a way to make you play in an incredibly attentive manner, and you become strongly attached to the characters. So when you lose a child that you spent a lot of time caring for and caring about, the loss is painful. That was our goal.
This game is not supposed to explicitly show every single atrocity of war, but to put you in the role of a person that has to survive - and that means sacrifice, hard choices, and testing one's moral compass.
That being said, when a child is in bad situation, he or she may be taken by the Red Cross or other events happen that end up in you losing the child. In our opinion, that's a subtle way to provoke the feeling of loss without blood spilling onto the screen.
Fair enough. So what are the practical production challenges of adding children to this game, post-release? Did you have to change the way you model and animate characters, for example, or rebalance the game in a significant way?
Yes, the mocap session was something unusual. Kids run around -- they don't focus on what needs to be done, they just play and have fun. They also move differently. We noticed the younger kids -- say, 5-year-olds, especially girls -- run with their arms low, rather than swinging back and forth. The mocap guys did a great job, all these little details became apparent [in the game.]
And yeah, then there was the balance question. It was not rebalancing, it was more of a new design. We had to look at it as parents - we didn't want to make kids feel like a burden and neither did we want to make them like a resource. Kids can eat your time, yes, kids need to be taken care of and you do that instead of thinking about yourself, but then, they can also make you smile. No one can cheer you up like a child.
And they can help you - in simple duties sure, but still they can help. You can develop deep relationships with a child, but if you don't care and you neglect them and don't speak to them, the child may slip into a catatonic state.
That's exactly how it works in the game; there are consequences.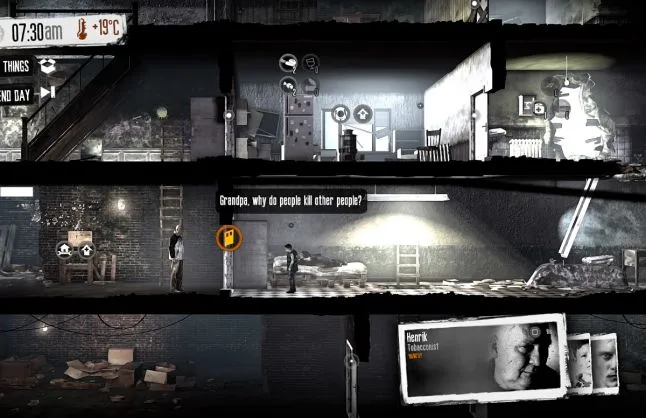 Michal Drozdowski: Yes, we didn't have to rebalance the gameplay entirely. However, the scenarios with children required separate balancing. However, The game has so many posibilities for parametrizing of the events over the course of one singular playthrough that we didn't have problems with that balancing.
Children in the game, despite using the same mechanisms as adults (for example - the mood gauge), have completely different attitude for judging the in-game events. For them it's a lot more important what's happening inside the house (the shelter), especially with their relatives or protectors. That changes the balance of the gameplay.
I imagine there must be cultural and business challenges, as well. Do you expect to have trouble rolling this update out in regions where rendering children in violent video games is frowned upon, for example?
Miechowski: It is supposed to show the civilian perspective of war as it is. It's an experience for mature players – many who've already supported us widely after the PC launch. The game proved that it was not a challenge to popular culture to make a war game that is accepted as an actual anti-war message.
The challenge was to design and properly implement engaging gameplay in a story that is about depression, anger and sadness. I believe we've made it. It's more a story about compassion, not violence, so in that regard it hasn't necessarily been a challenge, per se. On the other hand, there could have been business challenges when it came to the various ratings details. The concepts of war and kids in the same title require different requirements and ratings for each different territory.
Deep Silver, our publisher, really dove in and worked with each territory to get proper ratings for us; they checked all the various requirements and what rating the game should be marked in each country, so it wasn't a problem in the end. We were able to concentrate on the game and now we're ready for its premiere. I'm looking forward to hearing what people say after they've played it.