While the US and Japan remain game development heavyweights, the proliferation of distribution methods and design tools is making it not only easier for indies in these countries to break into the market, but for folks right around the globe to do so. Here are three of the most intriguing non-American/non-Japanese games I saw at PAX East.
Semblance: Enlisting the Player as a Designer
South Africa's game scene sent quite an imaginative representative of their art in the form of Semblance. It's the brainchild of Braamfontein based Nyamakop, the indie firm built by developers Cukia "Sugar" Kimani and Ben Myres. Semblance is a puzzle game distinguished by a core mechanic that sees you manipulate the gooey game world to progress. It grew up from a final-year project that both men worked on at the University of Witwatersrand; I can safely describe its mature form as an impressively thoughtful aesthetic delight. As a cute ball of black goo, you roll around the side-scrolling world, uncovering its secrets and encountering other gooey creatures that have more recognizable shapes--birds, cats, etc.
But the core of it is finding inventive ways to shape the gameworld in order to reach your objectives. The controls, for the moment, are as gooey as your character--lacking the fine sensitivity some puzzles seem to demand--but one hopes that the final version of the game, due out later this year, will address that concern.
What I especially liked (and found myself especially frustrated by at the same time) is that you have to learn to design your own levels as you play. In one challenge I had to reform a level platform covered in spikes so that I could create little hills that I could safely jump to in order to get across and reach an objective. It's classic platforming, except you're responsible for making the best platforms you can. It makes each puzzle involving--and certainly anything that makes players think critically about building a game world is welcome.
The effect this produces is equal parts intriguing and annoying, which may well be the point. The nature of the game admits many conceivable solutions for certain puzzles, but others appear to demand just-so landscaping to progress. The question aback one's mind must always be "how would I design this so that a player could succeed?" It's not a bad question for game devs to ask their players in the course of play, given how many want to make the leap from fan to developer. But it's also an intriguing way to invert some of the classic logics of platform gameplay, one that many games have started to indulge in: how would you change the world in order to succeed? Rather than simply overcoming an elaborate, but static puzzle purely of someone else's design.
One imagines that part of the fun of Semblance may be fans sharing screencaps and gifs of the unique ways they overcame various obstacles, and that's certainly a good way to encourage the efflorescence of fan participation that sustains a gaming community.
Dead Static Drive: Envisioning The American Road Trip
I sometimes think that no one captures the dreamlike expanses of the American road trip--in both descriptive and psychic terms--quite like a foreigner. For those of us who grew up in a country that takes six hours by plane to traverse, we take for granted those vast and mighty spaces, the long and narrow highways where the next, lonely rest stop isn't for another fifty miles.
But for those who were born abroad, the open, Route-66 style road exercises a mesmeric hold that, when finally experienced, produces some great art.
Enter this Australian take on the road. Dead Static Drive, developed from the singular vision of Mike Blackney, is, in his words "Grand Theft Cthulu." It combines the "just drive" sentiment of so much poetry about the American road with supernatural horror; it's one person's almost aimless quest to drive, punctuated by uncovering why the American desert is suddenly populated by inky longhorn zombies.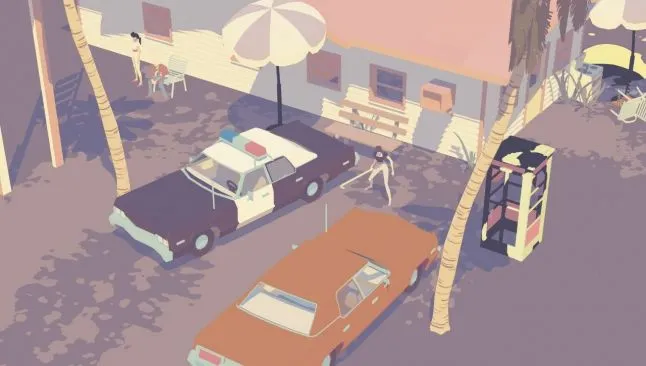 You drive from one isolated locale to another--shacks, roadside motels, gas stations, all surrounded by unfathomable expanse, populated by taciturn locals and the mysterious, violent longhorns. In the demo I played, the goal for my character was simple: find a safe place to rest. It took me a while to finally accomplish this, as I discovered the hard way that the longhorns were not only unfriendly but extremely powerful. My solution was straightforward: run them all down with my car and then explore. It turned out to be surprisingly fruitful. Exploring the buildings, getting gas and weapons, finally led me to a motel where I found a bed.
This is not a post-apocalyptic game, so on the one hand all the guns lying around might seem thematically incongruous--but then, this is America, and particularly a perspective on it from a country where, well, guns aren't all just lying around. Inventory management, using a grid system, seems key but expansions were easy enough to find and I filled my killing-bag with crowbars and handaxes.
Blackney promised that the final game would see you exercising choice and resource-management in deciding where to explore next, having to spend a certain amount of time (itself a precious resource) and petrol in traveling around, unraveling the mysteries of the desert. More intriguingly, he also said there would be non-combat ways of dealing with the longhorns.
The game itself was inspired by Blackney's father's love of Jack Kerouac and the myth of the American open road trip, which Blackney finally experienced for himself this past year; the vision thus produced is a fascinating one. There's nothing quite like seeing our land through another's eyes, and I'm looking forward to seeing how this GTA-like tells a far more interesting story.
The Gardens Between: Using the Sensibility of a Pop-up Book
Videogames are surprisingly well served by storybook aesthetics. What is a videogame if not an elaborate, highly interactive pop-up book, after all? The Gardens Between, another Aussie outing, demonstrates this quite beautifully. It's a puzzle game where each challenge is set on a self-contained island dreamscape that you must traverse with two childhood friends, Arina and Frendt, as they try to find the light for Arina's lantern in each level. As you complete levels, the lantern light sparks up into the heavens to help fill in a constellation which, when complete, tells part of a story about the two children and their friendship.
The greatest command on your attention is the art. The aesthetics of this game comprise one of several lessons one might give in a class on rendering dreams. Wheelbarrows, computer parts, and other everyday objects dominate the landscape like carvings hewn from a mountain. You can only move the children forwards or backwards, and when you do it's as if you're hitting rewind on an old VCR. The color leeches from the world, the music goes quiet, and the characters simply walk backwards, as if you're editing a memory until you reach the one with the perfect puzzle solution.
This rewinding element becomes part of the puzzle solving as it applies to moving objects in the world as well, which is a delightfully inventive way to play with time. A light spark may only appear in a certain location at a certain time; knowing this, you can set your lantern down, advance the level, and catch the spark at that location, for instance.
The filling in of constellations puts me in the mind of another storybook game, the gorgeous and profoundly expressive Gravity Ghost. The Gardens Between has a similarly unified aesthetic that orbits a child's sense of wonder, and a story that unfolds periodically between puzzles. Whether it will similarly take flight with a satisfying start-to-finish experience remains to be seen, but the demo I played left me wanting more. For now, TGB's spark is burning.
Katherine Cross is a Ph.D student in sociology who researches anti-social behavior online, and a gaming critic whose work has appeared in numerous publications.