Digital distribution has helped to create the indie gaming scene as we know it, and given developers unprecedented freedom to think outside of the box. But how would these developers respond if they were forced to think inside the box--or more precisely, the cabinet?

Events like Fantastic Arcade and Juegos Rancheros let players step into an old school arcade and encountering new works by some of the most innovative and experimental designers around. These events also present indie developers with a unique challenge: retrofitting their unique creations to work within the constraints of a format and setting that dominated the industry 30 years ago. Imagine
This often means rethinking the control scheme, but that's just the tip of the iceberg.

"When designing for an arcade machine, the player begins the experience as soon as they see the cabinet," says Cale Bradbury. He's one of the developers of the trance-like title Alea, which he just ported to an arcade cabinet for Juegos Rancheros.
The arcade is a very different place from the privacy and solitude of most people's gaming dens. It's a place of noise and flashing lights, where games compete to attract your attention. Simplicity and approachability is key, here: players need to feel they can jump right in and start playing the game. They need to know at a glance what your game is, and how to play it. A completely unique controller or visual style can also help to set you apart.
Succeeding in an arcade presents many challenges for developers, but there are also some amazing opportunities that come with giving your game a stand-alone physical presence in the world.
We asked several indie developers who have retrofitted their games for Juegos Rancheros to describe the process for us. Whether the experience worked out as the they imagined or not, the exercise inspired a lot of creativity and unique insights.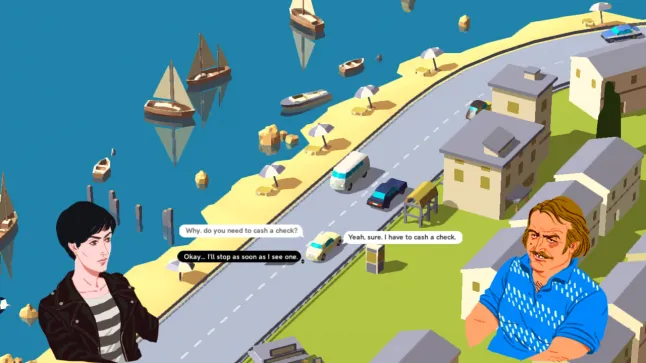 Wheels of Aurelia by Santa Ragione
WHAT IT IS: Wheels of Aurelia is a narrative racing game - a road trip game that plays like an arcade racer with an interactive-fiction interface. Players can pick dialogue lines to tell to their passengers while driving. These lines are based on the context of the current conversation, the current surroundings, what has happened in the story, and what is happening on the road. The development team at Santa Ragione want players to influence the outcome of the story by choosing dialogue options and by driving--for example, picking a destination, reaching a point within a certain time, or even participating in illegal races.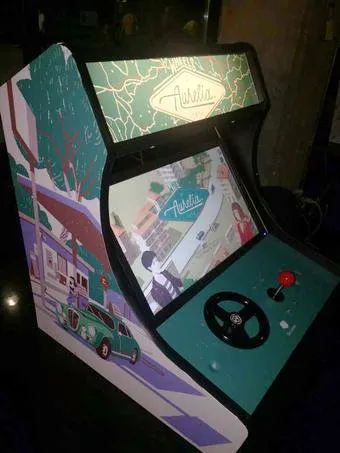 THE CONVERSION PROCESS: The player had to be able to effortlessly choose dialogue lines while driving a car. "From day one, we worked on a set of controls that would adapt to steering wheel and pedal while trying to find a good interface for managing the conversation," says co-designer Pietro Righi Riva. "We found a solution in using a simplified gearstick to select dialogue lines."
This setup enhances immersion while maintaining a playful arcade mood despite some of the game's darker narrative themes.
Getting it right took more than just finding the right control scheme, though. "It really pushed us to think what makes a game 'arcade-y' and what an interactive fiction game would need in order to be played in an arcade setting." says Riva. "I think knowing that people would have very little time to spend with the arcade cabinet really helped us focus on a sharper, more elegant design, and a more effective story."
The narrative had to be easy to digest in a busy environment, yet still resonate with the player. It had to work in short bursts while being read by someone distracted by driving. Designing Wheels of Aurelia for arcade put constraints on its development, but these resulted in a more focused final game.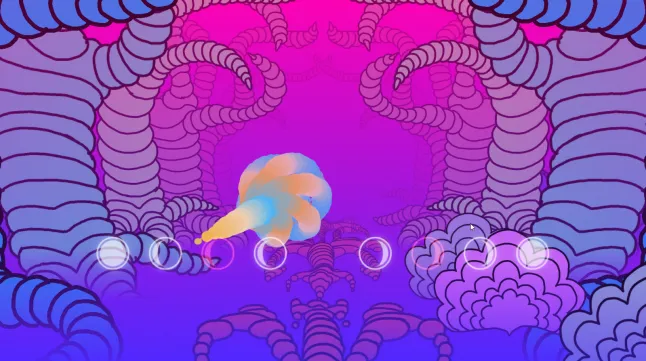 Alea by Palgal
WHAT IT IS: Alea is a rhythm game/hiking simulator in which you complete a track by hitting the keys on a keyboard in time with the waxing and waning of several onscreen moons. The idea is experiencing nature as an obstacle course and controlling your environment with rhythm... and moon power.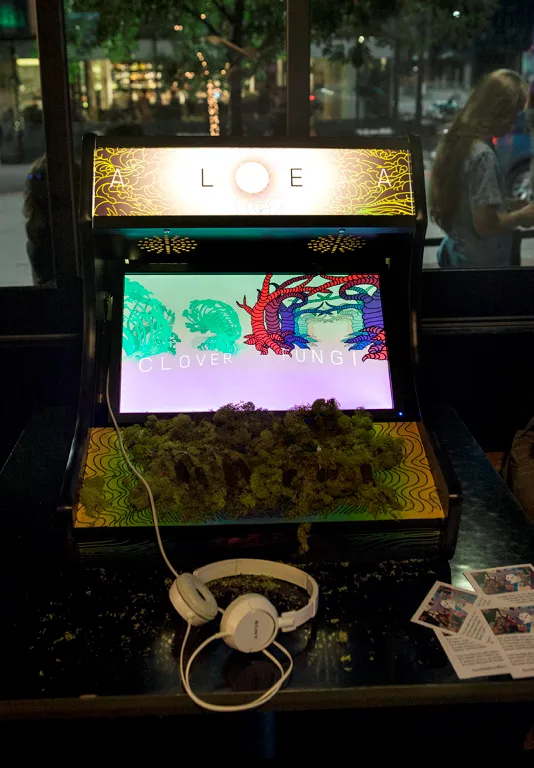 THE CONVERSION PROCESS: The cabinet needed four inputs on either side for eight fingers - a simple conversion from keyboard that allowed for a little more creativity in how the buttons were set up. "I think that having the physical object was a really cool opportunity for us to try something new." says Paloma Dawkins, one of the creators of Alea.
That new thing they tried was to take the controls and make them feel in-tune with the game's presentation, drawing on Alea's nature theme, and adding a unique tactile experience to the audio/visual experience.. "I replaced the buttons with moss and wood and hooked it up with arduinos and flex sensors," says co-creator Cale Bradbury.

Unfortunately, the creators of Alea say that the arcade setting turned out to be an imperfect format to experience the game in. The surrounding din made it difficult to hear the game's audio - an important aspect of the experience. (Headphones were made available to players.) "I think multiplayer games tend to be more fun on a cabinet rather than a hypnotic, trance-inducing, cartoony swirl of a 'hike', which tends to be better when you are alone" says Dawkins. "But you never know! Just gotta try these things."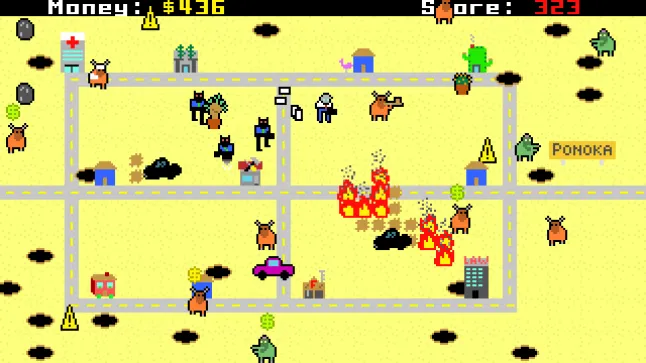 Risky Bison by Justin Smith
WHAT IT IS: Risky Bison by Justin Smith casts players as an insurance salesman who just arrived in a small town of buffalo to sell insurance to them. The dangers in this town are numerous: there are sink holes, fires, and zombies. (Also, buffalo are poor drivers.) You must multitask selling insurance while mitigating or eliminating the dangers that await your herd of customers. The gameplay involves walking around a top view of the town, and entering shops to purchase useful items.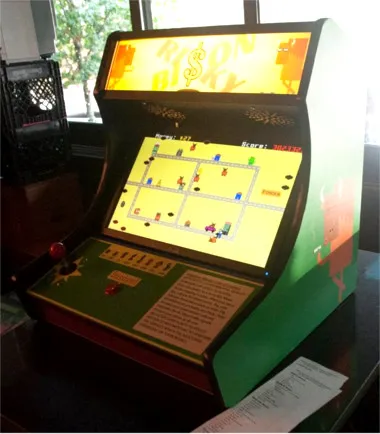 CONVERSION PROCESS: Risky Bison was initially played with keyboard and mouse, and Smith anticipated a simple adaptation to joystick controls. Indeed, he chose to adapt this title, an old game jam prototype he'd made, because it seemed like a perfect fit.
It wasn't.
"Making an arcade game was harder than I expected." says Smith.
"It took me a while to figure out what to do, so I settled on a control scheme first - 8-way joystick and one button. That's a simple scheme that I felt fit the spirit of the arcade. Then I made a few more constraints for myself: it had to have quick play sessions, it had to be entertaining for onlookers, and it had to have a score system."
Simplistic visuals helped convey the ridiculous play theme and appeal to an audience that was wandering by, but it never quite reached a point where Smith was entirely happy with it.
"I half-succeeded, I think," he says. "The game is pretty obtuse and takes too long to play. But the controls are easy, and there's a high score system, and an attract mode. It was a good exercise, but I couldn't entirely shed my meandering design habits and really hone in on an ultra-tight design."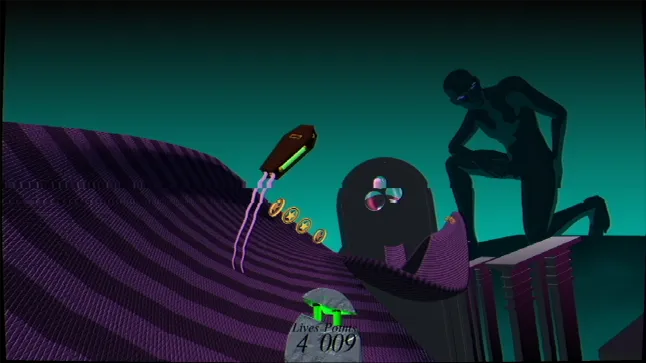 Crap! No One Loves Me by the Arcane Kids
WHAT IT IS: Crap! No One Loves Me absurdist romp through Hell and social media by the team that brought you the indescribable Sonic Dreams Collection. After players depart a vape shop and travel through a dumpster portal to the netherworld, they must climb into a coffin and bobsled towards the queen, collecting Likes and Reblogs along the way. Players can move their coffin side to side on the track, jump, and boost in the air to influence their direction. They can also "dive," which pulls them back towards the track.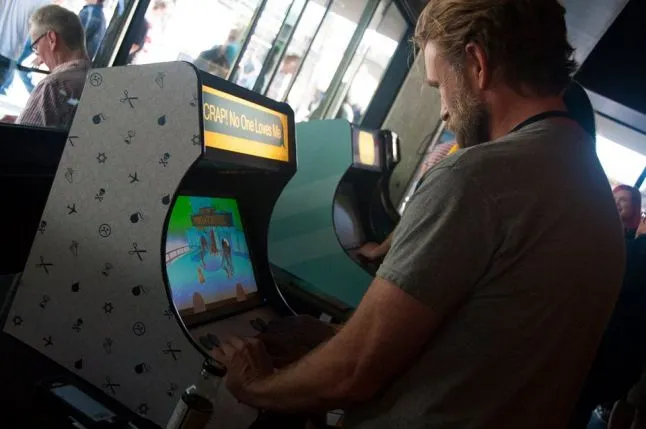 CONVERSION PROCESS: "Arcade players wanted to be punished." says Ben Esposito, speaking on behalf of Arcane Kids. Their game was built to be challenging, but the port to arcade made it even moreso. Crap! No One Loves Me was designed with precise movements and adjustments in mind. These were possible with a joypad controller, but on the cabinet, only digital inputs (left, right, nothing) were available. This meant overhauling many of the levels that required precise movements to better suit the new controls.
"Players approach arcade games with a different set of expectations," says Esposito. "The play times are usually shorter. The complexity is usually lower. The difficulty however, is usually really high. When we put it in the arcade cabinet, we saw players laughing at their failures instead of getting frustrated."
The arcade environment was well-suited to the challenging experience they created, but part of that challenge wasn't entirely intentional. "CNOLM relies on precise movements and adjustments. When it came time to install it, we realized the arcade stick just couldn't do that! We ended up re-designing many of the levels." says Esposito. "We think the constraints actually made it better."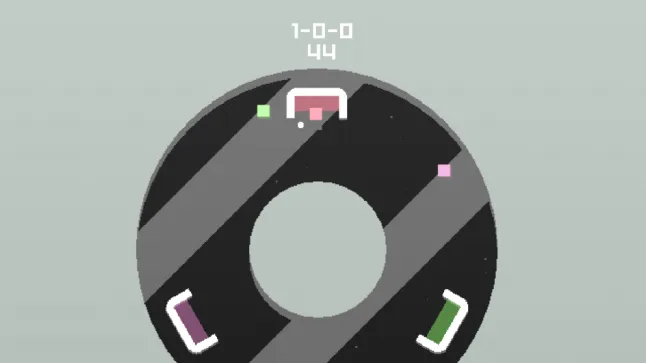 Hoky by JW Nijman, Eirik Suhrke, and Kitty Calis
WHAT IT IS: Hoky is a minimalist sports game that presents a stripped-down version of hockey with abstract graphics, realistic audio, strong color palettes, and the simplest control scheme imaginable. It can be played in 1vs1 and 2vs2, but also introduces a unique 3 player mode in which each player has their own goal!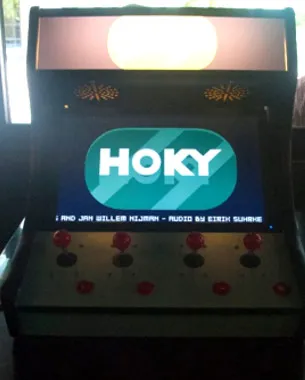 CREATION PROCESS: Hoky was a simple indie game designed with the arcade in mind, in a way that would be accessible for a newcomer and simple enough to accommodate 4 players. "One of the most fun things about local multiplayer games is the ability to scream and shout at your friends," says Kitty Calis, a developer of Hoky. "Much like with sports, sharing the experience can add a lot. We figured having a 4 player game on a tiny cabinet would greatly benefit that."
Each player was given an eight-way directional pad and one button each. Gameplay subtlety comes from the physics and holding the button to charge up your shots. Positioning, timing, and predicting your opponent's movement all become essential to have a shot at victory. Having players in close proximity, where they could bump elbows, added a lot to the experience.
The desire to give many people a chance to play the game necessitated some design decisions as well. "The way we designed Hoky also makes sure that even beginning players can keep up quite well, so there's not much of a barrier to giving it a shot," says Calis. "We've hopefully allowed for a game that's always played in a very friendly, fun context."
Like the classic arcade games, it's designed to entice passersby to walk up to the cabinet and give it a try.
PHOTO CREDIT: Wheels of Aurelia photo by Emi Spicer.