Today, Insomniac Games in partnership with Oculus Studios announced the development of two virtual reality titles, Feral Rites and The Unspoken. Feral Rites is an exploration-based hack-and-slash brawler that takes inspiration from early 20th century adventure pulp stories, and The Unspoken is a multiplayer VR experience where players take on the role of modern-day wizards and cast spells at each other using the Oculus Touch controllers. Both are exclusive to the Oculus Home platform.
Speaking at a media event at Insomniac's studio in Burbank, CEO Ted Price explained the basis for this deal is based on Insomniac's enthusiasm for virtual reality, and that exclusively partnering with Oculus mirrors previous first-party deals with Sony and Microsoft.
"For us, I look at them as partnerships where we share the same interest in bringing something to life, a specific type of game or genre to life as our partners do," he says.
Price compares the experience of developing for virtual reality to his early days with the PlayStation, when arriving early on a major new platform gave him and Insomniac experience that defined their studio for a generation. "Having the chance to actually jump in now and develop an expertise in terms of design and construction within VR was something we really couldn't turn down," says Price.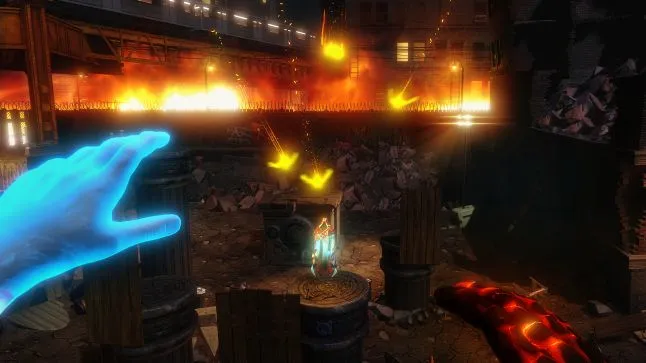 Oculus's Jason Rubin, who experienced the same era of PlayStation development as Price during his time at Naughty Dog, builds on this reasoning by comparing it to the modern mobile game market.
"A bunch of publishers did ignore it and then it got kind of big," Rubin says. "At that point there was this learning curve that the small startups—the Zyngas, the Rovios, the Playfish—had made bets on mobile had gone through."
"When the big guys turned around and said, 'Oh, okay there is now an install base,' they were behind. In a lot of cases they had to acquire. In other cases they really struggled for a long time before they caught up in mobile. There's an opportunity here to do the same thing and be on the right side of this call," says Rubin.
VR "generation 1.5"
Insomniac's progress in the virtual reality space marks an interesting shift now that both the Oculus Rift and HTC Vive have launched. Rubin makes reference to this being "generation 1.5" of virtual reality, as both Feral Rites and The Unspoken will benefit from a userbase and design lessons of previously published VR games.
Both games follow up on Insomniac's previous virtual reality title Edge of Nowhere, and both, according to creative leads Marcus Smith and Chad Derzen, draw on longtime projects from Insomniac has been interested in for some time. A trailer showing off Feral Rites follows the player throwing themselves into waves of third-person combat with creatures and rival tribes as Smith says he and his team became interested in melee combat since their work on some of the weapons in Sunset Overdrive.
Derzen, meanwhile, explains that The Unspoken was a longtime project he was personally interested in, about exploring a hypothetical magical society hiding in the shadows of Chicago.
During a hands-on demo, The Unspoken certainly felt like an expansion on previous efforts with touch controllers. Spells are cast and deployed with intimately familiar gestures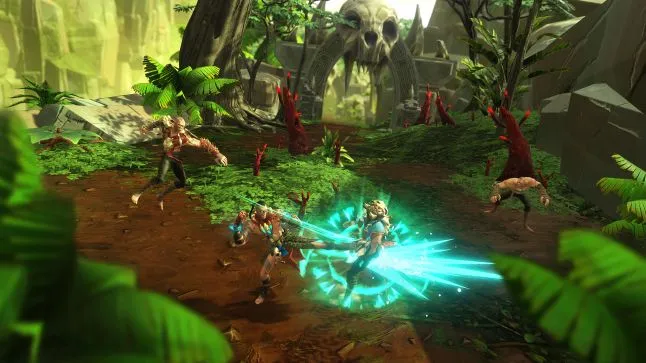 , but can have surprising results when chained together or countered by other spells. Dezern says there were a lot of advantages to building spells around everything from pounding hammers to throwing spears.
"We think a lot about, not only what does it feel like to cast the spell—we want the object to sort of suggest what you should do with it—but we also want you to feel like there's some discovery in the result after you cast it," says Dezern.
Dezern also brings up the new social implications of player versus player interactions in virtual reality, though says they're still working on many of the long-term decisions of how players can interact or communicate with each other. But he does say that seeing another person does create a new kind of experience that's fun for multiplayer.
"I still remember early in development I was in a match with another player and I felt them give me a dirty look in VR," Derzen says. "It felt like this really cool new thing that lent itself naturally to multiplayer, just to get the interaction of another human in the room with you."
Feral Rites, which wasn't playable during this event, seems to be where Insomniac has focused a lot of its combat and traversal experience. Smith says to solve new VR problems for a familiar genre, they had to reach back to a lot of lessons from the Super Nintendo era.
"For us, we went back to look at the old Zeldas where you walk in a dungeon and you cut from this camera to this camera," he says. "Games like Chronos that just came out on the Rift that they do similar things. They have these camera cuts all over the place. So [the player sees from] the camera and you're doing camera cuts."
Cameras in particular seem to be one of the biggest drivers behind Insomniac's approach in VR. When describing the company's experiences, Price notes working with them has been one of their most important lessons they've learned, and working on Edge of Nowhere gave the company knowledge to share with other internal teams to develop these two titles.
Insomniac's push into platform exclusivity for VR certainly feels like familiar territory for the company, and Oculus' argument for building these exclusive deals certainly makes some historical sense in terms of building a space to quickly learn about the technology. Going forward, it will be worth monitoring how major differences in the different VR units, and whether they're treated as platforms or peripherals by different companies, will impact developers' decisions to make exclusive deals or push for multiplatform possibilities.