By any measure, Dead Cells has had one hell of a stint in Early Access.
Since developer Motion Twin pushed it to players in May it's sold over 850,000 copies, been showered with praise from critics and players—94 percent of its 15,000 Steam reviews are positive as of writing—and turned feedback from fans into heaps of new features. It'll be ready for a full release next week: August 7.
But the outlook wasn't always so rosy. Lead designer Sébastien Bénard tells Gamasutra that his team were "really frightened" about launching into Early Access, especially with talk of an "indiepocalypse" swirling at the time.
"Some big indie titles had failed at this type of thing…[so] at the beginning we were very cautious," he says. "It wasn't something we were confident in." In that case, how did the team turn a tentative start into a huge success? What advice can Bénard offer other developers entering Early Access? And what are the studio's plans after August 7?
"It wasn't something we were confident in"
The early fear melted away after the first major update, Bénard says. Part of the caution came from the team worrying about aggressive pushback from players, but the response to early changes was "really reassuring".
The key to keeping fans happy was ensuring the team didn't overpromise, and only stamped concrete release dates on features they were certain they could deliver.
"Most important feedback is negative."
"If it was some kind of experimental thing, we'd just explain that it was experimental, and that it might not survive Early Access," Bénard says. That was true of multiplayer, something the team mentioned as a possibility early on: it was always described as a "maybe", so fans weren't angry when the idea was ditched.
Criticism proved even more useful than praise, Bénard says, and was vital to shaping Dead Cells. He believes that most criticism contains "good arguments" and he made it his mission to get to the root of any that he deemed valid. "Even if I don't agree with some points, usually there's some meaning we can take out of it," he says. "Most important feedback is negative—it's really useful for us to focus on it and understand the small things that people didn't feel was right with the game."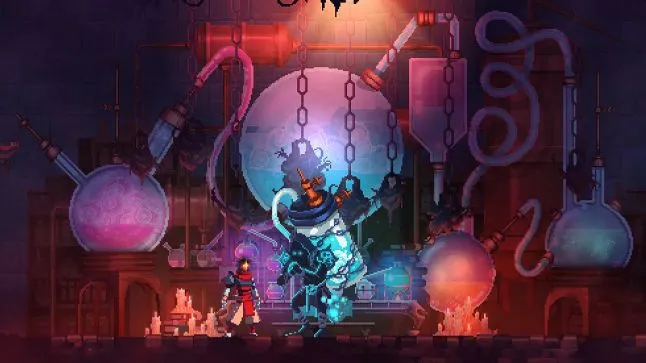 The team was always prepared to make fundamental changes if fans didn't like a feature, he says, pointing to the game's weapon upgrade system as an example. The first version of the in-game Forge let players boost the stats of specific weapons. Fans largely liked it, but a small section opposed it because it encouraged players to stick with a few, powerful weapons throughout their playthrough, rather than try out everything Dead Cells had to offer.
Even though the pushback came from a "small part of the community", the development team felt "something was really off", and decided to rework the system to the one they have today, which gives players a higher chance of finding better weapons across the board when they upgrade their Forge.
The key to turning feedback into action was to go in with an open mind. The team had a road map at the start of Early Access, but they concentrated on learning from players. Bénard spoke to fans on forums, and the team would give codes to smaller streamers that would have the time to play and talk with the team.
One of the game's most important features—how players build their characters—was 90 percent inspired by ideas Bénard picked up during one of those forum discussions.
"Initially, I was not happy with the system," he explains. "So I had a long and interesting discussion with players on the forum, and they came up with tons of interesting ideas about how to make a proper build system. I took this as a huge inspiration for the final system."
In total, he estimates that 40-50 percent of all changes during Early Access were based on player feedback, including some that "weren't planned at all" at the start of development.
"If you have a huge success under one license and just do everything you can to make the license work, eventually you will just die."
To encourage constructive feedback, Motion Twin told fans every time a change was made as a direct result of a community suggestion, adding a line to that change in patch notes. In some updates, most changes would carry this mark. "It's the feeling that even if your idea is not taken, it has been heard. So it's a small thing that made players feel involved."
Bénard says Early Access was so useful that, if he could go back, he'd take the game into it earlier to give players more chance to pick it apart. It's something he'd do for the team's next game provided the genre fits—and that, for the moment, is up in the air. He says they will do something "very different" to Dead Cells, which all but rules out a sequel, at least for the moment.
"If you have a huge success under one license and just do everything you can to make the license work, eventually you will just die," he says. "We have plans for Dead Cells, and we want to support it down the road, but we don't think we should [just] stick with it."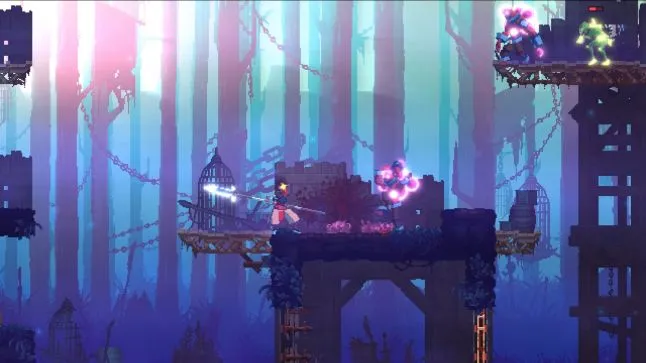 Motion Twin is currently "exploring some ideas" for the next game—Bénard says he hasn't landed on anything concrete, but mentions that the team has experience with "community-based games…games based on actual communities, and making them interact in the most horrible possible ways".
We likely won't find out more for another six to eight months, he says, during which time the team will hold internal game jams. Their continued work on Dead Cells will begin with beefing up the currently simple mod system to allow for "in-depth level creation mods", which could change the shape of the game going forward. The team will also push out a handful of major post-release updates, he says, and may even consider releasing a "legacy version" of the game as it was when it entered Early Access.
If that legacy version does come out, it would be a world away from what players will jump into on August 8. Motion Twin set out with a laser focus on listening to the community, especially to criticism—and the studio has a better game to show for it.