In 2021, developers and players alike fell in love with Capcom's Resident Evil: Village. You can credit the game's fresh setting, new kinds of monsters, and tense gameplay for driving over 5 million in sales. But one of the game's most celebrated characters was Lady Dimitrescu: an exceptionally tall vampire who vamps her way through a gothic castle with campy energy and memorable dialogue.
At DICE 2022, actress Maggie Robertson accepted the award for "outstanding achievement in character" for her portrayal of Dimitrescu. In a roundtable interview with Game Developer and other outlets, Robertson shared some insight not only on her choices that helped bring Dimitrescu to life
—but also what life has been like embodying a fan-favorite character that finds a new life on the internet.
Robertson wasn't just the voice of Dimitrescu, she also jumped in the motion capture suit to provide reference data for Resident Evil: Village's animation team. The character's face belongs to model Helena Mankowska, but when you're watching Dimitrescu chew the scenery—that's all Robertson.
Dimitrescu was Robertson's first major video game role. She'd done some prior mocap work on First Watch Games' Rogue Company, but Dimitrescu was her first chance to fully inhabit a unique character. She explained that preparing for the role meant drawing on a lot of her training as a stage performer. "It's all about the storytelling of your body," she explained. "You don't have sets, or costumes, or makeup to tell the story for you."
She leaned on techniques like "animal work" and "animal studies" to define 's Dimitrescu's movements. She thought of the character as "catlike," and used feline movement as the starting point for her own motions.
"She's gonna be more sensual and curvy and she takes her time," Robertson explained. This performance choice syncs up nicely with how Dimitrescu stalks the player in gameplay as well.
She's not furiously keeping pace with the player--she carefully takes her time and stalks them, giving them time to think they're safe, but closing the distance when their guard is down.
Robertson said those animal-inspired techniques can add uniqueness in games where full-body performance serves and important role. "[It creates] more of a distinct physicality for each character can also help you create really clear physical characters very quickly," she said.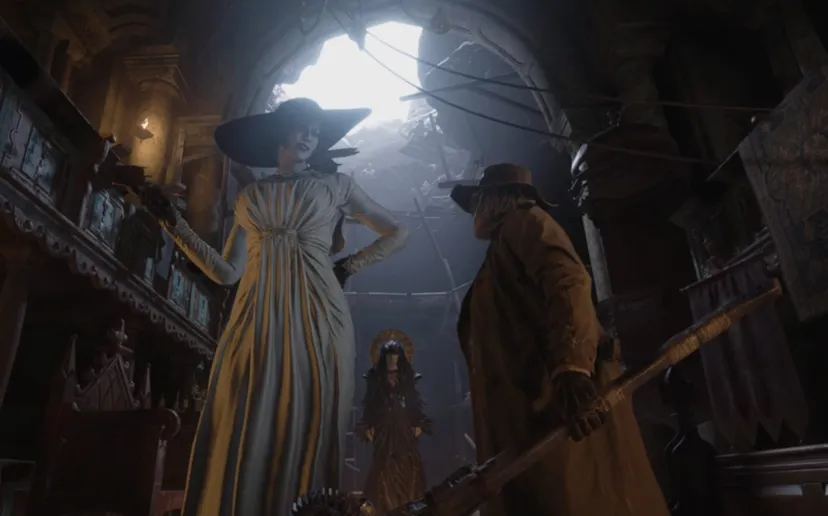 Sudden fame for a sensual character
When Lady Dimitrescu was revealed to the world in Capcom's marketing leading up to the game, there was an explosive--seemingly unexpected reaction from Resident Evil fans new and old. Dimitrescu was shown off as this incredibly unique villain; sensual and elegant but also murderous and nine feet and six inches tall.
She's one of the monsters threatening the player, but fans—especially queer fans—loved her uniqueness. Respondin to a question from Game Informer, Robertson described feeling overwhelmed by the affection from the LGBTQ community. "It's given me a platform to create a safe space for lots of different communities that need it," she said.
But there's a balance to be struck with that kind of fanbase, especially when you're portraying a character that fans are now openly discussing being attracted to. "She is so fetishized," Robertson admitted, responding to a Washington Post reporter's question about prospective online harassment.
She did say that most of the interactions she's had with fans have been positive and wholesome...but "when you're a woman on the internet, that stuff exists."
On the whole though, she thinks players respond well to these kinds of characters, and not just out of any kind of perversion. There's power and meaning in characters that mix sensuality and moral ambiguity, especially when they come with towering strong physical performances.
Robertson's gotten the sense that Dimitrescu means something to people. "The very first [messages] that I was receiving were people reaching out to talk about my work, and how much they appreciate what I did in the game," she said with enthusiasm.
"Oddly, I get a lot of strangers writing to tell me that they're proud of me after I win these awards. They're writing me to be like 'we are so proud of you—genuinely, so proud.' And that's really touching and very moving."
Has Dimitrescu exploded her acting career? She (very humbly) admitted she's not sure. "I happened to get an agent the week before the game came out," she explained. "It's hard for me to tell if my new auditions and new bookings are because I have this shiny new agent or because [of Dimitrescu]."
Wherever Roberston winds up, it's great to hear a mocap actor provide useful insight for other performers in the space, and developers who want to best utilize them. And her insights on sudden fame feel relevant in an internet world where anyone—developer or performer alike—can be supercharged into stardom overnight.