As we get closer to Game Developers Conference 2016, event organizers have selected 20 games (out of over 100 submissions!) to exhibit at alt.ctrl.GDC, the on-site showcase of alternative control schemes and interactions in games.
That means GDC 2016 attendees who stop by the alt.ctrl.GDC exhibit will have the chance to play some of the most intriguing and inventive games around using unique, one-of-a-kind controllers. You can lick flavored ice pops that also serve as USB controllers to win Planet Licker, for example, or use an actual telephone switchboard to play a game of Hello, Operator!
Plus, you'll have the opportunity to compete in games of Crank Tank with custom-built crank-controllers and, if things get too heated, to chill out by picking up an old-fashioned telephone to play The Von Neumann Personality Test.
This year's roster of alt.ctrl.GDC finalists (and some snapshots of a few of their controllers) is as follows:
Wiz (Minds N Hands [Toi Ngee Tan, Yuichiro Katsumoto, Kesaku Kawauichi, and Liew Feng Ming]) - Described as the world's first transformable controller, the folks behind Wiz will be demonstrating the bendable, twistable, swingable controller with a selection of games.
Crank Tank (Henry Lam, Andrew Genualdi, Jaeseong Yi) - Crank Tank is a multiplayer arcade game utilizing two custom built crank-controllers which players must use to drive their tanks and destroy the enemy base.
Little Book (CNAM-ENJMIN) - Little Book is a highly immersive game who works with an Oculus Rift and a real book to offer unique feelings.
Ziff (Alejandra Molina [with illustrations by Line Birgitte and music by Nifflas]) - Ziff is best described as a game that blurs the lines between toys and screens, as players explore a virtual world by building and reconfiguring a physical toy.
Disruption (Spooky Elephant, Hull University, UK) - Two familiar games with a novel symbiotic interaction through a custom built, customisable controller.
Hello, Operator! (Mike Lazer-Walker) - Hello, Operator! is a game about being a telephone switchboard operator in the 1930s, played by connecting calls with patch cables on a physical reproduction of a manual telephone exchange.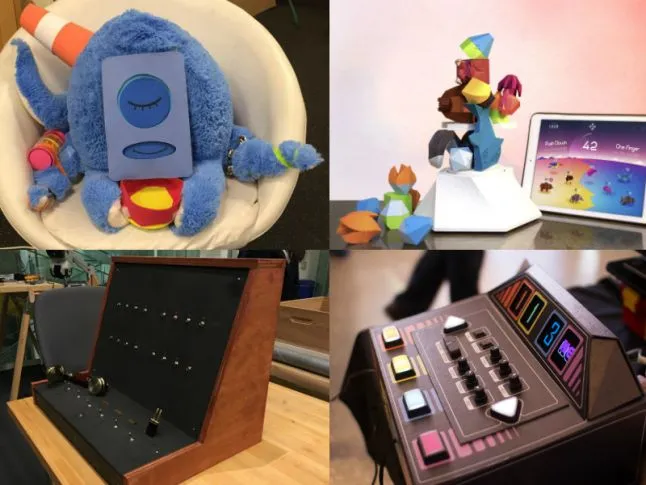 The Von Neumann Personality Test

(Matt Hudgins) - Over the phone, discover your true self with the help of a deranged automated psychiatrist.

DOBOTONE (Máximo Balestrini and Hernán Sáez [Videogamo]) - DOBOTONE is a 4-player video game console by Videogamo, specially designed for parties, in which each player has only a two-button controller with no joystick, and the possibility of choosing between different built-in party games, selecting playing modes and modifying gameplay by using the console's physical control board's features, such as speed, gravity and glitching, among others.
Operator (Killigan Industies) - Operator is a fully accurate simulation of the typical working day for a Killigan Industries Orbital Extermination Satellite operator.
Suck My Rainbow (Triband) - A colourful vacuuming experience!
Planet Licker Azuria Sky, Frank DeMarco, Otis Denner-Kenny and Mouth Arcade - Planet Licker is an action game played by licking flavored ice pops in real life on a USB-connected controller.
Petitwo (Steph Caskenette) - Petitwo is a collaborative game in which players take turns controlling an electronic zoetrope to lead a flock of migrating birds across North America, with each playthrough advancing the overall journey home.
Disc Jockey Jockey (mildmojo) - Disc Jockey Jockey is an audio game about listening to a handful of radio DJs and keeping them on-air after massive equipment failure.
Please Stand By (Jerry Belich and Victor Thompson) - Please Stand By is an interactive story about the past, using the body of a vintage 1951 Capehart television and its dozen-plus controls as an expressive medium, including adjusting the rabbit ears and physically striking the device.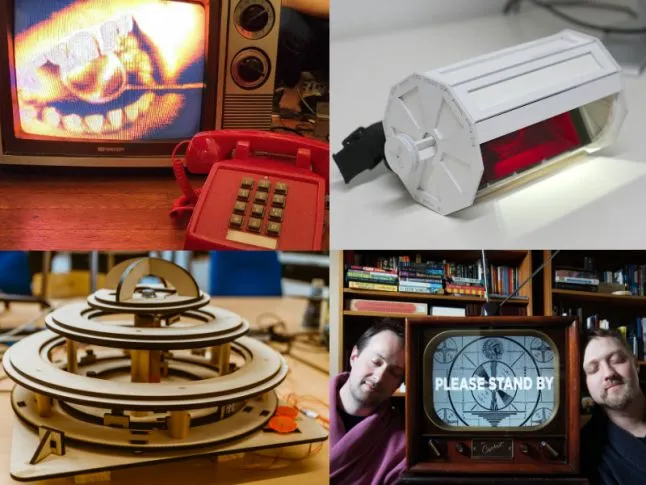 As always, the alt.ctrl.GDC exhibit is open to all GDC attendees and will make its third appearance at the conference from Wed-Fri, March 16th-18th in the North Hall of the Moscone Convention Center, near the Independent Games Festival pavilion. Any questions about the showcase should be directed to alt.ctrl.GDC co-creator and organizer John Polson.
And alt.ctrl.GDC is just one of many exciting interactive exhibits planned for GDC 2016, and more will be announced in the months to come. For now, don't miss the opportunity to save money by registering for the conference early -- the deadline to register for passes at a discounted rate is Wednesday, February 3rd, 2016.
GDC 2016 itself will take place March 14-18th at the Moscone Center in San Francisco. For more information on GDC 2016, visit the show's official website, or subscribe to regular updates via Facebook, Twitter, or RSS.

Gamasutra and GDC are sibling organizations under parent UBM Tech.