Santa Monica Studio lead UX designer Mila Pavlin has detailed exactly how the studio will be making God of War Ragnarok more accessible, providing a buffet of insights that might help other developers looking to make their own projects more welcoming to a range of players.
In an extensive rundown on the PlayStation Blog, Pavlin explained how the studio redesigned its UI to allow for more flexibility and readability, while also rebuilding controller remapping from the ground up and adding more customization options to Ragnarok's combat and interaction systems.
Ragnarok will retain all of the accessibility features from its predecessor, but will also usher in new features such as subtitle and caption improvements, including an extra-large text size to increase readability. The studio has also added a larger text area to match TV and movie subtitle standards and will allow players to adjust the colors of speaker names, subtitle body, and captions individually.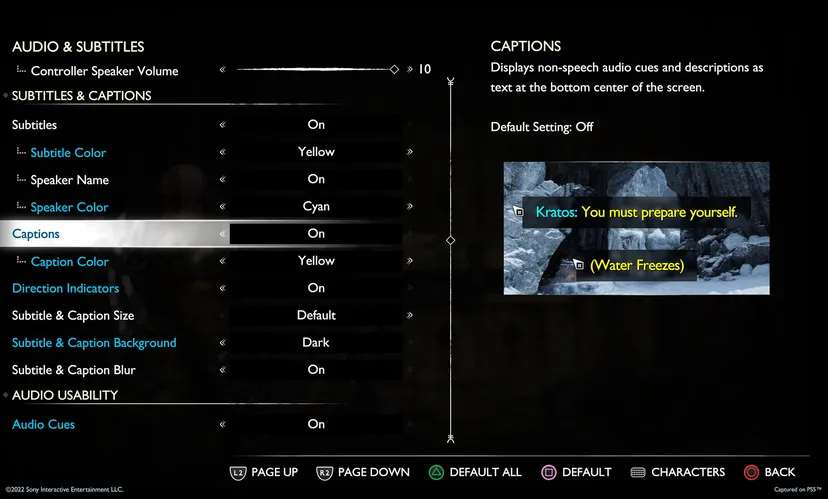 Elsewhere, a new high contrast color-mode will apply a color to objects in-game such as targets, enemies, and a variety of item types. When active, High Contrast Mode will make characters more visible against the background, although it'll also be possible to desaturate the background to further increase the contrast.
Another new addition is Navigation Assist, which is billed as camera navigation system that allows players to orient their view towards their compass objective. When not in combat, pressing the Navigation Assist button will point players in the direction of the next story goal -- essentially serving as a narrative compass.
Traversal Assistance can also be used to automatically jump, vault, mantle, and more based on directional inputs, while Assistance+ will also automate interaction-based moves like climbs, crawls, and squeeze-through.
Santa Monica Studio has added audio cues to Ragnarok, too, and explained it has linked a sound cue to on-screen interact prompts so players can hear when an interact icon is nearby as well as when the button prompt becomes active.
You can find out more about the accessibility features that have been added to God of War Ragnarok over on the PlayStation Blog.