Finding the most efficient route through your average mission in a
Hitman
game often feels like solving a puzzle, and so in retrospect it's not so surprising that Square Enix Montreal chose to present those puzzles literally in
Hitman GO
. The game launched on iOS last week and was well-received by critics and customers, due in large part to its remarkably challenging turn-based tactical puzzles and charming aesthetic -- each level looks like a cross between a board game and and a mechanical diorama. "
Hitman
has always been a thinking man's game," says Square Enix Montreal's Dan Lutz. "I think playing it as a board game makes a lot of sense; it gives you a lot of time to think and plan."
Hitman GO
is the first game from the studio, which was
founded
three years ago with the mandate to produce more triple-A
Hitman
games. The studio later pivoted to focus on mobile games, and after a round of brainstorming, designer Dan Lutz's pitch for a turn-based
Hitman
inspired by scale dioramas and architectural models was greenlit for production last summer. That's how Lutz wound up serving as creative director on
Hitman GO
, which was built using Unity. He claims that many members of the development team have a background in mobile or independent development -- Lutz himself has worked on indie mobile games like
Monospace
and
Colorbind
under the moniker
Nonverbal
-- which came in handy when the time came to start prototyping systems for a
Hitman
board game that could be played in short sessions on a touchscreen.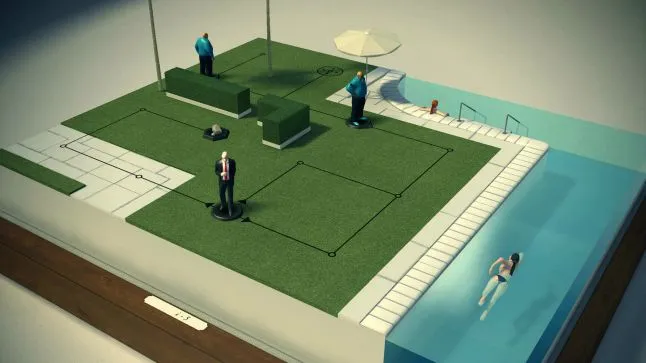 "A lot of people on Twitter said it seemed almost like an indie game, and I think that's because people on the team really embrace that kind of focus on a single mechanic," says Lutz. "We created all the nodes and the lines [of the puzzles] first, and only later did we dress them up."
Playing with dolls
It reminds me of the board games I played as child, though when I mention that to Lutz he laughs me off and claims the team had three primary artistic inspiration for
Hitman GO
: architectural models, dioramas, and the
Rich Kids of Instagram
tumblr. "It's kids with a lot of money taking pictures of their everyday lives, and there you see these hugely spaced-out mansions and giant yachts and there's just kind of a lot of empty space," says Lutz. "
Hitman GO
is kind of modeled after that." The game does seem cold and sterile to the touch. The protagonist looks like the sort of
"Hitman has always been a thinking man's game. I think playing it as a board game makes a lot of sense."
pint-sized man-in-a-suit model you'd find in a child's playset, and his opponents' models move back and forth between nodes on the board like pieces of a mechanical diorama. Anything that can't be killed or used to help Agent 47 kill something is inert, part of the scenery, and nothing on the board moves until you do. In that sense,
Hitman GO
is actually a bit more frenetic than its big-budget predecessors. In an average
Hitman: Absolution
level I'll find myself leaving Agent 47 waiting in a variety exotic locales -- closets, wine cellars, dumpsters -- but in
GO
, you can't lie in wait for your target to come to you. The designers tried to make it work as a feature, but had to cut it to make the puzzles work. "We had waiting and it basically allowed you to kill anyone on the board," says Lutz. "Even though it would have been a nod to the game's triple-A counterpart, we couldn't put it in for gameplay reasons." When I press him about how the team managed to get away with transmogrifying a 3D action game into a disturbingly cute turn-based puzzler, Lutz chalks it up to the appeal of the tilt-shift aesthetic: "We had all kinds of prototypes for different mobile ideas, but
Hitman GO
was what we all fell in love with, so we went with it." The game is available now for $5 on the
Apple App Store
, and you can spend more money in-game to buy extra hints -- you're given 5 to start with -- or unlock later levels without playing through their predecessors. Incorporating IAP into a paid app is an intriguing choice; even though you don't need to spend money to complete the game, I confess that I balked a bit when the opportunity to spend more on IAP presented itself after I'd already bought the app. I said as much to Lutz, and to his credit he handled the criticism with aplomb. "Its a
Hitman
game so it deserves this sort of premium price tag," said Lutz. "For the in-app purchases, we wanted to have them be non-intrusive -- there's no paywalls or anything -- and I think the hints are a nice kind of non-intrusive solution." The market seems to agree: the lion's share of iOS user comments on
Hitman GO
are positive, and the game debuted as one of the top 10 paid apps on the App Store, suggesting that Square Enix Montreal's decision to blend a big-name franchise with a novel set of aesthetic and design elements may have been the right one.