I have been playing a lot of mobile free to play games lately and I noticed a new trend: the growing implementation of the auto-mode. Auto-mode is when you have a phase of the game that the user would normally control that has the option of being controlled by the AI. Games like Brave Frontier, Kritika, Summoner Wars and Brave Trials enable that feature in their combat phase. It seems backward at first to have the playing part, read fun part, of the game being managed by the AI, but after using that option for some time, I would say it is genius.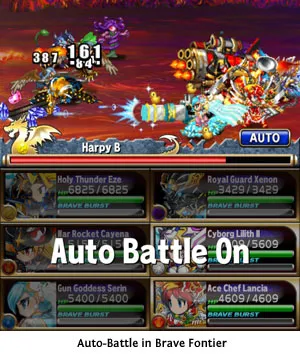 It is pretty funny to catch people frowning when they see my phone playing by itself. Even people from the game industry don't get it, but having an auto-mode in a game really fits in our modern lifestyle where multitasking is omnipresent… An auto-mode game is the perfect companion to a movie or a tv show binge. It fits for an even wider range of gamers, the ones that don't have the time and are really busy (I guess that includes any parent).It easily takes the back seat and lets you do something else at the same time.
Not a new thing
Auto-mode is not something new, if you think about it, any farming game like Farmville, Hay Day or even Godus are pretty much always on auto-mode. You decide on some actions and you let the game do its thing for some amount of time. When you come back, you collect the fruit of the work and you queue more actions. The new Auto-mode trend is just this formula applied to new genres like the monster collecting and the action RPG.
So if the AI seems to be getting all the fun, where lies the pleasure for the user? Well these games are about making choices and progression. Getting better. The action phase is now just a data-visualization of that progression. It allows for projection in your characters and still gives you a feel for the world the game is set in, but it is not about agility skills anymore. Decision making, resource management, optimisation, progression are the core of those games.
Too much of anything...
Too much auto-battle can be bad. In Brave Trials, you can use all your energy at once and get all the loot from the dungeons you would have done, instantly. That is going a bit too far. You reduce the experience of the game as a simple push of a button, removing the immersion you could have had. Your experience only lasts a few seconds and you get rewards for seemingly no work. When using auto-battle, time is still a resource and it limits how much you can progress. It needs to be taken into consideration.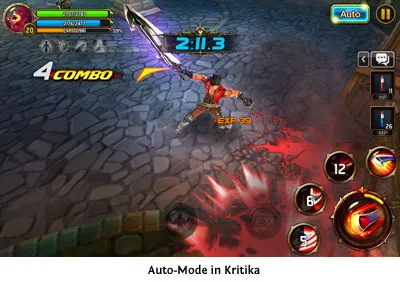 While it is badly used by some, others do it well, like for example the game Kritika. In it, the first time you play a level, you can't activate the auto-battle. The second time around, when you are grinding it for more rewards, you are at liberty to activate it. You get the best of the two worlds; you still explore the world but you never get bored repeating a level.
Even if the auto-mode can seem awkward at first it is still a good mechanic that fits well with the mobile world. Don't be too quick to judge it, keep in mind that the game just moved to a different place.