You know how every once in a while you really want to take a break from working on big projects and just let out an idea that's been growing in that little tucked away creative pocket in the back of your brain? Maybe let it escape and grow into something that you can show the world?

Well, games don't tend to really work like that. Even that great little idea that's been sitting in limbo, as fleshed-out and attractive an idea as it seems, requires a fair amount of work to actually take, create, iterate, and get into a presentable state. Even if it's a small idea, it still takes a non-trivial amount of work to get from Point A to Point B, but that doesn't make the idea of taking the time and the work to help fully realize the idea any less fulfilling or attractive.
For me, that idea was Cat vs. Aliens. It's an idea that had its roots in a concept that was bouncing around the office in some form or another for a while, but one night I decided that I was going to set aside my Creative Director reigns for a while and get my hands dirty and actually develop this idea into a game that I could release. After all, I told myself, I was a programmer for years and years, and it couldn't really be that hard to quickly develop and release this modestly-scoped game. And, for the most part, I was right. In the grand scheme of projects and, you know, things, it didn't take that long to develop. It took about three weeks of my spare time… But, those three weeks of spare time included about three or four all-nighters, several long nights after work, a couple full weekend marathon development sessions, and no small amount of personal stress. In the end, though, I got something out of the whole process that was hard to put a price tag on: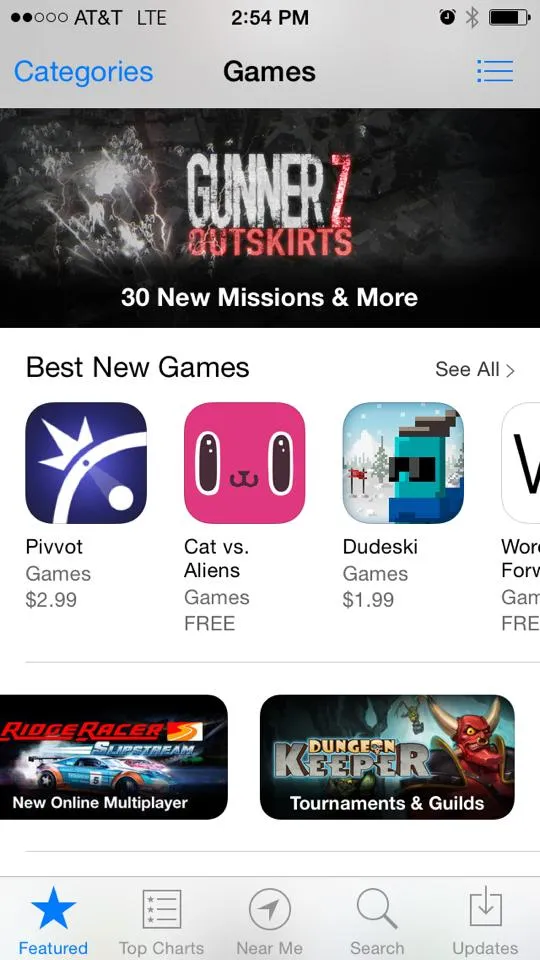 Partnership
A coworker, Alan Defibaugh, expressed interest in working on Cat vs. Aliens with me, and I don't think I could have found a better partner-in-crime for this project if I had offered all the fame and riches the world. From the very beginning, Alan and I were on the exact same wavelength for the kind of style, tone, and shlocky B alien/horror movie aesthetic that we wanted for the game. It wasn't even really a discussion we ever formally had, it was just the style and tone that naturally arose out of talking about the game.
If I had to try and transcribe the conversation as accurately as possible, it would be something like this:
Me: "So, basically, the game is about a cat—"
Alan: "Telekinetic cat!"
Me: "Perfect. The game's about a telekinetic cat defending humanity from glorby blobby aliens all being controlled by a central brain."
Alan: "Got it. Let me do a few sketches."
And, really, that's about how it went. "Let me do a few sketches" almost always yielded the perfect result for the game. I mean, look at that. How perfect is that?
Input Response
I always described Cat vs. Aliens as being the love-child of Space Invaders and a bubble shooter. I didn't want to make a puzzle game, but I've always loved the slingshot mechanic that a lot of bubble shooters have, so I wanted to try and make a game based around that mechanic. The integration of this mechanic into more of an action game meant that while precision aiming wasn't as important as it would have been in a game like Bubblemania or Supermagical, it still had to have enough precision so that you could line up shots with the "brains" (the logical core of an enemy formation) relatively quickly and reliably.
The actual look and feel of the slingshot was actually easier than I was expecting it to be going in. I was thinking that I was going to have to do some really awkward physical machinations in Unity using various physics hinges and constraints and springs, but really the only thing that was necessary was finding a flexible set of graphical assets that I could apply to a really basic line renderer, and then beyond that just find a nice set of tweens to make the touch, pull, and "thwack" of the slingshot all feel good and responsive.
Because, really, that's the most important part of the entire game: if the slingshot doesn't feel good to fling to-and-fro, then the game as a whole is going to suffer as a result. And that required… Iteration. A lot of iteration. I think, by the time we shipped the game to the App Store/Google Play, I had rewritten the input response for the slingshot about three or four times. But, I think all of that iteration is one of the reasons that people who don't generally play a lot of games have had such a positive response to the game: it's just a good feeling mechanic. And who doesn't love using an energy slingshot to fire telekinetic plasma balls at gooey aliens intent on human extinction.
Personality
Since becoming Creative Director of Team Chaos, one of my main goals aside from success, profitability, fame, great games, and a great team — so, you know, very few goals really — was that each one of our games has a very unique and pronounced sense of personality that fit in well with the brand that we wanted to build for ourselves. One look at our website conveys the extent to which we all feel that personality is crucial to our team and to our brand. And at no point do I want to release a game under our name that fails to live up to that most fundamental of goals.
Cat vs. Aliens was a smaller game, a smaller project, and a smaller risk, so we took that opportunity to go all-out with our weirder, most bizarre, less "safe" ideas all in one single package. From the local notifications that pop-up to remind you to play ("CAT NEEDS HELP SAVING HUMANITY") to the Halloween/Circus music playing in the background, to the giant splash screen saying "AIM FOR THE BRAINS!" and a giant banner that activates whenever you trigger Cat's super-ability: THE PURRICANE, we wanted to infuse this game with everything that we felt was unique about our game and our team.
And you know what? It was a lot of fun. The game has since had a remarkably positive reaction from people that we've shown it to (across all ages), it got featured on the App Store, and, even more remarkably to me personally, is one of those games I can still look at on a daily basis and see everything that I thought was special about the game despite the incredibly hard and focused work that went into making it.
So, hey, check out Cat vs. Aliens! You can play it now for free on the App Store or on Google Play.