Let's say you wanted to create a mobile game that challenged players while encouraging them to empathize more deeply with other people. How would you do it?
For Ubisoft expat Yoan Fanise, the answer lies in rhythm. When the one-time director of Valiant Hearts left Ubisoft last year to cofound his own indie studio, Digixart, he told Gamasutra it was in part due to a desire to try and make games with "deeper themes" that might not be seen as marketable or "trendy."
Despite that, the studio's debut project Lost In Harmony looks slick. It's a premium mobile rhythm game, well-received by critics, with a soundtrack that features original contributions by Wyclef Jean and a design that's much akin to Valiant Hearts' racing mini-games.
It's also a game about how young people deal with cancer, and how they talk about it -- or more often, don't -- with each other.
Digixart collaborated with cancer physicians with the Princess Margaret Cancer Foundation to write the story of Lost In Harmony, and brought the game to Google Play last Thursday -- World Cancer Day. While Fanise seems pleased with the results, he also shares some regrets about the design process and some advice for fellow developers in the following conversation with Gamasutra.
Was indie life easier or harder than you predicted when you helped open Digixart last year?
It was much harder than expected, the elements that aren't development take a lot of time to handle: recruitment, communication, first party relationship, and finance. This makes your life much more complicated, and stressful, than in a big developer.
What sort of obstacles did you face in developing Lost In Harmony?
Matching my ambitions with the reality of our capacity. The team was new and very small, and we had one year of budget to launch the game. So I had to lower my expectations in certain fields, a very painful exercise.
The result is still really successful, so we can be really proud of what has been achieved. Apple has featured the game in 147 countries and we are already working on new stories for it, the gameplay will evolve, and more functionalities will be added to the level editor.
Tell me more about that "painful exercise." How did you decide what to cut, and why?
Mostly it was on cutscenes and animations; we didn't have the budget to tell the story with fully animated cutscenes, so in-game text message exchanges were a smart alternative to build the relationship between Aya and Kaito with the constraints we had.
It is also something young people really enjoy when they play the game, perhaps because this is their main communication tools nowadays. A long silence, with three dots blinking, it means something. I really enjoyed playing with those new narrative codes.
Speaking of narrative, the Lost In Harmony storyline is quite serious. Why do you continue to make seemingly light-hearted games about serious subjects like war (Valiant Hearts) and cancer?
I like to think that gaming can also be a media that can contribute to our real world. I like things to not be only entertainment; if I can add this deeper layer that will make people think of a real subject in our lives beyond the game, then I think I did my job well.
That's why we added a link to the NoHairSelfie App to give a way for people that became sensitive to the subject [cancer] to make a donation. Princess Margaret doctors helped us to write the story, to understand what the psychological impact is on a child to discover that his life could not be as long those of his relatives. It's much the same way I wanted to talk about war in Valiant Hearts. This time players can even help for real.
I noticed Lost In Harmony is very much like the chase mini-games in Valiant Hearts. Why did you choose to stick with and expand upon that design?
It is both similar and very different. I wanted to merge musical game design, like in Cytus and Deemo, to storytelling. The "camera facing runner" mode is the only one where you can feel the characters emotions; you can create empathy.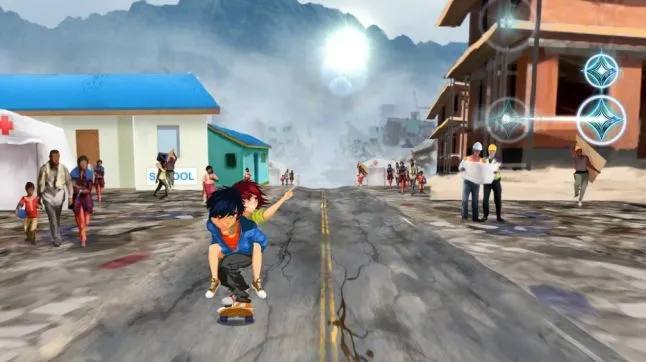 If you look at the characters' backs all the time, it will not be the same…and compared to games like Geometry Dash or Guitar Hero, well, it's hard to build empathy for a square or a circle.
Fair enough. What advice would you give to other developers seeking to elicit empathy in their players?
This is obvious and simple advice: show characters' faces! Their expressions, with a camera close enough so that you can feel the subtlety of the facial posing.
And work hard with your animators to get the right fixed pose, an emotional one that gives the exact feeling, rather than a half-good animation that does not convey the right feeling. One frame of a wrong-looking emotion in 60 frames of character animation can destroy the whole effect. So, I prefer one fixed frame that has the perfect tone.
Then of course, sound and music is the other half of the work. You know the famous sentence from Lucas ["sound and music are 50 percent of the entertainment"], this is so true. The voice tone, the pitch of a scream is something really important; I always try different tonality of screams, I don't care about keeping the original tone of the recording. Sometimes you go half a tone up and you suddenly have goosebumps on your arms. This is it; you're starting to build empathy when you can create that feeling.