A nightmare had been drawn through whatever fragile cosmic membrane separated virtual worlds from the real one, and dumped in front of us.
My friend's home, mundane and unviolated days before when I had picked him up, was now veiled in impassable curtains of webbing. His entire sizable yard was a chaotic mess of wafting lacy sheets anchored by thick yellow strands between every wall, tree, and shrub in sight. Somewhere in the middle, concealed top to bottom by sickly grey tarpaulins, was his house. In the deep amaranthine dark of pre-dawn Brisbane we could not see but knew that every one of those webs hid a fat bodied Orb Weaver.
The horror was beyond the ability of our sleep deprived, monitor-burned minds to process.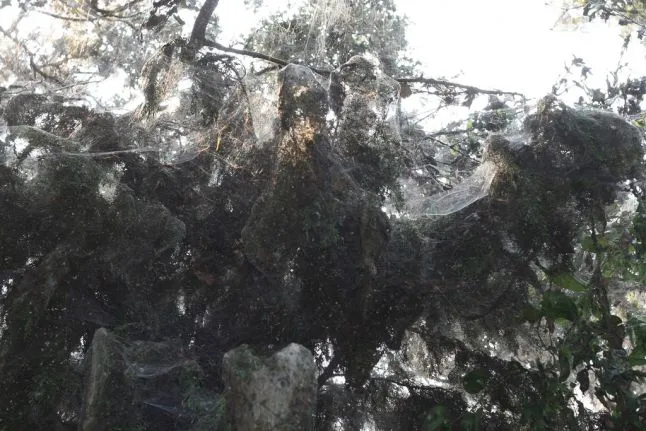 All weekend we had been fighting our way through Bioware's seminal multiplayer RPG Baldur's Gate. The game was a watershed, chiefly because it was the first to allow friends to play together. So keen had we been that we organized for copies to be sent to us in Australia through friends in Canada, where it released weeks early. A country crippling blizzard had prevented access to their local games store for an unbelievable 2 weeks, resulting in us actually receiving the game a week later than it had eventually released locally. The unbearable irony had done little to dampen our enthusiasm though, and we all vowed to await the long postage of our Canadian package. When it did arrive we had huddled breathlessly in a suburban kitchen, our computers networked together by blue ethernet cables, and begun our magical shared journey through the Forgotten Realms.
By the third sleepless day we had reached the nasty web plastered Spider Wood. For 8 or more hours the three of us struggled against legions of giant hissing, web casting terrors until we could simply do it no more. Delirious with fatigue, we had adjourned – our host to his warm bed and me to the car to drive the third member of our group back to his home 30 minutes away. We had joked on the way that our friend was probably fighting spiders in his sleep.
Now here we were, aghast with wide bloodshot eyes before a surreal manifestation of the game. A bewilderment of arachnophobia moved in the cold high beam while my car idled patiently.



The key - unbelievably - was green. The grass it landed on somewhere in that cursed land of thick sticky distress was also green.
There was nothing else to do. Gingerly I inched the car into the yard. Sickeningly tough web strands stretched and snapped around us until the car, too, was entombed in webbing. I stopped just outside the steps leading up to the house's front door. My friend would jump out, closing the door immediately, and make his way up the steps which looked reasonably clear, and so into his house. I could then back out safely and leave. He would deal with the spiders the next day after some sleep. Good plan.
He opened his door onto the darkness at the side of the car, and began getting out. Something pressed against his arm, perhaps the body of a huge spider. He started in fright. The house key in his shocked hand flew into the macabrely shrouded dark. The key – unbelievably - was green. The grass it landed on somewhere in that cursed land of thick sticky distress was also green. It was a black, moonless night. The key was gone, perhaps forever. He hurriedly dove back inside the car and slammed the door shut.
I stared with bleary disbelieving eyes through my dirty windshield. Was I dreaming? Had I fallen asleep in my blessedly clean and clear bed and was only creating the situation in my imagination? Was my body paying me back for the long hours of sleeplessness with a cruelly contrived drama?
My friend remembered he had left a window open. He ventured out again. How he gathered the courage to do so I will never know. I sat nervously in my safe seat, worrying a spider had gotten inside the car. All I could do was keep the headlights on to give him some sort of luminance. Visions of recent pixelated battle with man-sized dripping fangs collided with the scene before me. Sleep deprivation fought with reason. My connection with reality fluttered. I was there, I was here, it was there, it was here.
My friend cleared the webs covering the open window with his bare, bitable hands, and climbed awkwardly inside. But there were spiders and webs in there too; he'd left the window open during the start of the annual Orb Weaver season after all. In blind web-wrapped panic he dove toward the ceremonial katana in the corner of his room, somehow found it in the dark, heroicly unsheathed, and began slashing and hacking his way to the front door in a frenzy. I saw him appear on the porch, carving wide maniacal slices of freedom. He would later tell me in awful detail of the spiders he sliced apart.
That is how the evening ended, my friend - just like his Baldur's Gate Avatar an hour before - doing desperate battle with a legion of hissing arachnids as I backed the hell out of there, webs pulling and snapping as I went. I drove furiously into the cold morning hoping the wind would remove any spiders clinging to the outside of my car. When I arrived, I parked a hundred meters further than usual from my home in a place from which I knew no spider would find me, and where the hot Australian sun would cook anything alive by mid-morning.