Located in the temperate Niagara region best known internationally for wine production, St. Catharines is also home to game developer Silicon Knights, currently working on Too Human for release on Xbox 360 under the command of founder and president Denis Dyack.
Despite its significance, few even within the city are aware that St. Catharines features Ontario's largest game developer. After all, the number of staff members of Silicon Knights -- 160 -- pales in comparison to nearby province Quebec's largest, Ubisoft, which has over 10 times as many.
Ontario vs. Quebec
Famous industry firebrand Dyack has his own take on such comparisons. A St. Catharines native, Dyack chose the location based on his own familiarity with the area and a genuine belief in the existence of drawing talent in Canada without needing to be based in a big city.
"I believe that talent is the overriding factor in this industry more than anything else," said Dyack, "and you could really make videogames anywhere. You don't need to be in LA, you don't need to be in San Francisco... Though I know a lot of the industry is based in those sorts of places. But there's a ton of talent in Ontario, great programmers, great artists, and for me, it was just natural to stay here."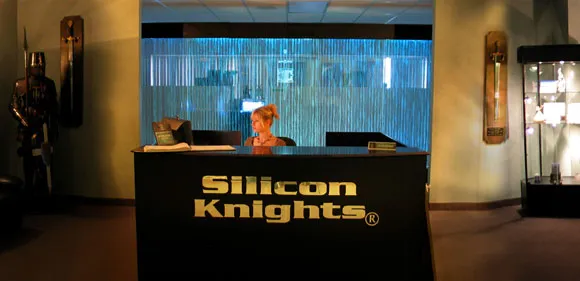 Silicon Knights' eighth floor reception.

"I know the area, and it's an hour's drive from Toronto if anyone wants to go to a really huge city, but at the same time we can enjoy all of the benefits of Niagara Falls, Niagara-on-the-Lake, St. Catharines, all of these places are really fantastic, so, I think it's quite an advantage to be here. We're still the biggest developer in Ontario, despite being based in St. Catharines."
Dyack's local pride extends to the nearby educational facilities. Educated at St. Catharines' Brock University, he said, "We've got the best universities in the world here. I mean, you've got, within an arm's throw, twelve or thirteen universities that are world-class. Toronto, Waterloo, Brock -- one of the fastest growing universities in Ontario -- Western... they're all in Ontario."
However, Dyack was less impressed with the province's failure to stop graduates leaving the province after graduating. "Because all of our universities and colleges are subsidised by the government, what we're doing is training all of these people, educating them, and then they're leaving. We've got to stop that, but the government realises that too. Most people trained in Ontario would like to stay in Ontario, so let's start giving jobs to people here, let's keep it on Ontario and let's stop the brain-drain to Quebec or wherever."
Of course, by choosing to keep Silicon Knights in Ontario since founding the company in there in 1992, the company has not received the same benefits, such as millions in tax credits, that many companies have received for choosing to locate their development in Quebec. When asked if he felt Quebec would a better place to be located for game development, he happily admitted, "Quebec is way better," but went on to discuss Silicon Knights' efforts to work with the provincial government to make game development in Ontario more attractive.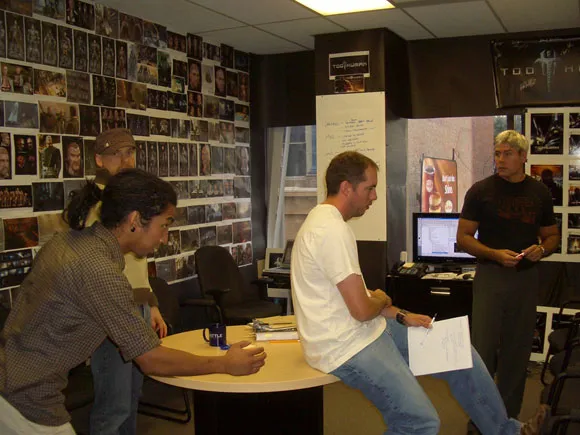 Art Director Carman Dix's office is covered from wall to wall with concept art from Too Human.

"The subsidies in Quebec are, well, insane," Dyack quipped. "Essentially that's the only reason the studios are so big there. I think that our friends at the provincial government have been making some good forward progress and I think we need to make more, but I'm certainly a big believer in Ontario and I want Ontario to succeed."
Indeed, Dyack argued that the benefits of developing in Quebec were so extreme that they are impossible to sustain, creating a false economy. "Once those subsidies stop, because they can't go on forever -- they've got like, 50, 60 percent of salaries covered, it's really cheap to make games there -- will those business stay there, or will they move out, as they're global and mobile?"
He continued: "It's costing the government a ton of money and the payback is uncertain. I think what our government needs to do is to make smaller steps, maybe not such extremes, but get the companies actually rooted in Ontario, and really see the benefits of a long-term investment here. It really has to be a long term investment in the economy, the growth sector. I mean, video games is one of the fastest growing sectors in entertainment in the world, and we've got to do this kind of thing carefully."
---
All The World's A Stage
Silicon Knights is based across three floors (the second, fifth and eighth) in a non-descript tower block in downtown St. Catherines. Gamasutra wasn't granted access to the fifth floor, where "secret things are happening", but was granted full access to the second and eighth. Silicon Knights' main reception is found on the eighth floor, and is immediately striking, with the reception desk situated in front of a neon "waterfall" that static pictures can't do justice to. Dyack revealed that the reception had been carefully designed.
"We strongly believe that the media is about entertainment first, and so the front entrance is set up like a theater, with an exit stage left and an exit stage right. When you come in you should see it as a theater stage." To emphasise his point, he continued, "We strongly believe in entertaining people, and a lot of people mistake this industry as being technology-based. Technology is only an enabler. We're entertainment first and foremost and we want people to know that the minute they walk in the office."
Very striking on the tour were the ornate mounted swords outside of key offices, which are given to staff members who've worked at the company for ten years. Director of content Ken McCulloch told us a rumor that any staff member staying for 25 will receive a suit of armor.
McCulloch is one of the six directors -- not including Dyack -- on the Too Human project, and another, director of design Henry Sterchi explained how such a large contingent of directors manage to work together.
Sterchi commented: "We have a lot of process planning committees. For an example, people would lay out all of the intended cinematics and then we'd work out how they tie into the levels. It's important as instead of just 'bookend' cinematics we want to have scripted events during gameplay. We have to work together on that."

One of the many swords which line the walls of Silicon Knights.

The design director also feels that the number of directors on the project is a strength: "In each director we've got somebody, who, while they might love the whole of the game, their section is their baby and the one they're looking out for. If somebody from cinematics wants to take control away at a point I think is critical that the player have control, or if I want to take liberties that the art director isn't pleased with, it's great that we all get together and we meet and discuss it."
He also noted: "Everyone from each department has a full understanding of what's going on in the other departments. They're all in on the level flow, the game design, they have all the maps, knowledge of when the enemies attack, and they're all involved."
Technical art director Mike Seto agrees that the climate at Silicon Knights was especially collaborative: "We are a guild -- that's our philosophy. We make sure we're teaching each other and that everyone contributes to the game. I mean I can talk to anyone, a designer about a game mechanic that I don't feel is exactly right and he'll be more than happy to take a look at that. We make sure everyone feels free to comment on where things are going."
---
Concluding with Clusters
With such an atmosphere of education and collaboration at Silicon Knights, it's no surprise that the company is closely involved with local Brock University's new Interactive Arts and Sciences program, which began this fall.
Dyack explained, "It's a program about interactive entertainment. A lot of these programs focus on how to be a programmer, a designer in the games industry. We've gone beyond that, we want to have an arts perspective, a writer's perspective, a filmic perspective, so the students can really take in all of the games industry combined as an art."
"It's just like our engagement theory -- technology, audio, ludology, art and story -- all together in one degree. We're really, really excited about this, it's just gone into it's first full major this year, and by working with the university on that we really think that we can start getting these programs together where people can really get accredited with something that will begin their career as a professional."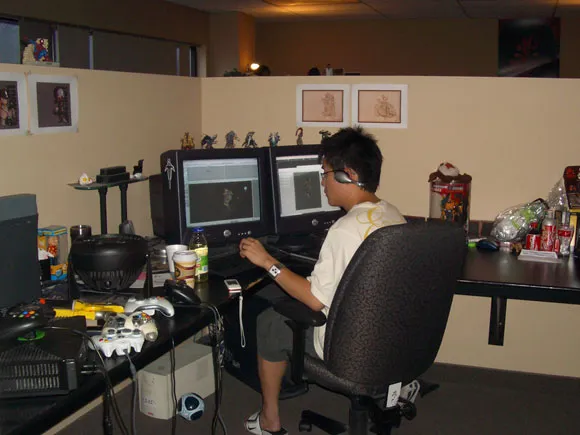 A Silicon Knights artist hard at work.

Dyack's interest in the collaboration between Silicon Knights and universities doesn't stop there, however, as he went on to describe his work with the local government on clusters. "A cluster is, basically, the government getting together with universities and industry, situated together and able to interrelate and associate easily."
He explains: "So you'd get the government in the same building with the university and the industry, all together, with shared resources, such as huge theaters, sponsored by the government to help grow the industry and help subsidies it, while the industry works closely with the university on education to help students graduate to hopefully be employed."
"So that's a cluster, and these clusters they've found to be very beneficial to stimulating industry, and we'd like to start several of these in Ontario. I'd like to see a cluster in the Niagara area, the Waterloo area, and the Toronto area."
"These would be on a provincial level, and none of them would necessarily be assosciated with us. This isn't a self serving move," Dyack concluded. "It's for other companies too and is about growing the industry in Ontario, not just us."