Why do you prefer Summoners War:Sky Arena to Brave Frontier? That is the question my producer asked me last week and I thought it was a very good question to answer here (speaking to people is so overrated). I played Brave Frontier for 3 months and did the same thing with Summoners War. Both are very good games but in the end, I prefer Summoners War:Sky Arena (SW:SA for now on). The answer lies in the social features and the user interface.
Social
Both games have social features, mostly: gifting, use a friend as an ally and arena (pvp). SW:SA has even more: it has the chat, guilds, and secret dungeons. Secret dungeons are dungeons that you find while grinding. In these dungeons you find pieces of monsters and when you have enough of these pieces (20 or 40) you get the said monster. Now the social part is that these found secret dungeons become available to all of your friends and whenever one of them gets in one, you get one piece of the monster, thus inciting you to be vocal about the fact that you found a secret dungeon (well not so secret). It is a nice little feature that pushes people to interact with each other.
I think the biggest social feature in those is the chat. It is weird to say this because it seems like a small feature, but it does a lot to make the game feel alive. You feel connected with real people and that something that you just don't get with Brave Frontier. Very often I find myself putting the game on Auto-Battle (feature discussed in a previous post) and I just read the chat. Not very often do I write, but it is just fun to read what other are saying (well, as anywhere on the internet, it is not always elevated speech, but it is still fun).
These games are meant to be played over a very long period of time. They are basically toned down massively multiplayer online games. After a little while the only changing thing is other players.
User Interface
Being a UI programmer, user interface is really important to me. And the user interface in summoners war is just way better than in Brave Frontier. It is more constant, lighter and it gets out of the way. It is hard to explain what good UI does.It is not something the user can pinpoint but he definitly gets a better experience when it is done right.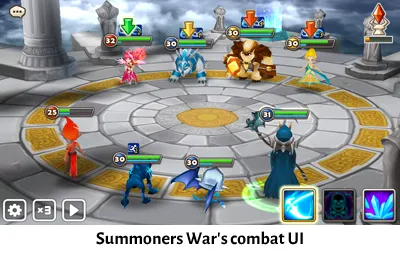 If you look at the combat phase of summoners wars, you see nearly no buttons, everything is done by just touching which enemy you want to attack, it is very intuitive. In comparison, Brave Frontier uses half their screen in combat as UI. This uses important space that could be better used for the visual representation of your monster and how strong they grew up to be (progression is the core of these games).
In general SW:SA is way lighter than brave frontier. When you look at the game on a mobile phone, which is pretty small, darker UI makes it more tiresome to get the same amount of information than a lighter UI.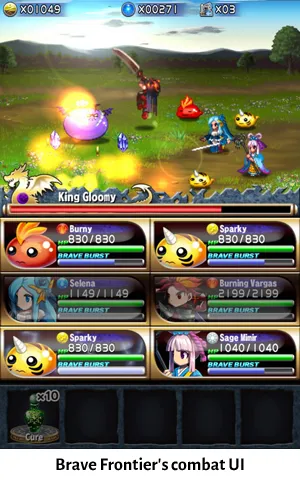 Lore
One thing Brave Frontier does better is that they wrap their events with a bit of lore. For example recently, they had 3 event based on the Xenon/Estia storyline. Basically events to get a new unit, but it is more fun to get some story of where the character comes from. SW:SA should learn from that and add a bit of lore to their events.
The funny thing is, I wrote this six months ago and it is still very relevant. The difference now is that Brave Frontier is pretty much past its golden age. If you look at the top grossing games in North America, BF is losing more and more ground. My guess is that the user are moving to other games like SW or Heroes Charge. Seems like you can't stay at the top forever (except for Clash of Clans).