I curse under my breath at my clothing choice for the day – jeans and a hoodie - as I walk the mile from my house to the Metro stop. It's not the walk that bothers me, the route is pleasant and I am an avid distance runner. Rather, it's DC's omnipotent late-summer humidity, already in full force at 7:45 am and turning my hoodie into an oven. It'll be worth it, I remind myself, since the computer labs that game jams are held in typically have the AC cranked up to 11, and because representing my team - the hoodie has the logo of the university at which I am a faculty member - is important. THIS particular game jam is being put on by the White House.
"The White House is holding a game jam."
"The White House is holding a game jam and we got an invitation."
These thoughts race as I wipe sweat from my forehead. To be honest, my team from the American University Game Lab and I wrestled with the idea of occupying yet another weekend with a game jam. Some of us had just moved to the District (their farewells from the West Coast containing every possible joke about ties being the perceived DC "uniform"), and wanted to adjust to their new surroundings before the semester got into full swing. For myself, having lived in the District for over a decade, I had had weekends completely booked with game dev events since mid-July – showing off my own games, organizing booths for our local indie community, running our IGDA chapter, and turning an Ice Bucket Challenge into an opportunity for making a game – and was worried about losing another one.
Concentrated creativity to tackle a big problem
Some opportunities are too good to pass up. For our newly formed Game Lab at American University, this would be an opportunity to work together on a quick project. The Game Lab, created in partnership between the School of Communication and the College of Arts and Sciences at AU, was founded for the purpose of creating persuasive games that tackle real-world issues. For this purpose, they hired Critical Gameplay founder Lindsay Grace, game AI researchers Mike Treanor and Josh McCoy – both of whom previously worked on the team for Prom Week at UC Santa Cruz, and myself as Game Artist in Residence. To take the process of discovering the best way for our team to collaborate and condense it into a weekend rather than a series of semesters was of incredible value. This was also an important jam, one with a purpose we agreed with – creating games that assisted the teaching of Common Core standards used in K-12 schools across the country.
"I'm calling for investments in educational technology that will help create digital tutors that are as effective as personal tutors, educational software as compelling as the best video game"
Super Solvers: Outnumbered!
This quote came from President Obama in 2011 on a visit to the TechBoston Academy in Dorchester, Massachusetts (http://www.gamepolitics.com/2011/03/09/president-obama-make-educational-software-compelling-video-games#.VBwXwC5dWQg) While many current devs relish the compelling educational games they gladly consumed as children – The Oregon Trail, Math Blaster, Reader Rabbit, The Incredible Machine, Outnumbered! – we can also remember when these games devolved into so-called "grape-flavored cough syrup" titles that lost the balance of fun and content that made previous educational games effective. Mark DeLoura, a game industry veteran and a Senior Digital Media Advisor in the Office of Science and Technology Policy (OSTP), along with members of his office and the Department of Education felt that to best respond to the President's challenge, they needed to provide not just one game project, but a real shot in the arm to educational games. They invited top studios and universities to DC to create not one, but 20 educational games over the course of a weekend. Thus, the White House Educational Game Jam was born.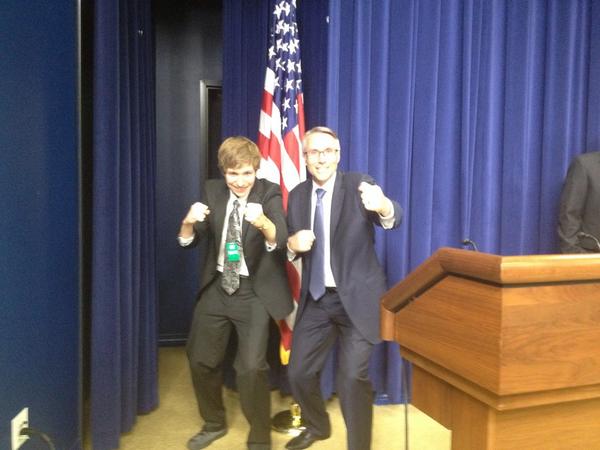 White House Game Jam organizers Erik Martin and Mark DeLoura
Jamming With a Purpose - How Very DC
After I arrive at the jam site; the offices of educational platform developer Learning Objects; I grab a coffee and a bagel and sit down with my team. I'm glad to see that my hoodie will serve me well in the chilly office air. More importantly, I'm glad to see that I can make AU's presence known among the likes of Disney, Rovio (themselves rocking Angry Birds hoodies), UbiSoft Red Storm, MIT, The Smithsonian, Glass Lab, and others. The large space, which architecturally resembles a San Francisco startup much more than the grey cubicle and marble landscapes of DC corporate offices, is bustling with teams hard at work on their games. As a design prompt, we were given general topic areas – math, science, English, civics, or history – and asked to approach them in ways that would transcend how these topics could be approached in the classroom. For example, science-based games could allow players to manipulate systems that are difficult to comprehend with lectures alone – the evolution of planets or bio-diverse ecosystems.
White House Game Jam jam Space
Already you could see groups reaching out to what modern childhood gamers play – creative and customizable games like Minecraft – as models for their games' own interactions. The Red Storm team was working on Endemos, a game where players could customize and add creatures to an ecosystem to see how it reacted. Magic Leap developed Rare Earth, a game where you affect where and how a planet generates to try to recreate our own. Ben Sawyer of Digital Mill created EnviroEvolver, a game where you control a diverse ecosystem not by controlling the animals, but by affecting the environment itself and seeing which animals generate, which die, and which flourish. For our own game, created in partnership with Lucien Parsons of Operations Catalyst Consulting, we chose a math-themed shoot-em-up where players could transform function equations to change the shape of their lasers and called it Function Force 4.
In many ways, this purpose driven game jam was very much at home in Washington, DC. Our own indie game community is not made up of the typical full-time devs or former-AAA's one sees on TIGSource (though we have those too.) Instead, we're a diverse group of developers that balance their personal game making time with jobs at government contractors, where they develop software, training simulations, and "serious games." This indie group is centered around our own IGDA chapter, founded 5 years ago by Trey Reyher, an indie developer that moved to the DC area to work at a government contractor. This relationship between personal entertainment game projects and professional games that address real-world issues has given our community a deeply analytical flavor. We're comfortable with both standard and academic approaches to game development and are as interested in hearing someone talk about their successful development work as we are seeing interactive software use in other fields.
Just as DC's Beer Week and bottomless mimosa brunches contrast its buttoned up work scene, so do our fun games allow us to stretch from the confines of our applied game work. Our latest either made entirely by or with the help of DC-area devs includes Tumbleweed Express, Barkley 2, Drop Force Nova, Super Dwarf Madness, The Unearth Initiative, December, and my own Dead Man's Trail. We take the experiences of making these games to create content for books on game design (including an upcoming one on pixel art from our own Daniel Silber) and presentations at conferences such as East Coast Game Conference and Games For Change. To show our work, we have a plethora of local events that include Gamescape, MAGFest, and IGDA DC-run pop-up arcades. We also develop with game jams like those at our local Global Game Jam sites, the upcoming NewsJam, and of course, the White House Educational Game Jam.
Finding Your Local Spirit at an International Jam
For our American University faculty team, the White House Game Jam went like many others – we worked through core mechanics quickly and began iterating some level orientations that would allow us to get the best footage for our 2-minute video, a requirement of the jam. For me, as the artist on the team, this was an interesting experience as it is often the programmers who are the last-minute funnel for development activity during a jam. Even though ours were certainly crunching up until the deadline, I joined them in screaming at my computer as After Effects slowly rendered our trailer.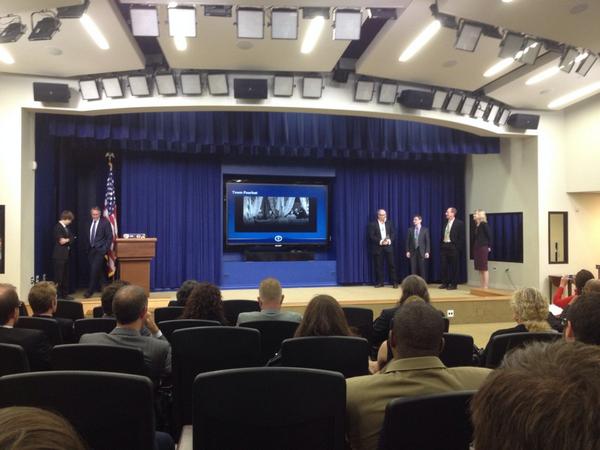 The closing event for the Jam was one of the few opportunities we had to speak with the other teams at any other great length. More than any other jam I've attended (I've been to a lot), there was a feeling that what we were doing was incredibly important while we were working on our games. We weren't there to simply have fun, nor were we content with having vaguely functional experiments at the end – this was the most important game jam of our lives. This made the closing presentations at the Eisenhower Executive Office Building that much more exciting (that and the cupcakes with the Presidential seal) as we saw some of the games for the very first time.
Cupcakes are a DC staple
It was also during this event that I realized that while our own indie community had been hard at work for the last few years in DC, other groups had their own game initiatives that had grown in parallel to ours. The Smithsonian, for example, has a game development initiative that created Starship Oceania, a game about the evolution of organisms and their relationships with their environment, for the White House Game Jam. They are also working on building a library of interactive content for their museums. Initiatives like the Smithsonian's and others who are working to create new game content for both entertainment and applied purposes is helping build a vibrant game development community in Washington, DC.
The other benefit of having a healthy game ecosystem in our local community is one of recognition. At the Digital Games Research Association (DiGRA) 2013 Conference, I attended a panel moderated by Bart Simon on indie game studies. I didn't know what to expect: a panel promoting indie game dev focused curriculum? A game studies talk focused on indie games perhaps? The possibilities intrigued me. The discussion turned to creating a better understanding of the indie game phenomenon and, perhaps more importantly, documenting the uniqueness of indie game communities in different localities. To most, "indie games" are a monolithic subdivision of the industry. Indies' largely internet-based distribution methods and dependence on social media to spread the word about their work diminishes the element that a developer may operate in a place with its own sense of indie games.
A popular lamentation over the current state of what is perceived as the "big" indie scene, mostly symbolized in these lamentations by the yearly Indie Game Festival (IGF) and IndieCade, is that these venues feel to some like "walled gardens." More explicitly they are said to be inclusive to only those who are already inside. Discussing this argument with friends of mine on the "inside" (judges, past nominees, etc.), they will tell you a story about a community that sought to help indies by creating places where people could get recognition for their work but were overwhelmed by the numbers of people who wanted in. Where we're getting it wrong is not learning from the success of the community that started these "big indie" events in our own local groups. While the IGF and IndieCade are important and prestigious to the worldwide indie scene, communities do not have to rely on those as the well of feedback. Dev communities should make partnerships with local art galleries, community centers, schools, incubators, or other unique venues to interface with one another and the public.
IGDA DC arcade at nclud
In DC, we're working with other design groups such as the American Institute of Architects (AIA) to promote game development tools and techniques in real-world applications. Likewise, we're working with local schools and community centers to educate kids and their parents about games and game design. To celebrate the work of our indies, we've even begun a "pop-up arcade" initiative where we have developers submit games every quarter to be entered into a curated collection of games that make their rounds to places around the District. We've had exhibitions at the offices of web developer nclud (with some of the proceeds going to charity) and are working with MAGFest, American University, and the Baltimore and Philly IGDA chapters to have a curated arcade of indie and social impact games in the Smithsonian American Art Museum in December.
The White House Educational Game Jam was educational for more than just students who may potentially play our games. By bringing together developers with a variety of roles and from a variety of places, the organizers have enlivened the conversation of both what it means to make educational games and what it means to make games in Washington, DC.