The Room developer Fireproof Games' new GearVR jetpack game Omega Agent is interesting for a few reasons, not least of which that it challenges a common piece of VR game design wisdom: open worlds are tricky business, and best avoided in your first few VR games.
"Carmack himself once advised developers not to make an open world VR game with complete freedom of movement, and, well, we may have disappointed the great man there," says Fireproof co-founder Barry Meade.
Maybe, maybe not; at GDC earlier this year Carmack did indeed caution developers against the temptation of building fully-navigable 3D worlds in their early GearVR games, because the risk of discomfitting new players is still so high.
Instead, he seemed optimistic about the potential for early VR games with "limited, tuned navigation capabilities," but Meade says Omega Agent was designed from the start to be anything but limited.
"To some degree, making a game should be an exercise in remaking a platform in your own image," says Meade. "In the case of VR where player movement can be an issue, we made a game all about movement."
Fireproof settled on the "spy on a jetpack training island" conceit for its first commercial GearVR S6 game because jetpacks are familiar, uncomplicated to fly and immersive to inhabit. As for the 1960s British spy motif, well, you can blame that all on Thunderball.
"Bond in a jetpack was cool, the 1960s was cool, why not evoke some of that," says Meade. "Honestly, the start of Omega Agent was just that we thought in the context of VR flying around a city would be ridiculously fun."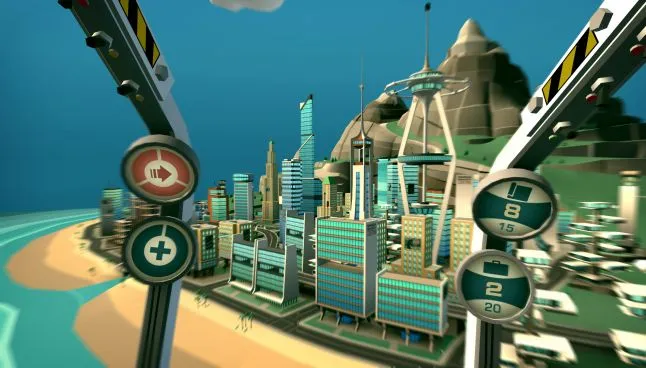 To keep it from being ridiculously nauseating, Fireproof tried a few different design tricks. Meade says just overlaying a cockpit on the player's perspective helps people feel a lot more comfortable, because "having something in the foreground of the player's vision helps offset the crazy scale and movement you are asking their brain to process."
The studio also found that it helps to keep your VR game's UI to a minimum, and design it to look natural in a way that sits well with the rest of your game's world (you can see a bit of this in the trailer, embedded above.)
Smooth, controllable movement is also key -- I've seen lots of people get sick after riding a VR rollercoaster for the first time, and so it's not surprising that Fireproof had better luck with a jetpack designed to slowly float where the players points it.
"We were careful to make the controls responsive but gentle," says Meade. "The player never really goes faster than they are comfortable with and they can still boost with the trigger button if they want to get real lift and speed."
The team also added a sky-dome for contrast, which Meade says works kind of like "a visual cage surrounding the player in the far distance," that helps players who are prone to motion sickness orient themselves as they fly through the virtual air. It's virgin territory for a studio best known for puzzle games that take place inside a single room.
"Omega Agent was our very first attempt on a platform we know nothing about, and there are no classic VR games yet to draw lessons from," says Meade. "We had to investigate areas that haven't been much tackled on VR yet."
But it's yet unclear whether the high-flying experience will survive first contact with GearVR S6 owners. Fireproof tried to keep the game simple in terms of both scope and complexity while it focused on nailing down the basics, and Meade says it's still a struggle.
"We hope we got the balance right," says Meade. "I guess we'll find out."