When trippy scifi-racer Lightfield was released on consoles last year, I quite liked the game for its abstract visuals and its wide open tracks. One thing was notably absent though, and that was a PC version.
Now, with the game's Hyper Edition, you can race your friends on the PC as well.
I talked to Simon Wallner, co-founder of Lightfield developer Lost in the Garden, about how the game has been doing so far, why they went with a console version first, and how the Austrian game dev scene is doing.
Tell me a little about the development of the original Lightfield - what went right, what could have been better?
Overall, we are quite happy with the core mechanic of flying around freely and snapping to surfaces for an extra speed boost, the level design, the visuals, and the audio. I think it turned out to be a very unique game that might bring something new the racing game genre.
On the other side, one large blind spot throughout the development was that we focused too much on the core and the freeform aspects of the game, and too little on giving the gameplay some much needed structure and direction. We started out with the ideal that that is it best to not put any artificial boundaries on the players and that too much structure and rigidity is bad. What we learned the hard way was that this is not really true and also an approach more suitable to toys, and less so for "actual games".
With the HYPER Edition we added all that missing structure and added a full campaign mode, an actual trick system and a couple other things. The gameplay in its core is still rather freeform and unchanged, but it is now embedded in a structure that provides the right context.
PR is also one of the things that could have been better. Being scared of the large number of Steam releases every day, we were hoping that the fight for visibility was fought a little less fiercely on consoles, since there are way less games coming out there. In retrospect I would say that this also was not true and it proved pretty difficult to compete with other titles for the player's attention.
So what's new in the Hyper edition - apart from the fact that the game is available on Steam now?
The HYPER Edition is pretty much the definitive version of Lightfield that we actually wanted to make from the start, but did not really know until the release. We started out with a general vision and direction, but it really is only now that we understand what it is that we made.
This release is not just a port, but a heavily extended version of the original game. We added a full single player campaign mode that really highlights all the different aspects of the game (racing, parkour tricks, exploration), we finally added a complete trick system, and many more features and tweaks. Another thing that we finally added, and a feature that was planned for a very long time, is the photo mode. Our visuals always have been one of the strong points of Lightfield and players can finally take these gorgeous screenshots as well.
Are there benefits of releasing on console first? Would you do that again?
Since this is/was our debut game this question is very hard to answer decisively. One thing that we probably benefited from was the added credibility of having a console title and it probably made it easier to get the attention of some journalists and media outlets. We were hoping that it would make it easier to rise above the noise and to reach players, but that nevertheless also proved quite difficult.
Now with all the experience from the first release and our track record as a studio, the circumstances changed quite a lot. For every future project we would have to judge each platform's pros and cons to find the platforms that suit the game well and to come up with a strategy that leverages these platforms in an optimal way.
For anyone who is also new developer, and who's starting their studio, I would say the most important thing is to have a plan that goes well beyond the first release and to maybe have a few options along the way. What are the things you are getting in return (besides money) and where can you learn the most, while still surviving financially.
The Hyper edition features a full rework of the original game's progression system. You could unlock new tracks by just playing the game before, now there are missions to complete and a much more traditional way of progressing through the game. Wasn't the original system well-received?
The problem with the original system was that it was just too little. It felt a bit detached from the rest of the game and it lacked immediacy and agency. Also it did not allow us any way to communicate the game to the players properly. With the new Campaign Mode, we can much better focus on certain aspects of the gameplay, and to introduce the players to more advanced skills like doing tricks or showing off our slow-mo mode.
The original unlock system is still present however, and in case you don't care about the campaign mode you can still enjoy the game in all its freeform character. With all the additions we tried to implement them not instead of something but as an additional way to play the game.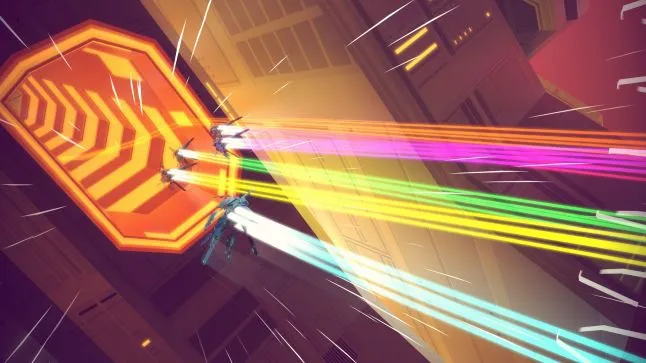 Let's talk about the Austrian game dev scene. Is there such a thing, a sense of community, and is it a big scene overall?
The Austrian game dev scene has evolved quite a bit over past 10 and more years. It is an incredibly friendly and welcoming community. It all started more than 10 years ago with the first game dev talks and lectures at the subotron and now there are events almost every week and an indie Slack with roughly 500 users.
The scene consists of many hobbyists and students, but also a few seasoned indie teams like Broken Rules (Old Man's Journey), Kunabi Brothers (Blek and Frost) and midsize studios such as Mipumi (The Lion's Song), to only name a few.
In the past we helped organize more than 15 game jams, and we are also regularly teaching game dev related courses at Universities in Austria. Pretty much every larger University has game dev related courses or even a games program now, and I believe that there is a lot more coming. I cant wait to see what the "next" generation of Austrian devs will create!
What's something you love about the games industry at the moment, and what would you like to see changed?

On our journey we met so many nice and genuinely friendly and helpful people. It is not just the other indie devs, it is also the individual people at Sony, Microsoft and Steam, and of course it is also all the players we have met and been in contact with. It really feels like everyone is excited about great games and about making great games.
What I wanted to see changed is how much more hit driven the indie segment appears to have become. It feels like we are more and more losing the middle ground of "doing ok" with a release and it is rather sales north of 1 million units or no sales at all.
What's next for Lost in the Garden?
I'd love to say vacation, but there are still a few other projects we are working on right now, and we probably have to fix a few so far undiscovered bugs once the game is released.
As a studio we focus both on our own games and also on outside contract work. This helps us a little to prevent getting stuck too much in one singular thing and helps us to look beyond our own noses and to get some fresh ideas. We still have plans for Lightfield , but I am also sure that you will see some game projects from us in the future!
This article originally appeared on Gamasutra sister site indiegames.com