Studio Wildcard has announced new modding support for hit Steam early access game Ark: Survival Evolved, which has now sold an impressive 1 million copies in just a few weeks of release.
Working with Unreal developer Epic Games, Ark's custom modding tools are intended to be an example of what developers can provide their modding community for games built on the widely available Unreal Engine 4.
The Ark Dev Kit launches immediately, with mods planned by the Player Unknown team, who created the Battle Royale mod for ARMA III and DayZ, custom maps from players in the Ark community, and planned mods from Studio Wildcard that are designed to be be extensions to Ark: Survival Evolved.
Speaking to Gamasutra, Studio Wildcard co-creative director Jesse Rapczak and Epic Games CEO Tim Sweeney expressed excitement for the new custom mod tools, both for what they represent for the Ark community specifically, and for the game development community as a whole.
As Sweeney explained, their partnership with Studio Wildcard was brought about thanks to the team's early adoption of Unreal 4 last October, and was intended to be a template for other developers to design custom mod tools for their online communities.
Citing Epic's strong background in the modding communities for Quake and Unreal Tournament, Sweeney also made clear his excitement for the mod tools as a path for more game development newcomers to get their start in the industry by working with modified versions of the Unreal engine. "A huge number of people at Epic have come from the mod community and worked their way into the industry through that channel, so we see mods having a multiplicative effect on the community surrounding an individual game."
"This provides an opportunity for a new generation of developers to get into development through mods, and potentially branch out into the game industry as a full time career for some of them."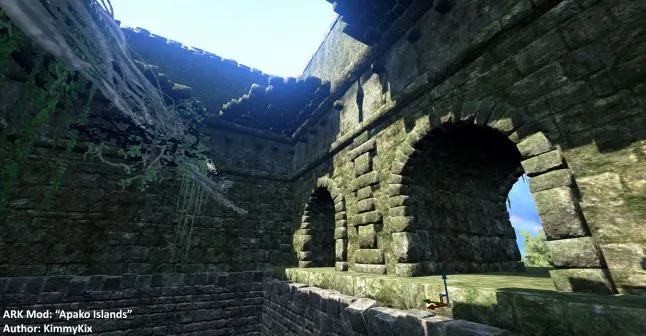 (Above: Ark mod "Apako Islands" by modder KimmyKix)
As Ark is an online game with much of its calculations stored server-side, Rapczak explained that Ark mods would be run on player-controlled servers, allowing players to create everything from custom game modes to new creatures and items.
Speaking specifically to creature creation, Rapczak explained that modders could immediately dig into the game's dinosaur AI thanks to Wildcard's effort to construct their behavior within Unreal 4's AI Logic tool.
"The reason behind that wasn't just so we could take advantage of that system in our own development but so that players and developers could create their own types of creatures that fit in with the Ark ecosystem and make their own behaviors that integrate well with the rest of the ecosystem there on the island."
Given Gamasutra's prior examination of Ark's dinosaur design, it's worth noting that these mod tools would allow players to experiment themselves with either more realistic or more monster-movie-ish styles of dinosaur play, and, with intense labor, possibly allow for educational mods similar to Computercraft for Minecraft.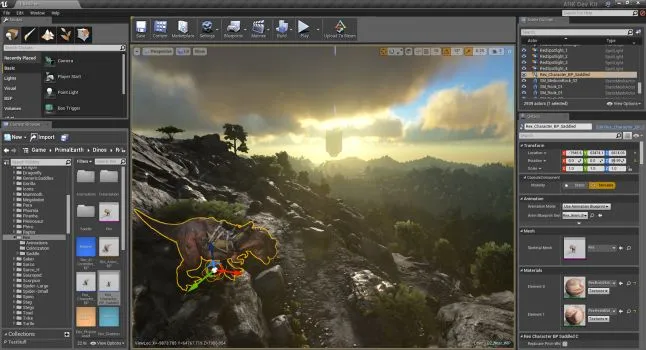 Rapczak says that the Wildcard team intends to make internal documentation about Ark's custom design tools available to modders to guide them through the design process. In addition, they'll be relying on the established Unreal development community to help modders rub elbows with game developers with previous experience working in Unreal.
With Bethesda's recent foray into paid mods on the Steam Workshop ending somewhat tumultuously, Rapczak explained that Studio Wildcard currently has no plans to monetize any mods, and any modmakers looking to sell their work would do so by putting their created assets up on the Unreal store for the purchase of other developers or modders to use in their game. "As far as the players concerned," he explained, "we won't be trying to have a marketplace where they can buy mods for our game at this time."
For other developers working in Unreal 4 to integrate mod tools into their game, Sweeney reiterated that Epic's goal wasn't to partner with any specific developer, but rather to open up the possibility for all developers working in Unreal 4 to integrate these tools into their game.
"It's not Epic sitting back and plotting what developers to work with, it's empowering everybody to do what they would like. Ark has emerged as the first game to support modding this way with Unreal Engine 4. [We expect] there'll be more, but this is a wonderful starting point, and a great example other developers can follow as well in building mod communities around their games."
Still, Sweeney admits that he's excited that the first playground for these mod tools would be in Ark's dino-themed environments. "A game of this magnitude, with an open environment and so many dinosaurs to work with, is a perfect toybox for anyone getting started with modding."
Developers and modders looking to start experimenting with Ark's modding toolkit can access it through this mod tutorial. Bonus points to the first developer to implement proper feathers on all of Ark's theropods.