The summer of 2023 looks starkly different than the summer of 2020. Three years ago, protestors across the United States turned out by the thousands to protest the killings of George Floyd and Breonna Taylor by police. Their activism was a reaction to the inequities inflicted on Black people in the United States—largely by the police, but also in almost every other aspect of civil society.
That activism spurred many publishers and developers in the video game industry to voice their support. That support often went beyond words, with organizations promising donations to causes supporting Black Lives Matter or to funds that support diversity and inclusion in the world of video games.
Said support was encouraging, but observers and organizers had plenty of reason to wonder if this support was temporary or a flash in the pan. Three years later, it is unfortunately true that many companies that appeared impassioned in 2020 have fallen quiet—while some inequities have only become more entrenched, not less.
Black Voices in Gaming director and co-founder Justin Woodward is one of many organizers who's watched that shift over the last three years. It hasn't deterred him one bit—his organization partnered with Netflix in June to launch the XPerience Excellence Accelerator. The program organizes cohorts of aspiring mobile game developers, who will be paired up with industry experts and offered educational resources, grants, and business support to launch the development of their games.
The Accelerator unveiled its first cohort today, featuring an international assembly of studios—UK-based Gesinimo Games, South African studio SpaceSalad Studios, US-based Weathered Sweater, and Nigerian game studio Oshoma Games.
Woodward and his collaborators have earned a moment to look back on years of hard work. He's optimistic about the support offered by the industry—partners at Xbox, PlayStation, Riot Games, and Netflix have been among those who made good on their 2020 promises—and he's observed what kinds of decisions can make that support sustainable.
Woodward said developers who are genuinely interested in improving diversity in the video game industry should above all else, try to make support such efforts "foundational" in their companies, and that a "band-aid" approach to events like the 2020 uprising risk reversing any gains against changing economic and social ties.
What does the Netflix-backed accelerator do for developers?
Woodward explained that much of the XPerience Excellence Accelerator's program is built on his fifteen years in the video game industry. Black Voices in Gaming was founded in 2020 based in part on Woodward's experience running the Media Indie Exchange (referred to sometimes as the MIX). The MIX had become a regular presence at Game Developers Conference and E3, offering spaces for indie developers to connect with media and prospective business partners.
The same resources that Woodward provided through the MIX were what turned out to be useful in running Black Voices in Gaming. "I talk to hundreds of developers every year, and a lot of the things they're asking for are the same things developers [in the program] are asking for," he explained. The accelerator aims to help its cohort talk to prospective publishers, investors, and first-party representatives, just like what MIX participants are searching for at large events.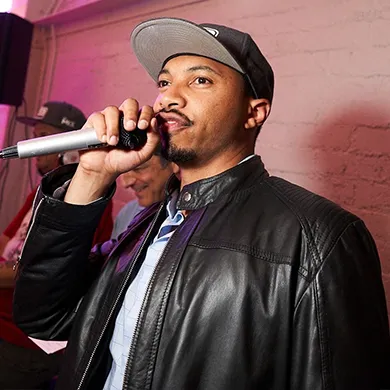 Woodward has observed one major difference between the two groups: developers at The MIX tended to have an easier time making connections with key parties. Even experienced developers working with the Accelerator or Black Voices in Gaming—who may have worked for years at companies like Google or EA—won't have some of those learned resources that come with different kinds of privilege.
Woodward seemed especially passionate about connecting cohort members with people who could solve everyday business needs. "I've been ushering a lot of developers to these platforms I work with...and then I just see [they] have no legal representation at all," he said. Not having anyone to read over contracts can leave underprivileged developers in tough legal spots, as they might sign away rights or revenue streams that they could otherwise have negotiated for.
Along with legal help (which often comes pro bono from law firm Wilson Sonsini), Woodward helps the developers connect with accountants or develop strong pitch decks. "Those are fundamentals developers need," he stressed. A lack of access to such resources is the kind of structural inequality that the Accelerator hopes to push back on.
Xbox and PlayStation are among those who've maintained support since 2020
Woodward's had a front-seat view of how organizations have shifted their diversity, equity, and inclusion efforts since 2020. It's not all bad news, thankfully. He noted that Microsoft and Sony—through Xbox and PlayStation—have stayed in contact with him and always been there when he was looking for developer support (he briefly noted that Nintendo is not one of the first-party organizations he's been able to consistently work with).
The difference between those organizations and ones who frankly took a "bandwagon" approach to supporting diversity efforts is a question of foundations. DEI efforts have to be pillars—strong enough to endure shifting economic and social changes that will follow a high-profile moment like the 2020 uprising. "Any time there's a 'thing,' there's gonna be people down for that thing at a given time," he said (with a note that he was deliberately being vague about the exact people he was speaking about). "When that dries up, there's gonna be a next thing, and then these people will jump on that next thing."
Offering "foundational" support is about more than the flow of money. Woodward noted that the organizations he's partnered with have been vulnerable to shifting economic realities—rising inflation reduced consumer spending on video games, which reduced revenue at some large organizations, which not only reduced available funds, but led to restructuring that would lead to some advocates at a partner organization moving on.
Their replacements weren't always eager to continue the work.
"It's a gift and a curse," he noted. "That person is going to go to another company and impart their philosophy into that culture, which is a good thing. But on the negative end, you're going to have to pitch a second time."
How else can companies shore up that foundation? Woodward spoke positively of how Netflix hasn't has as much "red tape." It's been easier to get initiatives approved at the streaming platform, and he noted that the company has experience with other organizations like Wings.
In the end, Woordward thinks that "everyone" can help make change for the better. "It doesn't have to be just Black Voices in Gaming," he said. Developers, publishers, and other forces in video games don't need to just target individual groups. "If you have something that you're passionate about...if there's a group you want to advocate for, try to figure out how to make that happen.
"Speak up or start something—because we definitely need that."