"In many cases game design, game play and game feel all come from an emotional time or experience, and when you know that story, you start to look at these games -- and the people that make them -- in very different ways."
- Patrick Haynes, Founder and Executive Producer at Fatbelly Productions, speaks about his experience working with Barking Mouse Studio and Autodesk on a new indie game-focused documentary series.
In a brief interview, Patrick Haynes speaks candidly about what drew his team to work on a documentary series with Autodesk, and the insights he learned along the way about indie game developers -- their passion and drive, the emotional ups and downs they experienced while building their games, and what sets them apart from the AAA scene.
Can you tell us about this project? What is it and how was it conceived?
It started back in March when I met the Autodesk games marketing team at GDC. We were talking about how passionate indie game makers are and how each of their stories is so interesting and unique, and we started to discuss how we could capture and document that passion, so that we could share their stories with the rest of the world. At the same time, Autodesk was trying to take a more authentic approach to how they work with the indie game community. This market is a big focus of theirs at the moment, with lower cost tools for indie game makers, but they wanted a marketing approach that wasn't really focused on their software, but instead on helping indies build their games.
The idea of telling genuine and authentic stories about indie game makers -- and their trials and triumphs as they brought their games to life -- was what inspired us to create a short film series. Autodesk took a very hands-off approach and gave me a lot of creative freedom to find and tell these stories in a way that best showcased the unique experiences of each indie game maker.
Tell us about your background and how that influenced your approach to this project.
I'm a traditional artist with a background in creating contemporary art in mediums such as drawing, painting, sculpting, jewelry, ceramics, photography and filmmaking. Over the years I have had the opportunity to live in many different places and follow my dreams, all while developing my professional training in art history, design, computer animation and film. I've been able to obtain two degrees, one in Computer Animation and the other in Film & Television.
From the beginning of my career I've been fortunate enough to be able to work with music icons and other industry greats creating music videos, Grammy Award videos, and live events, and producing several documentaries along the way. Not to mention, my work with technology giants (Intel, HP, AMD, Amazon, Autodesk and so on) that has extended my career and production network throughout the globe. But, the most important factor to my success has been the team I surround myself with. Having the best creative people with strong work ethics while producing any project is huge! I wouldn't be where I am today without the help of others. It's difficult to be an artist sometimes, but in the end I've found that this kind of team collaboration is what makes us better, and helps us develop.
Tell us about the subject of the series, Barking Mouse Studio.
Barking Mouse Studio is a two-person development studio founded by Jim Fleming and Danielle Swank. Their first game Lost Toys was fairly successful for them -- they won several awards and were featured on iTunes. Now that they've had that first taste of success, they're dedicating themselves to careers as indie game makers and they've already started working on their second game.
What is it that's appealing about the indie game story?
I think it's the passion and depth to each story. On the surface, many games -- especially games played on phones or tablets - may appear to just be simple time-killers. But, when you dig into the creation of these games, and the mindset of the people that create them, you find amazing stories. In many cases game design, game play, and game feel all come from an emotional time or experience, and when you know that story, you start to look at these games -- and the people that make them -- in very different ways.
How did you approach telling these stories from a visual perspective?
We really let the story and people behind the project drive the style of the film series. The characters developed while we got to know Jim and Danielle. Their passions, their struggles, their triumphs -- that's what led us to come up with the style of this project. It's more a reflection of them than a creative direction we chose for the project. This kept the truth intact. That's important to us not only as storytellers, but also for building trust between us and the people we are creating films about.
Were you familiar with indie game makers before this shoot?
We were familiar with the gaming industry on a AAA level, having worked with companies like Microsoft, Nintendo and Sony. But it wasn't until we had the opportunity to work with indie developers like Jim and Danielle that we felt the heart beat of the industry. Indie developers bring so much more to their games. They bring them to life through their own personal experiences.
Can you talk a bit about what you learned about indie game makers?
Jim and Danielle shared their personal stories, and allowed us to enter into their lives and struggles as game makers. It was easy to learn about the indie community through them because they were so honest from the beginning. Building Lost Toys was their dream -- a turning point in their own stories -- our job was to translate to the screen just a bit of that overwhelming passion and drive these indie's possess.
An unexpected insight about the indie gaming community that we learned along this filmmaking journey was how resourceful and helpful indies are to other indies. Being that this is still the wild west of independent video game making, finding others along the way that can reveal new paths or better ideas to push your product to the next level can be so instrumental in getting your own projects and vision out to the world. Jim and Danielle definitively fit that role. They are a studio forthright in presenting a really good game, as well as a powerful message.
The video we've seen so far is just the first of a series of four videos, right?
Yes, we're telling Barking Mouse Studio's story in a series of four videos (the first one is now available at: http://www.autodesk.com/makegames). After the Barking Mouse story, we'll move on to profile other indie game makers and their unique stories. So, by the end of the year, we'll have this amazing collection of short videos I think will do a really good job of documenting indie game developers today.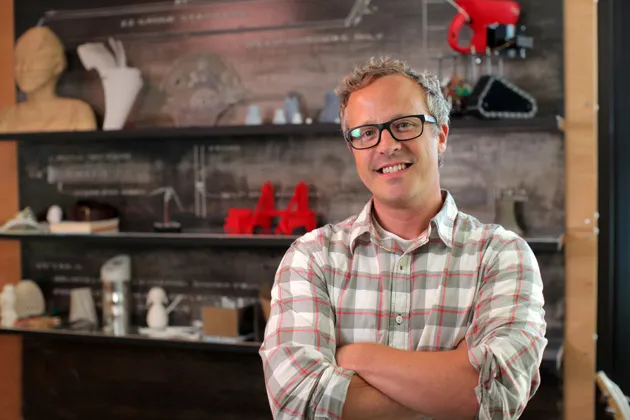 Patrick Haynes, Fatbelly Productions