Zynga today reported its financials for its third quarter of 2015, the three months ended September 30, 2015.
In that period, the company saw revenues of $176 million -- flat both year-on-year for the same period, and as compared to the prior quarter. However, it posted profits of $3.68 million, a big improvement from last quarter, when it lost $7.58 million, and last year, when it lost $6.68 million.
Analysts had estimated the company would earn $169.94 million and turn in a loss of $0.01 per share -- but earnings per share were break-even, causing a small rise in the stock price in after-hours trading.
The company is still projecting a loss for the year -- between $53 and $75 million, however.
Despite its ability to keep its revenues up, the company has seen a fairly steep decline in users over the last couple of quarters, as you can see in the right-hand chart below. Monthly active users are down 27 percent year-on-year -- though Zynga is also slowly growing its mobile revenues.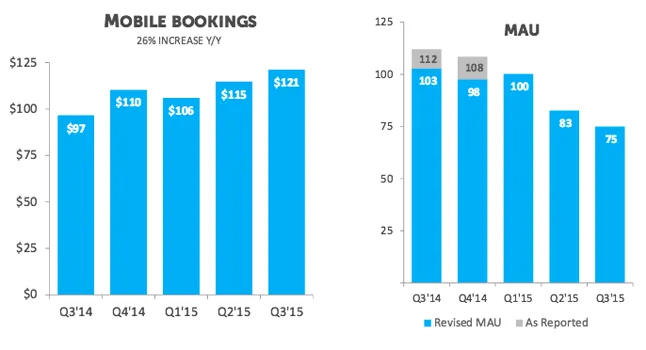 In fact, Zynga's mobile bookings -- or payments from users -- were up 26 percent year-on-year. In its earnings letter released alongside the results, the growth is credited chiefly to its slots and poker offerings, and Words With Friends, which grew a combined 61 percent year-on-year.
Casino games have become increasingly important to Zynga; the company recently promoted two Spooky Cool Labs (Wizard of Oz Slots) execs to the position of senior vice president for games. The company also went through a sizable layoff just 6 months ago, during which founder and CEO Mark Pincus promised to narrow the company's focus.
The company's newest games, however, have been delayed: Dawn of Titans and CSR Racing 2, both products of its NaturalMotion studio, are now slated to release in 2016.
The company's chief financial officer, David Lee, announced his resignation alongside the financial results -- with no reason given for the departure. Zynga's chief accounting officer, Michelle Quejado, will step in as interim CFO.