Rovio is in a tricky spot.
Once upon a time, Angry Birds seemed to rule the mobile game charts. But in recent years Rovio's flagship franchise faltered as free-to-play juggernauts like Clash of Clans and Candy Crush Saga climbed the top-grossing charts, and Rovio's fortunes did the same.
"No point denying it: 2014 and 2015 were challenging years," Rovio's newly-crowned games chief Wilhelm Taht (pictured) told me in a conversation at GDC last month. "Years when we fundamentally pivoted our business a little bit. Had to restructure, had to lay off a fair amount of employees."
Taht says those cuts were "very necessary" after Rovio spent a few years "expanding into basically everything we could," growing from a mobile game studio into a ponderous and seemingly difficult-to-manage transmedia company.
This is a leaner, more humble stance for Rovio, and a striking contrast to where it stood in early 2014, when the company was riding high on the popularity of Angry Birds and expanding into new business areas like book publishing and animation -- even as it saw profits slip 50 percent in 2013.
At the time 2013 was waved away as a "foundation-building" year for the company, which once had aspirations to be bigger than Disney. But when those foundations failed to live up to the company's hopes Rovio laid off a significant chunk of its workforce as cofounder Mikael Hed stepped down as CEO.
"The Angry Birds brand grew at a rate that nobody had really seen coming from a mobile game before. We expanded very quickly in certain areas that didn't necessarily turn out to be so profitable," says Taht. As profits continued to underwhelm, Rovio laid off more employees last year and again bid farewell to its CEO, Pekka Rantala, who had spent just over a year helming the company in Hed's stead.
Refocusing on Rovio's core business: games
"We're keeping our heads down and focusing on building out our games as services. We acknowledge that we're living in a live ops era."
At the time, Taht was overseeing third-party game development as head of external products at Rovio; the same reorganization that saw Rantala step down (and be replaced by former chief legal officer Kati Levoranta) brought Taht into a new role as Rovio's head of games, and as such he's predictably adamant about seeing Rovio return to being a "games-first" company.
"A large share of our business was other areas of business in 2013, 2014. Those areas of business were affected more deeply by the ebb and flow of the brand," says Taht. "Did we have higher aspirations for the games business? Yeah, we did. No point in denying that. I think it's the signal to focus on some of the right things in terms of the games business."
So what are those right things, exactly, and where does this leaner, more humble Rovio see itself in regard to the broader mobile game market?
"It's a complex thing. We're keeping our heads down and focusing on building out our games as services," says Taht, noting that the company is keen to acquire more users for earners like Angry Birds Friends and Angry Birds 2. "We acknowledge that we're living in a live ops era."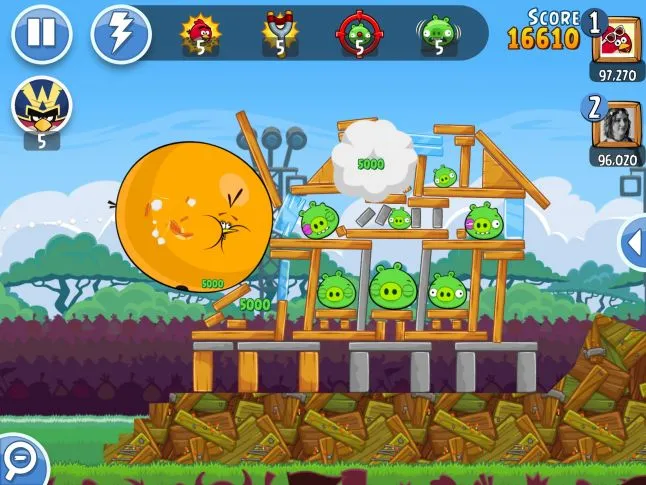 Angry Birds Friends is over four years old at this point. The fact that Taht is still talking about it is notable for a few reasons, not least of which that Rovio just launched a brand new 5 on 5 multiplayer battler, Battle Bay, "a game that's been in development for quite some time," according to Taht. But while Rovio would assuredly be happy to see Battle Bay find footing in the App Store's top charts, the company's focus now (at least according to Taht) is doubling down on building out the playerbase (and the payerbase) of its proven hits.
"I'm not going to sit here and pitch to you a story about, 'It's all about the future road map.' I think we have a great road map to be honest, but in terms of this year our big opportunity is games that are already out there," Taht acknowledges. "We're investing more in profitable user acquisition."
User acquisition is the name of the game
This is a popular tactic now that Apple's App Store highlights not only new games and games selected by Apple's editorial team, but also games which have been recently updated. Halfbrick learned how well this strategy could work firsthand a few years back, when it took a shot at reviving a moribund game (Age of Zombies) which had launched well in 2010 but then slipped off the face of the paid mobile game charts by 2011.
"2014 and 2015 really mark the final step to us being a free-to-play games company."
In 2014 Halfbrick reorganized its production pipeline to begin pushing significant updates to the game on a monthly basis, treating it like a "live operation" refreshed regularly as a service to its players, and saw the game climb back to the front page of Apple's App Store -- and stay there, as long as it received regular updates.
"From this we learned that people are happy to play an old game, as long as it's well-crafted," said Halfbrick's Ramine Darabiha at GDC Next that year. "If you're on the front page, they often don't know or care that your game is old."
Rovio's strategy differs from Halfbrick's in some key areas -- not least of which that Rovio is now focusing on free-to-play games (as is Halfbrick) while the aforementioned Age of Zombies costs $1 -- but the core philosophy is the same: keep updating your old game with fresh content, and you increase the odds that more people will play it (and spend money in it.)
So while Rovio will continue releasing both its own new games and those bearing its licenses or publishing imprint, the core focus of its game business now is bringing more paying users into its older, high-performing games.
"We're investing more this year than we did last year in user acquisition, because performance," says Taht. "Because of those games performing at a better rate. Next year I hope to be able to invest far more in user acquisition than this year."
"That kind of metric is a signal also of times that are changing," he continued. "2014 and 2015 really mark the final step to us being a free-to-play games company."
Rovio is now all about free-to-play
If you already considered Rovio a free-to-play game company, well, you're not alone. But Taht says the company has been straddling the premium and F2P mobile game markets for some time, and is now eager to focus entirely on F2P game operation.
However, he acknowledges that Rovio's games will have a tough time pulling players away from top-grossing F2P mobile game heavyweights like Clash of Clans and Game of War: Fire Age. He's okay with that.
"The truth is, players, when you look at player behavior, tend to play several games at one time," says Taht. "When you look at the dynamics of the top-grossing chart, top 10 commands, at the moment, about 37 percent of top 1000 revenue. Whereas two years ago it was about 50 percent."
Even if Rovio can't crack the upper echelon of Apple's top-grossing charts, Taht thinks it still has lots of room to grow its games business ("the overall market has grown quite substantially") and that pulling more players into Rovio games will help swell its "substantial" in-game advertising business.
"There is quite a bit of revenue also generated through ads. The ad business is not at all captured in what you see in the top-grossing [charts]," Taht says. "The ad business for certain companies is quite substantial. In our case it is a quite substantial portion of our business."
...with a big focus on ads
The Rovio exec is especially keen to call out video ads, which typically incentivize players to watch a short (say, 30 seconds or so) ad in exchange for an in-game reward that empowers them to play better, or longer.
They're a proven earner; developer Hipster Whale made headlines last year when they brought in millions of dollars from video ads built into their hit Frogger-like Crossy Road. At the time, Andrew Sum (one of the game's co-creators) told Gamasutra that rewarding people for watching these ads with currency to buy cosmetic items was, in his eyes, in line with the studio's mission to "treat players with respect, make a that people will want to share, and encourage them to come back tomorrow."
Rovio is also counting on people coming back to its core games, and video ads are a big part of that business strategy -- Taht. notes that Rovio has been experimenting with video ads since launching Angry Birds Go in 2013, and continues to see favorable returns on them.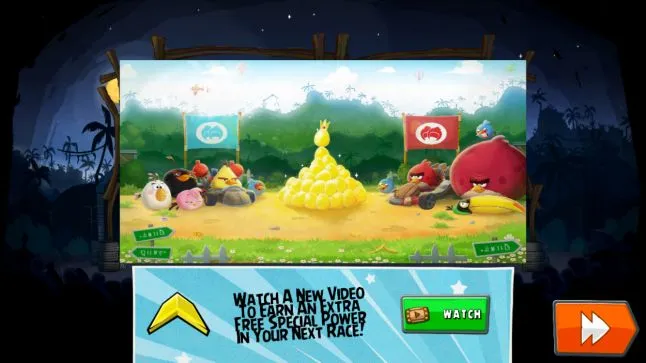 "We still see a very significant portion of revenues in Go! being generated by reward videos, and basically all of our new titles as well," said Taht."The importance of video ads in many of our games cannot be understated."
In fact, he says that when the studio experimented with updating the F2P Angry Birds Transformers to remove video ads from the game for anyone who had ever spent money on it, the players rebelled.
"There was backlash from that community saying 'give us back our reward videos,'" said Taht. "They wanted the rewards. They probably used reward videos to discover new games, but also as part of their economy loop within the game. It did teach us that the opt-in video ad business is non-intrusive and enjoyed by players."
The future of Rovio's games business, then, seems to be well-trodden territory in today's mobile game market: bring more players into your games, keep them there, and (ideally) give them good reasons to spend money.