[Editor's note: After William Pugh's critical and commercial success as a designer of The Stanley Parable alongside Davey Wreden, he made the choice to funnel his earnings from that game into producing free games with his new company Crows Crows Crows. We approached about doing a Deep Dive on that process, but he surprised us with something that was a little more sui generis...]
Dear Gamasutra reader:
Before this article gets underway, please understand that I was budgeted exactly ONE segment of the article for undiluted on-brand messaging and self promotion. I have tactically decided to place that segment in the middle of this article and I have called it THE UNPROFESSIONAL RANT ZONE. If Gamasutra allows it, I hope for each line to be a different text colour.
If this article was a sandwich, the bread would be the serious information for people who know nothing about me and the cheese would be the #JustMyOpinion. You should eat the sandwich like a sandwich and not peel open the layers and just eat the buttery cheese like a weirdo. (That image makes me feel physically sick, so let's get down to it.)
I'm William Pugh, I'm 22 years old and I'm the founder of indie game studio Crows Crows Crows. I co-created/designed The Stanley Parable (2013 version - not the mod) when I was 19. After that released, I found myself with a lot of time on my hands and a lot of money, so I decided to start paying various contractors to work with me on developing games. I'd always used the Source engine so I decided that it'd be a good time to diversify my skills some more and learn Unity. After about a year of working with various contractors, a "core team" emerged and we decided to brand ourselves as a company called Crows Crows Crows.
I was in a unique position because I had the funding to do pretty much whatever I wanted and I had the industry recognition from The Stanley Parable, but I had very little experience running a team of people or making a game outside of the framework of an engine that was very quickly becoming depreciated. The Source engine had historically been very poorly supported by Valve and it was clear that I needed to learn new skills or I would become trapped by my own speciality.
The problem this presented was I was a complete beginner in Unity and working with a team that I had no real business running. I knew that if I exported the job of production & development to even more contractors I would essentially be paying people to make games for me, and I had no interest in being an armchair director. Davey Wreden had also done the vast majority of writing on The Stanley Parable, so I needed to develop that skill too. I knew if I worked on one project for 3 years that despite the talents of Dominik Johann, Sean O'Dowd & my contractors-turned-collaborators, it would likely be mediocre and horribly marred by my inexperience and crushed by the expectations of The Stanley Parable.
The Temple of No, a free twine game Pugh and his team sent out to their email list.
After taking our first project to a festival in 2014, I nearly quit the industry altogether. Our game had excellent aspects to it but it was broadly flawed, and it would have definitely disappointed those who had the perception of me as one of the minds behind the IGF winning, BAFTA nominated Stanley Parable. The walls were closing in -- if I was to capitalise on the success of my first game & not fade into obscurity, I would have to release something soon, whilst TSP was still floating around in the public conscious, but if I flipped back to the Source engine & attempted to replicate TSP's process too closely I'd be pushing the problems down the line and trapping myself in the long term.
I also often experienced the issue of being confused with Davey Wreden (the writer & original creator who made the first Stanley Parable mod) - differentiating myself from him was also a high personal priority that needed to be sorted out sooner rather than later. Managing the team during this point was incredibly stressful as I was continuing to pay them monthly wages without having a clear internal direction. For the six months following the festival, we focused entirely on a new project, and if I didn't have the TSP money we would've surely failed & disbanded.
These were the things that needed to be overcome in order for us/me to succeed:
We needed to gain experience & get better at making games before we could sell our work.
We needed to announce the company & establish a platform to collect/retain/communicate with the hundreds of thousands of people who liked my previous game but didn't know who I was (in order for us to have a successful launch).
Every year we spent secretly developing would be a year removed from the launch of The Stanley Parable (and therefore weaken my core selling point).
We needed to defy people's (very high) expectations considering so far 100% of the games (ONE) I had released were critically acclaimed.
For an ordinary studio that relied on a steady stream of income, this would've been impossible. But I knew this is what I wanted to do, so I was okay continuing to pour personal money into the company. The personal risk was obviously very high, but so was the reward - we weren't beholden to a publisher, so once we started making money it would all flow back to us. Also, due to my extraordinarily high levels of INDIE FAME, I'd manage to entice incredibly talented individuals to either work or collaborate with us (Jack de Quidt, Justin Roiland, Kevin Patterson, and Samantha Kalman to name a few).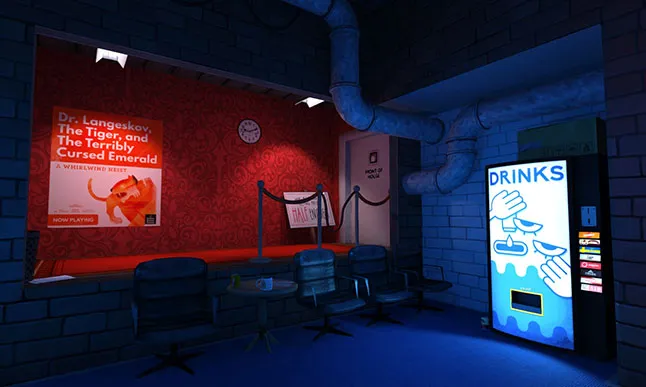 Dr Langeskov, The Tiger & the Terribly Cursed Emerald: a Whirlwind Heist
This was preferable to my initial approach of holding contractors at arms length, and focusing on a smaller team allowed us to remain flexible and relatively affordable in the long term. It also largely removed the need for middle management and it allowed me to learn more/be more involved in the different disciplines - it also allowed me to retain a largely intimate amount of control of the technical process rather than me dictating entirely via meetings and management.
This process came into swing largely in April 2015. We had a lot of equipment stolen during a festival in Germany and we sold a collection of jammed out games via IndieGoGo to recover the funds for us (and many of our friends). We jammed out two concepts for the collection and within that month of crunch I learned three things:
Shipping a project teaches you 90% of the lessons you learn during the process of making a game. If you restart halfway through you only improve by 10%.
The small team was flexible and capable of finishing a game far quicker than I previously expected.
Our workflow was tested and sharpened by this process - our ideology was re-focused to finding the core of an interesting idea and expressing that in the shortest amount of time possible.
However because of the horrific press-communications (done out of house) nobody really saw what we had made in this month. This was a blessing in disguise because one of the games we developed was an early prototype of Dr Langeskov, The Tiger & The Terribly Cursed Emerald: A Whirlwind Heist. It was a 15 minute game written by one of our earliest collaborators (Jack de Quidt). It was good but not great so I decided to pull focus from our larger project to spend a few more months polishing it in mind to release it on Steam.
However even after polishing the game - doubling it's playtime and replacing the voice actor with comedian Simon Amstell several large issues remained:
It was largely reminiscent of The Stanley Parable (employing the same conceit and "gameplay").
It was very short. It's price point would have to be minuscule in order for it to be proportional to the playtime.
We had no press plan.
The game's surprise was reliant upon us lying to the player coming in (which would've been incredibly disappointing if they had paid money based upon those expectations).
I felt we could do still do better.
I brought Michael Cox on as the team's Director of Communications/Marketing a month or so before release along with Kevin Patterson who helped with additional funding and in that time we decided to make the game free. I still had money from The Stanley Parable and we could continue to pay everybody through until we had something at the level of quality I was happy charging for.
In exchange for making the game free - upon completion we gave them an option to sign up to our mailing list for future updates. We also ran a small ARG leading up to the launch of the game. Upon launch we had around 3000 email subscribers. A month later we had over ten times that amount with a conversation rate way above industry average due to us treating communication as a creative problem rather than a logistical one. I will explain this further in the next segment.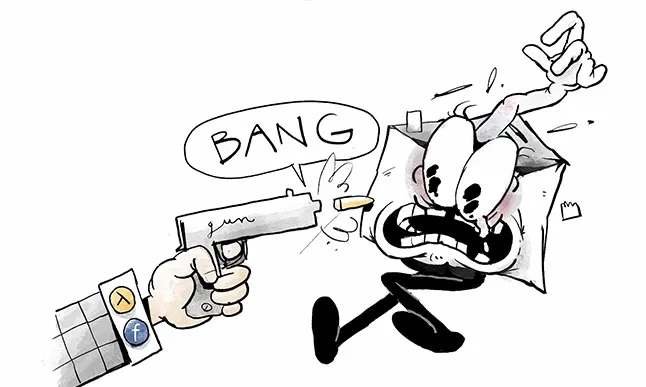 Sendy the Email, who Pugh recently murdered during an email send out to subscribers.
OKAY WELCOME TO THE UNPROFESSIONAL RANT ZONE YOU FUCKING BORING GAMASUTRA READING FUCKER!! HERE I WILL EXPLAIN TO YOU IN MY REAL UNPROFESSIONAL VOICE WHAT THE SITUATION WITH EMAILS IS:
FUCK OFF WITH YOUR BULLSHIT MARKETING BULLSHIT EMAIL LIST THAT YOU HALF-HEARTEDLY ASK PEOPLE TO SIGN UP TO ON YOUR WORDPRESS SITE THEN POST BULLSHIT THAT PEOPLE WILL READ SOMEWHERE ELSE ANYWAY- DON'T YOU FUCKING DARE EMAIL YOUR FANS SOME BORING DRY WHITE BREAD PRESS COPY THAT SENDS THEM TO SLEEP!! I AM LOOKING AT YOU LITERALLY EVERYBODY WHO'S EVER SENT ME AN EMAIL!!
EMAILS FROM COMPANIES ARE LIKE "HAVE YOU FOUND JESUS CHRIST" LEAFLETS YOU GET HANDED IN THE STREET. NOBODY GIVES A FUUUCK- NOBODY GIVES A FUCK YOU FUCKING STUPID BUSINESS IDIOTS WHY AM I TELLING YOU THIS YOU DUMB FUCKING IDIOTS FUCK YOU. FUCK YOU. YOU NEED TO BE EXUDING YOUR STYLE & IDENTITY THROUGH YOUR EMAIL SHAPED PORES AND YOU NEED TO FUCK YOUR EMAIL LIST IN A CONFIDENT AND VIGOROUS AND CREATIVE MANNER THAT INVOLVES EVERYTHING THEY WANT INCLUDING:
ORIGINAL FUCKING CONTENT MADE BY THE CORE CREATIVE TEAM THAT UTILISES

AND SUBVERTS

THE FUCKING ANCIENT MEDIUM IT IS PRESENTED IN

SOME FUCKING COOL SHIT LIKE

THE TEMPLE OF NO

- PLEASE DEDICATE ACTUAL

RESOURCES TO MAKE THINGS PEOPLE WILL ACTUALLY ENJOY NOBODY GIVES A FUCK

ABOUT THE NEW BARRY THE BIRD CHARACTER REVEAL UNLESS YOU'RE

BLIZZARD

DO NOT FUCKING LET YOUR STUCK-ON-LIFE-SUPPORT-PR-MARKETING-MANAGER

FROM THE 8TH CIRCLE OF CONVERSION TOUCH ANY OF YOUR COPY - IT IS TO BE HANDLED BY

-> -> -> THE CREATIVE TEAM <- <- <-
YOUR COMMUNICATION DICTATES THE PERCEIVED REALITY OF YOUR COMPANY SO PLEASE NEVER EVER SEND ME SOMETHING THAT HASN'T HAD ACTUAL PRODUCTION TIME SCHEDULED FOR IT'S CREATION!! AND I WANT SHIT FROM THE CORE CREATIVE TEAM PLLEEEEAAAASSSSEEEEE!!!!!! PLEASE FOR THE LOVE OF HOLY FUCKING CHRIST YOU IDIOTS SIGN UP TO THE CROWSCROWSCROWS.COM EMAIL LIST IF YOU WANT REALLY GOOD FREE GAMES THIS IS JUST PROMOTION FOR MY STUDIO THIS IS JUST PROMOTION FOR MY STUDIO THIS IS JUST PROMOTION FOR MY STUDI-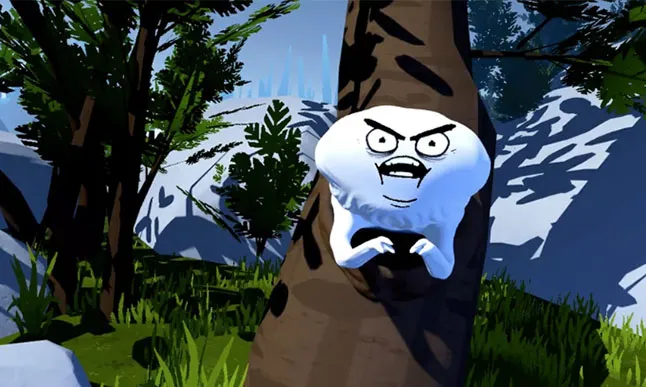 Accounting, a VR game Crows Crows Crows made in collaboration with Justin Roiland's Squanchtendo
Hahaha what a weird thing to put in the middle of a serious article about creative process! Wow I hope other people also mistake volume for wit!! It's a good thing shameless self promotion and gratification is on brand for me otherwise I'd never get away with that! Boy I hope Rami Ismail doesn't do an inline response to this article and give me even more free marketing!! Hahaha anyway where were we-
A bonus of making the game free was that it was essentially of the quality of a paid for game (if a bit short). This allowed us to exceed player expectations massively, surprise them with a novel concept & gain a huge amount of press for the company. It also had a lower barrier to entry, allowing people who might not necessarily be a fan of these types of games to experience it without being deterred by a price point. Through relationships both Michael and I had made though past releases we also forged a very strong bond with various youtubers/streamers - again pushing our reach outside the traditional "indie game sphere".
We repeated this process with both The Temple of No (a twine game made by Dominik Johann, Kevin Patterson and me) and Accounting (a VR collaboration between us and Justin Roiland/Squanchtendo). By developing and releasing short games for free I've essentially solved all of the immediate problems I was facing a few years ago.
I am learning and improving incredibly quickly (due to bi-yearly process of shipping & the intimate creative relationship with the small number of talented team members), we have quickly built and grown an incredibly powerful infrastructure for future releases (a 50,000 strong email list within a year), we are releasing often & people perceive us as creating exclusively high quality work (which consistently surpasses our player's expectations due to a rule of only releasing content that meets very high standards), and because of all of this we've established a company and been able to iterate our internal pipeline allowing us to scale up to larger projects without needing to go through the difficult process of producing games of a larger scale from scratch.
Obviously I'm in an incredibly privileged position and I've experienced more than my fair share of good luck to find myself able to fund a company out of pocket for several years. I also think an important clarification to make is that I wouldn't have even been able to make Stanley Parable without the support of my parents - a thing that nobody should take for granted. This marketing approach is largely based on the press plan for The Stanley Parable. Continuously release high quality content (that isn't just content lifted from the game) for free & build towards a climax for your launch. This approach is more minded for the long term health of the studio rather than the release of one specific game, but it also gives everything we release the opportunity to expand into a "big hit" or go "viral" or whatever you want to call it.
This plan is expensive and risky, but we've been dreaming big and when we sell our first big game in 2017 we'll see if this is the process of a genius prodigy or an insane egomaniac. But if you thought the middle section was funny then I think we're gonna be fine because I'm not putting my best work on Gamasutra hahahahaha just kidding Gamastura I love you!! I love you!! WATCH AS THE STRUCTURE OF THE ARTICLE DISSOLVES INTO NONSENSE IN REAL TIME!!! JUST MASHING THE KEYBOARD NOW ASHJFGAHF;O 1YIU3HLIF918KFNIR13HUGFEQ UFEQOYF818F13IF13ILB1F 3JLBG3.WEO IYGQEOIGEQK HHVlbifqohvqebjjsgcigGi7twfou3yf981h3lrjb23n 4g fng kw g
P.S Michael Cox has done a huge amount of legwork making sure that this plan is sustainable and that exchanging short term $ for email conversions is actually financially viable long term. I am insane and it is only through the continued support of people smarter than me that I am able to turn that insanity into marketable content that provides great conversion rates way above the industry average.
P.P.S The team is what really makes this work, I'll often by featured a lot by the media as the face of the company and if you're a journalist y'know- please don't stop please but again this wouldn't be possible without Dom, Thryn, Sean, Samantha, Tom, Kevin Patterson & everybody who's worked on past & future games with us. This is my dream job and I'm very lucky to be able to keep on doing it.