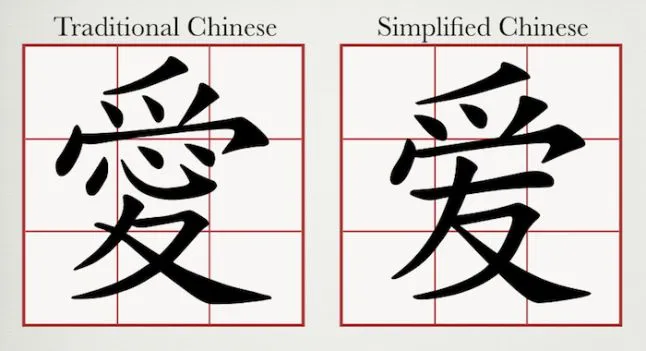 (Image Courtesy: moedict.tw)
Hello everyone, I'm Jheng Wei-Ciao from Monkey Potion, a Taiwan based independent game studio. You might wonder where "Taiwan" is. To many westerners not familiar with this country's geography, Taiwan is often mistaken for Thailand, and vice versa. Taiwan (formerly known as Formosa) is located in the Pacific Ocean off the southeast coast of mainland China with the Taiwan Strait in between. It is a beautiful island nation with more than 23 million residents.
Over the past decade, MMOs certainly had their glory days here in Asia. At the time, many Korean, Chinese, and Taiwanese game companies were founded, aiming to develop MMOs and successfully made a hit. Through the last couple of years, there was a tendency towarding creating web-based games and Facebook games. Nowadays MMOs have gone out of fashion, and the prevalence in gaming markets has shifted to mobile platforms.
As you know, China is a huge thriving market growing insanely fast. Although the ARPU in China may not be so good as in USA, downloads from China on App Store has reached world #1. So if you want to go global, you should seriously consider localizing your games into Simplified Chinese to have a better chance to acquire users in China.
What about other Chinese-speaking areas, such as Taiwan, Hong Kong, and Macau, where people use Traditional Chinese rather than Simplified Chinese? You might claim to deliver a Simplified Chinese version would be sufficient to cater to all Chinese-speaking users. But it is actually not.
Let's begin by discussing the market size of mobile apps in Taiwan. According to Newzoo's Monthly Top 20 report, in December 2013, Taiwan ranked #10 in terms of revenues generated on iPhone App Store and #14 on iPad App Store. Also, as shown on App Annie's market report of Q3 2013, Taiwan has climbed to become the #5 country by Google Play revenue in Q3 2013.



The Gaming category primarily drove Taiwan's revenue growth and accounted for over 80% of their Google Play revenue, which was on par with the worldwide average in Q3 2013.

In less than half a year since the reinstatement of paid apps on Google Play, Taiwan generated enough app revenue to join the Top 5 countries by Google Play revenue in Q3 2013.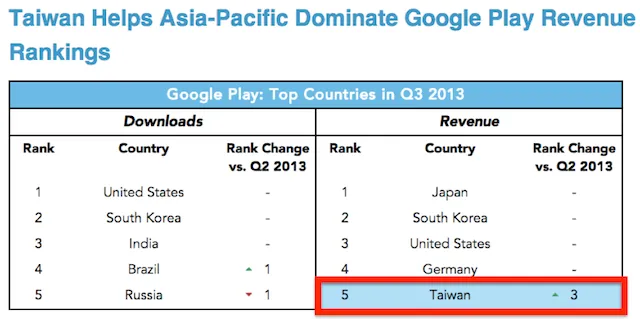 (Image Courtesy: App Annie)
In addition to the official payment channel on Google Play, one of the most common methods of payment in Taiwan is through third party pre-paid cards. If the revenues generated by pre-paid cards could be counted in, the overall Android app revenue in Taiwan might rank #4 or even higher.
In 2013, the #1 top grossing game on both Taiwan App Store and Taiwan Google Play was dominated by Tower of Saviors, a P&D-like game from Hong Kong. It has managed to reach over 8 million downloads, and 70% of its downloads and revenues are contributed by Taiwanese users.
At first sight, Tower of Saviors looks like nothing more than a P&D clone, but it has a superior Traditional Chinese localization. They also held a lot of online marketing campaigns and offline events for its users. It was said that the monthly revenue of Tower of Saviors could reach 3 million dollars, which mostly generated from Taiwanese users.
In my opinion, Taiwanese mobile gaming market has greater revenue potential compared with its neighborhood countries. Furthermore, among Chinese-speaking countries, Taiwan has been very important and influential in the entertainment and fashion industry. It is true that if your game performs well in Taiwan, it would also stand a better chance of catching the eyes of players from HK, Singapore, Malaysia and other APAC countries.
The bad news is that simplified Chinese characters have always been unfavorable for Taiwanese people. The good news is that translating Simplified Chinese into Traditional Chinese is rather simple, except that some conventional terms, including nouns and verbs, may be a bit different.
Jade Ninja is our first mobile game released on App Store. Although the sales figures of this game reflects an (un)epic failure (but that's another long story), we were amazed to learn that Taiwanese players are more willing to pay for mobile games than we thought.
The download number of Jade Ninja barely reached over 120,000, which is quite frustrating. Since it is a free to play game, the conversion rate and ARPPU are both critical factors for financial success. Even though the conversion rate is pretty low (less than 1%), the ARPPU is $5.8, of which Taiwanese users has contributed the highest amount of revenue (54%) and ARPPU.
Therefore, for all the reasons mentioned above, you should seriously consider localizing your games into Traditional Chinese. It will payoff if you do it right.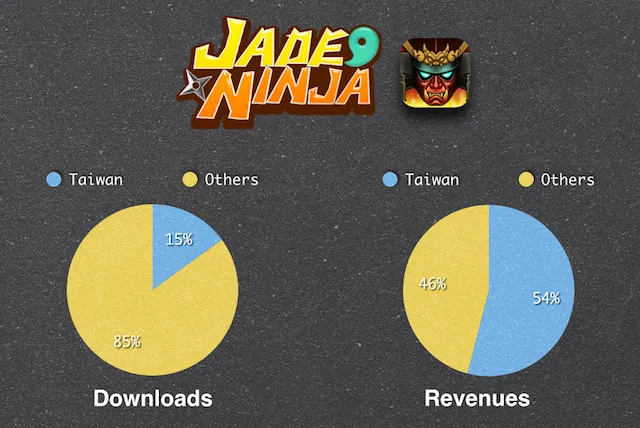 Secondly, I would like to introduce to you the indie gaming scene in Taiwan. Lately, with the rapid growth of mobile gaming market, there are quite a few people who quitted their jobs to become full-time indie game developers.
Here in Taiwan we have several local communities holding regular meetups with fellow game developers. One of the lively indie game developer organizations is IGDShare focusing on sharing experiences to help inspire game developers. Last November Taipei Game Developers Forum was held, with Alexander Bruce and Aaron Isaksen as invited speakers. In December 2013, there was the 2nd GDC Taipei Summit, and this time Simon Carless was invited to give a speech.
Honestly, the indie scene in Taiwan is still premature in current stage. Indie gaming is a rather niche market and not being able to be recognized or appreciated by most Taiwanese players. Many indie game developers have indeed struggled to make fascinating games, but as far as I know, most of them can't make a living just by developing their own games. Although the circumstances are tough, there's still a small tribe of indies who persist in their faith to make games. Below is a brief list of some awesome Taiwanese indie games:
Definitely worth trying these games!

Please feel free to leave your comments or suggestions, or contact me @MonkeyPotion.