Creative production company iam8bit has become a more and more familiar name for game developers in the last few years. It's proven to be a reliable partner for both video game collectibles and event operations, having producedboth Day of the Devs showcases and Geoff Keighley's in-person Summer Game Fest event called "Play Days."
iam8bit wasn't just helping to run Summer Game Fest: Play Days, however. It was also showing off the first game in its new publishing label iam8bit Presents: Coin Crew Games' Escape Academy (co-published with Skybound Games), a two-player co-op game that brings the in-person Escape Room experience to the digital world.
Co-founders Jon Gibson and Amanda White told Game Developer that making Escape Academy the first game published by iam8bit Presents was a deliberate choice. While digital escape rooms are a still-burgeoning genre, the pair explained that they were motivated by how the game lined up with the rest of the company's portfolio: it brings people together to make the world "a happier place."
8-bit evolution
White and Gibson explained that the many arms of iam8bit work toward the same goal: creating emotional connections and relationships with people through events, products, and beyond. Gibson gestured to the Summer Game Fest space as an example of this mindset. We were chatting in a warehouse-ish environment that combined demo booths with open-air environments.
It was one of the first events the company has done since the COVID-19 pandemic began. And the pandemic itself proved to be part of the impetus for getting into game publishing. "We were looking for ways to connect with other humans, and game publishing seemed like a very sort of organic expansion on what we were already doing," White said.
She noted that the company already had deep game industry relationships thanks to its collectibles business.
So with all the developers pitching to publishers these days, what drew them to Escape Academy? Gibson highlighted the fact that Escape Academy's inspiration--Escape Rooms--also overlaps with iam8bit's events business. They're physical spaces where players form deep relationships with objects and each other--but it's a type of experience that comes with major logistical struggles.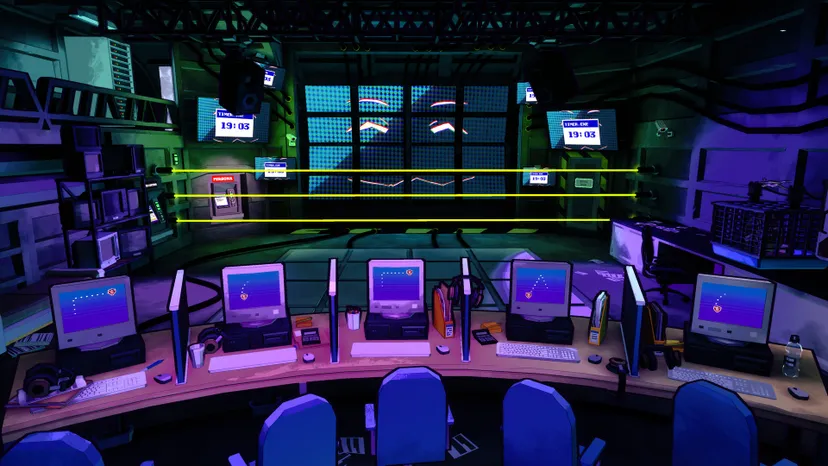 The economics of an escape room can tilt unfavorably very quickly. Gibson broke down the issues he saw: You're capped at experiences that roughly fit six (maybe 10) people per room at $40 per person. Players need to cycle through every couple of hours. Rooms need to be reset and staffed. "People know what escape rooms are, but they don't actually experience them because there's a barrier to entry," Gibson said. "You can only serve so many people."
Hence, Escape Academy, a game that can bring the escape room experience to "millions around the globe" (Gibson's words). He said that future games from iam8bit Presents will be "nostalgic, or sense-memory focused, or tactile, in a similar vein."
Gaga for Game Pass
Escape Academy will be available day one on Xbox Game Pass, making iam8bit Presents a publisher for the new era of video game subscription services. White called Game Pass "a dream" for iam8bit, and said it was good that PlayStation is getting into the subscription business as well. "It is allowing indies and small games to have the chance to bubble up to the top," she noted.
The pair weren't able to say if Xbox had offered any guidance on if Escape Academy is the type of game that can do well on Game Pass (though they noted that Xbox inviting the game on the service showed some confidence from the platform). White did say she thinks the game can "transcend platform" based on her experience playing it with her husband (who took the wheel in solving the puzzles). "There's a lot of people who are gonna play the game in an ancillary way to the person who's actually sitting there with their hands on the controller."
Gibson said that the pitch deck from Coin Crew Games sold the game's target audience as being couples. "You don't see that in a lot of pitch decks," he noted. It's a category that goes beyond romantic partners, as playtesting for Escape Academy showed there was cross-generational appeal too. Escape Academy is tuned for multiple kinds of cooperative play, supporting both split-screen co-op and just the idea of two people trying to solve a puzzle using one controller.
Advice for aspiring publishing partners
What should developers who want to publish with iam8bit Presents know? Well along with looking for similar kinds of "tactile" games, Gibson and White are looking for partners making games that "feel personal," and that they connect with in a working relationship.
When the pair look back at the games they've already signed (Escape Academy is apparently just the first of many to come), Gibson said that he and White feel that they connect with partners "on some foundation that was more than just about the game making money. It was more about that we liked these people, and we believed that we were investing in those human beings versus the game."
That's as much about investing in teams who can keep delivering solid results, but also about finding developers who can roll with the punches when production gets hard. Gibson said that he wants to work with developers who he can trust will admit to the publisher when the game is broken and needs to be delayed, or they want to pivot. He praised the virtue of "having the courage to say that to a partner," knowing that their publisher will say "absolutely, if you believe in that, we do too."