[What's the right platform strategy for social games? Zynga, Ngmoco and Evony debate whether mobile, social networking, and dedicated websites are the right moves -- and each has its own answer to the question.]
With social gaming currently sizzling hot, some developers are rethinking their platform strategies in order to capture additional eyeballs. While one leaps from Facebook to a dedicated web site and to iPhone, another hops from browser to Facebook. Meanwhile a third has decided to stay put on devices like the iPhone and iPad.
It's a potpourri of strategies, to be sure, with each of the developers confident that theirs is what will work best for their particular game.
Take San Francisco-based Zynga, for example, best known for developing browser-based games that work both stand-alone (on FarmVille.com, for instance) and as apps on social networking sites like Facebook. Practically a year to the day after FarmVille launched on Facebook in June 2009, the wildly popular game was expanded to the iPhone.
According to Mark Skaggs, Zynga's VP of product development, no one should have been surprised: "Our strategy is to go where the players are. And since we know that there are a large number of our Facebook FarmVille players who have mobile devices like the iPhone and iPad, why not let them have the opportunity to experience our games from that platform as well?"
In addition to expanding the FarmVille gamer population, Skaggs believes it's also important to give current players more choices.
"Some people don't sit in front of their computer all day," he explains. "And let's say their crops are coming due on FarmVille, but they have no access to the game at the moment. How great is it that they can just use their iPhone to play?"
Skaggs denies that the transition had anything to do with the difficulties Zynga has experienced with Facebook. Since its peak of 85 million users in March 2009, FarmVille has shed more than 18 million of them. The troubles stemmed in part from Facebook's decision to limit app notifications, which many developers rely on for the viral growth of their titles.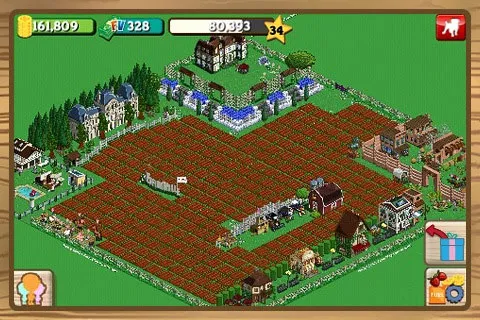 FarmVille
"I wouldn't tie the two together," he explains. "Facebook is a great partner and that's going to go forward. But there are also other platforms and other avenues that we're exploring as well." Skaggs chose not to elaborate.
Skaggs doesn't necessarily believe that Zynga's strategy -- to extend its game to mobile devices -- is the right one for all social game developers.
"Any business that has gone from zero to 500 million users in just a few years is going to attract developers who want a piece of that and who have their take on the best way to do business," he says. "Ours is just one of the strategies out there."
---
Indeed, over at Evony, the developer has grown its online game of the same name in exactly the opposite direction -- from the original dedicated web site onto Facebook.
"Our strategy is relatively simple," explains Walt Yarbrough. "We are searching for the best way to enter new markets. Facebook permits us to expand our existing customer base by going to a user's connections. These are people whose viral capabilities enable them to spread games among themselves. It's simply a different avenue to reach customers who we might not have been able to reach through our advertising. Up until Facebook, our primary means of gaining customers had been direct online advertising." Yarbrough is Evony's East Coast VP of operations.
So far, the move to Facebook -- on April 2 -- has enabled the developer to grow its customer base by at least 10 percent, says Yarbrough.
Almost simultaneously, Evony launched a major expansion of its game -- Evony: Age II -- whose play lends itself very well to the social network nature of Facebook.
"The key changes in the new Age were tied directly to how you get rewards and how you share them with your friends," says Yarbrough. "It's very much an 'I scratch your back, you scratch mine'-type of play which encourages you to get your friends to try the game and stick with it."
While the decision to join Facebook came at a time when other developers, like Zynga, were reportedly troubled by the social network's policy changes, Yarbrough says he wasn't dissuaded from making the move.
"Zynga was in a very different position from us," he explains. "They hadn't had a customer base outside of Facebook and they were very much tied directly to Facebook. We, on the other hand, already had a very large, very active customer base going to our web site. So the Facebook customers were not our bread and butter."
Evony's next move, according to Yarbrough, depends on the company's further cost-benefit analysis.
"We moved to Facebook because we saw it as a large, untapped market of potential customers," he says. "And I'd say the same thing about other platforms -- the iPhone, the BlackBerry, and so on. When any other platform gets a large-enough market, you're going to see people looking to expand their game there. Will we be making those moves? I can't say right now. But I will say that we are definitely looking at additional IPs targeting the same sort of markets in our mind. And when we find them, we'll be there."
One company that launched in July 2008 as a developer of iPhone games -- and has never changed its focus -- is San Francisco-based Ngmoco. Regardless what new strategies other social game developers embraced -- Zynga to iPhone, Evony to Facebook -- Ngmoco has never wavered... and doesn't intend to, says Clive Downie, Ngmoco's VP of marketing.
"We were formed with a vision of capitalizing on the consumers' use of mobile devices that provided them with an always-connected link to the internet," he explains, "and that is the journey we're committed to. We're seeing great success and yet there is so much more for us to do in the fast-growing world of mobile Internet that we don't see the need right now to go to any desktop-based internet platforms."
But that doesn't mean that the company hasn't peeked at other opportunities -- like to social media like Facebook. A year ago, the developer staffed up its executive and engineering teams "to take a stab at moving games over to social networks," Downie recalls.
The prognosis? Dividing its efforts in two would result in "spreading the company's sources a little too thin," he says. "To bifurcate our efforts on two different platforms and in two different worlds would mean that maybe our success quotient would be diminished on both of them."
---
So the company has focused on mobile games like the highly successful We Rule, which it released for iPhone, iPod Touch, and iPad in March. There's also We Farm, which it launched just three weeks ago, and which "uses a farming construct and which takes advantage of what we know works on mobile internet in terms of social gaming," Downie says. The game took just four months to design, develop, and produce, and then -- like all Ngmoco games -- was released in Canada first to stress test its infrastructure before being launched globally.
Downie insists that future games from Ngmoco will also be designed for the iOS platform only.
"Yes, there are hundreds of millions -- perhaps even a billion -- users on the desktop-based internet," he says, "but it is predicted that by the end of 2013 there will be three billion people with 3G-enabled handsets globally and that's the business in which we want to have a leadership position -- and that's absolutely our driving vision every single day."
Does that mean that Ngmoco will never, ever expand to additional platforms?
"You know, the road is littered with people who don't change quickly enough," he says. "But, right now, we have a job to do, we're doing it, and that's fulfilling our vision as a company."
Three companies with three platform strategies -- and each has its own advice for developers anxious to take advantage of the opportunities in today's social gaming space.
"What we're seeing here is companies scrambling to tap into the new needs of consumers," says Ngmoco's Downie. "Competition is building, the bigger companies are becoming more successful, and soon it will become harder for new companies to find a foothold as the market matures.
"My best advice is to move quickly during this wonderfully exciting time because things are traveling at light speed. I've been in this marketing category for just over a year and a half now and it's been like living the 17 years I spent at Electronic Arts creating packaged goods; things are moving that fast."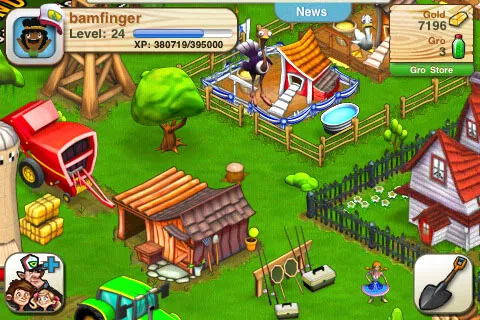 We Farm
Meanwhile, Evony's Yarbrough recommends considering the strategy his company has designed for itself: "I tell developers that the safest thing to do is build a really good small browser-based game that has mass-market appeal. If it's really good, then the sky's the limit. Then you can choose whether to expand your reach -- as we did -- by going to Facebook as your game becomes more popular. That's definitely the safer way to go, especially for a brand new developer."
"If you're thinking about moving into social games," says Zynga's Skaggs, "especially if you're a developer who comes from the more traditional, big budget, console space where games take years to build, I would encourage you to check out this new arena, especially while it's still young.
"I mean, it's still early in the life cycle, there's a lot of fun to be had here, and there are a lot of contributions to be made from lessons you've learned in the more traditional games industry," Skaggs adds. "If you've ever wondered what it would be like, I say 'Try it. Jump on in; the water's fine.'"