When Smoking Gun Interactive was offered the chance to pitch
a mobile Age of Empires
to Microsoft, the studio didn't need to be asked twice. You may not be familiar with the name Smoking Gun, yet the team is in a rather good position to take the reins of the
Age of Empires
franchise. The Vancouver-based company was founded in 2007 by a band of creators who produced the
Company of Heroes
series, including a former creative director, former engineering lead and former art director on the beloved RTS series. Smoking Gun has, for the most part, created numerous Kinect games since its founding -- but it was the team's experience in real-time strategy games that saw Microsoft request their help with the new
Age of Empires: Castle Siege
. There's a lot riding on this release. It's not only Smoking Gun's first attempt at bringing its
Company of Heroes
experience to the
Age of Empires
franchise, but it's also the first
AoE
game to be both built for touch (Windows Phone 8 and Windows 8) and free-to-play. "Primarily you have to respect the franchise you're working with and try to keep an
AoE
experience foremost in your ideas," Smoking Gun CEO John Johnson tells me of the move to mobile. Prior to founding Smoking Gun, Johnson was director of Franchise Development at Relic Entertainment.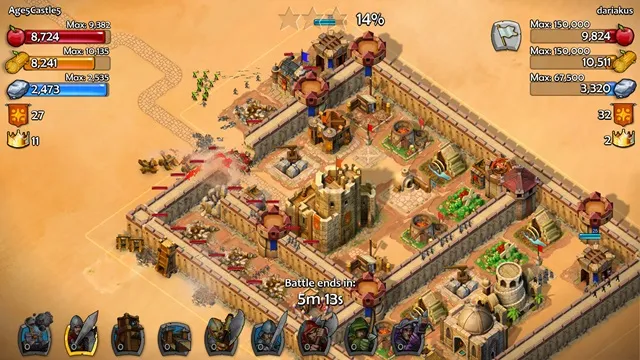 "Touch devices pose difficult challenges for translating the gameplay," he continues, "and we worked to incorporate a nice balance between building and combat. We developed a good control system for combat that allows players full control of all their units while in battle using touch and drag motions, as well as developed unique AI for each unit that helps make the combat easier the handle and gives greater tactical control." Johnson notes that mobile as a platform heavily dictates your game's design, far more than other platforms. The team knew, for example, that play sessions couldn't last hours like they do in a usual
Age of Empires
title, since that's not how mobile players approach games. Nor could synchronous multiplayer be part of this new package, since once again, this isn't how mobile works. "But we still wanted to give the players a level of tactical control more akin to a PC RTS experience," says the dev. "Battles are short, which works for mobile well. We feel we've added a level of tactical choice and depth that's much higher than you typically find on the platform." "We hope we've struck a balance for people open to trying something a little different," he adds, "and opened up the franchise to a new audience while still allowing PC players to jump in and enjoy the experience." Since the announcement of the game, there's been plenty of backlash, as you might expect from a keystone PC strategy game moving to mobile.
The official trailer
has an abundance of "dislikes", and
the announcement blog post
is filled with people complaining about the move.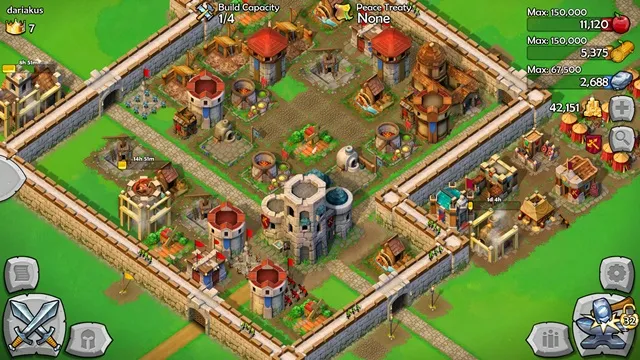 In particular, many have said that Microsoft is looking to cash-in on the success of Supercell's
Clash of Clans
. Says Johnson, this couldn't be further from the truth. "While
Castle Siege
is a top-down, touch-based strategy game, we differ in a few unique ways," he argues. "We have a deeper tactical experience with direct control of all units, much more akin to an RTS. We also really wanted to make a game where player skill matters along with historically accurate civilizations, weaponry and heroes." "We want to make the game accessible for the mobile audience while encouraging players to learn more skilled tactical play," he says. He believes that veteran
Age of Empires
fans will enjoy
Castle Siege
-- we'll find out when it releases next month.