The Milan-based indie game studio Santa Ragione has created innovative, challenging titles like FOTONICA in 2011, MirrorMoon EP in 2013, and Wheels of Aurelia last year. But they recently faced their own unique challenge: Commissioning and curating a collection of indie games underwritten by a major museum. Santa Ragione had to pitch the package, line up a diverse array of creators to take part, and coordinate delivery on a set budget and a tight time frame.
You can see the results for yourself. The Triennale Game Collection, a mobile app featuring five experimental games, is downloadable for free on iOS and Android. The Collection is described by its patron as a "virtual exhibition," showcasing not only the "state of the art" in video games right now, but also giving a glimpse of the medium's future.
The man making these claims is the President of the Milan-based design and art museum La Triennale di Milano, known as Claudio De Albertis. He commissioned the Triennale Game Collection as part of the XXI Triennale International Exhibition, a celebration of contemporary design and architecture.
"The fact is that the world of video games has huge artistic potential, which has not yet been entirely encoded in the world of media, and it is one that certainly deserves full cultural acknowledgement," Albertis says.
He believes that institutions such as La Triennale have an important role to play in helping video games achieve the recognition he speaks about. "After all," Albertis continued, "the very purpose of a museum is to discover new artists and new forms of expression, and to collect and catalogue them in order to show them to the world and keep a trace of their passing."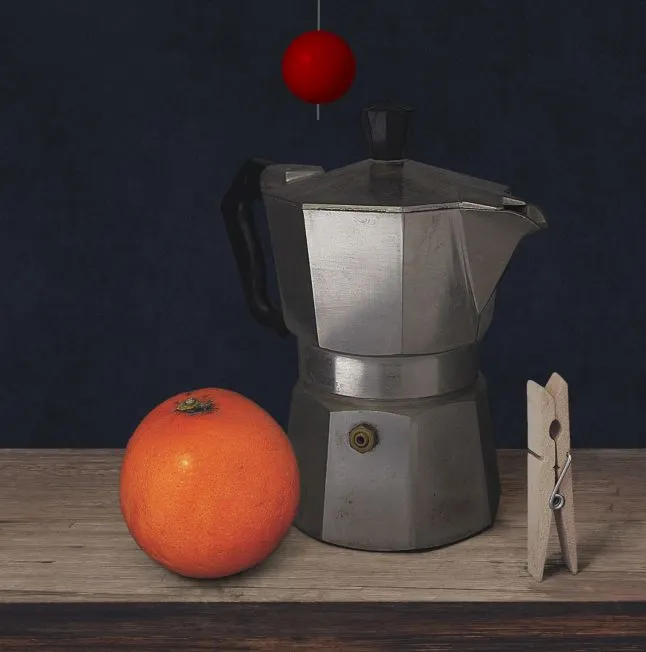 Il Filo Conduttore by Mario von Rickenbach and Christian Etter tells a magical story of everyday objects, conducted by the pull of a cord.
It's this line of thinking that motivated La Triennale to reach out to Santa Ragione last year, looking to make modern video games part of its exhibition. "They asked us to pitch them ideas and we delivered two," Pietro Righi Riva, co-founder of Santa Ragione, recalls. "One is a game festival in the style of a film festival [which is running from September 8th-12th as the Milano Game Festival] and the other one was a collection of design-centered independent games that became the Triennale Game Collection."
For Santa Ragione, it was the right opportunity to turn a long-held idea (curating a collection of commissioned works) into a reality. "A museum is the only kind of institution that can make something like this happen," Righi Riva says. "If a project like this had been financed by a commercial entity it would have ended up in a struggle between the artists' vision and the requirements of the client in terms of advertising and public image."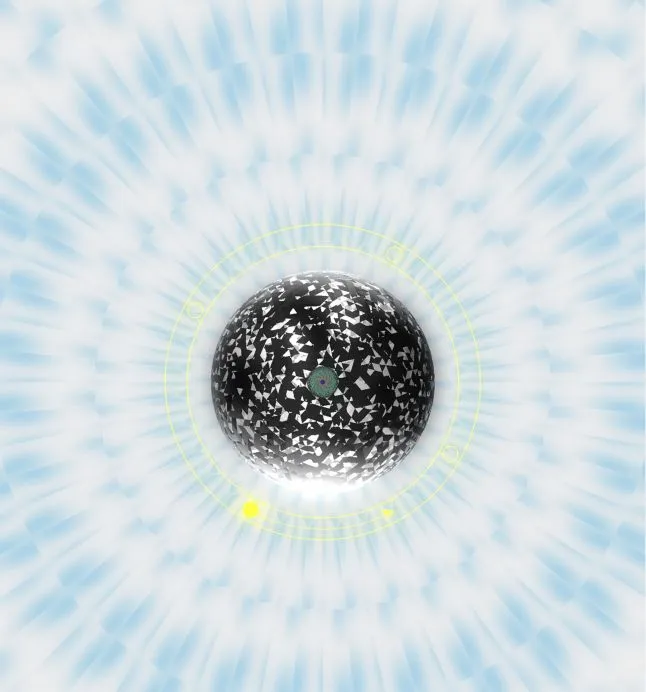 LOCK by Auriea Harvey and Michaël Samyn (Tale of Tales, Belgium) uses circular motion to navigate the twelve heavenly spheres of Christian cosmology.
Once the pitch for the game collection was accepted, it was up to Santa Ragione to assemble the five artists that would create them. Having traveled around the world for conferences and festivals, meeting many game developers in the process, Santa Ragione had a shortlist in mind, but the special requirements of the Collection soon narrowed the candidates down.
Firstly, while the museum didn't give any explicit criteria on the selection of artists, Righi Riva knew that he needed people who "could deliver a diverse array of experiences – from the most 'game-y' to the most contemplative." They would also need to deliver a "polished artwork that the Triennale would recognize as a state-of-the-art product of design,"
Other stricter requirements the project demanded of its artists were that they were "able to start work immediately and to develop in Unity, which was a technical must for being able to ship the collection as a single app."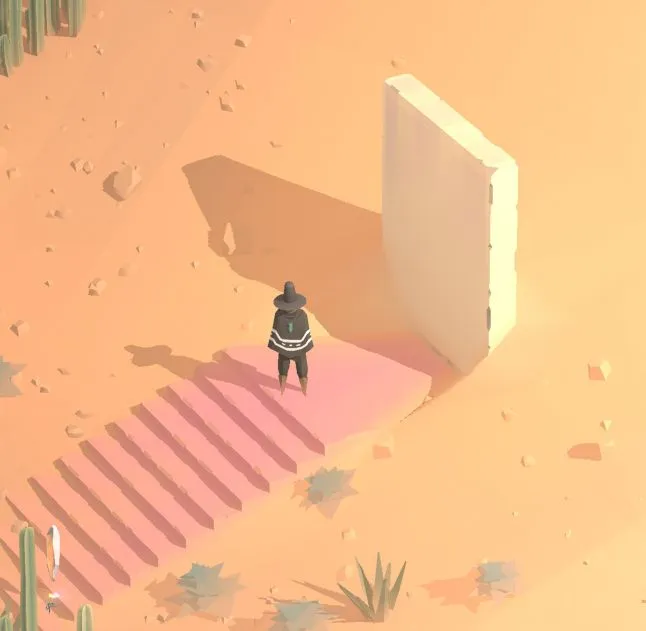 Neighbor by Jake Elliott, Tamas Kemenczy and Ben Babbitt (Cardboard Computer, USA) is a point-and-click story that sees a friendship unfold over several days in a desert where objects are dug up, traded, and offered to monoliths.
As the XXI Triennale is an "International Exhibition," the other consideration was to get an even spread of locations between the five artists. The ones picked were Christian Etter and Mario von Rickenbach from Sweden, Auriea Harvey and Michaël Samyn (aka Tale of Tales) from Belgium, Cardboard Computer (comprised of Jake Elliott, Tamas Kemenczy, and Ben Babbitt) from the US, Pol Clarissou of France, and Katie Rose Pipkin from the US.
Each of these artists were contacted at the beginning of February this year and then given a month to come up with a one-page document that acted as a pitch for the Collection. Once the pitch was accepted by the museum, the artist received half of their payment in advance, and was given two months to develop the idea into a finished game vignette. "That left us with one last month to fix bugs and integrate the games in the wrapper app," Righi Riva says.
Santa Ragione did as much as they could to make the deal for the developers as comfortable as possible and to ensure they had ownership of their creations in every sense of the word. Hence, the games are a timed exclusive for the Collection, but once that time has expired, the artist may release it wider if they wish.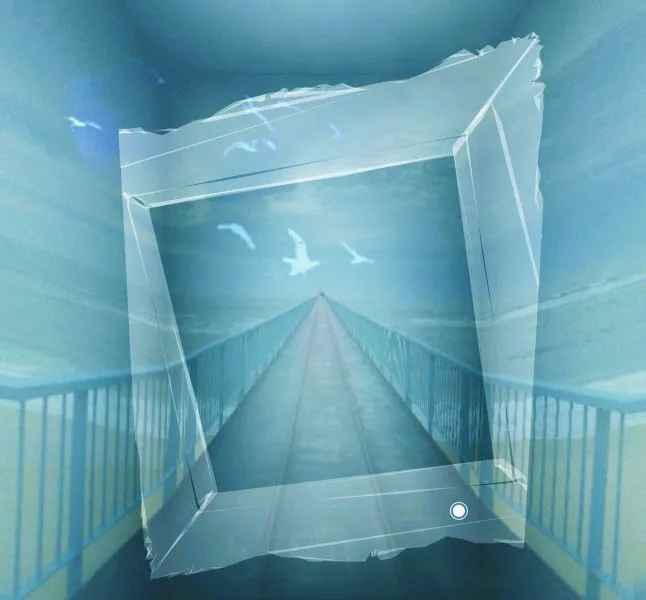 A Glass Room by Pol Clarissou (France) is a Myst-like adventure that has you navigate traces of memories inside a dreamlike labyrinth.
The entire project was funded by La Triennale, which meant that Santa Ragione did have to get approval on a payment figure that would cover the artists' fees and the development costs to put the Collection together. "We only had to negotiate to include one more artist instead of the four originally planned," Righi Riva says. "The museum offered us a small advance and covered the rest of the production costs when the Collection was published." Santa Ragione then handled the budget as the listed production company on the project.
Another crucial part of Santa Ragione's preparatory work was ensuring that its own members weren't being burdened too much. A big part of that was ensuring they had enough time to get all five games to work in a single app. After discussing it internally, Santa Ragione drew up a document of technical restrictions for the artists. "Things like 'no online', 'self contained in one Unity scene', 'no GUI', were mandatory requirements that the artists had to work around," Righi Riva says. There were also a few content restrictions: "In the end it all came down to having games that could be experienced in short play-sessions and that did not require previous game-playing experience."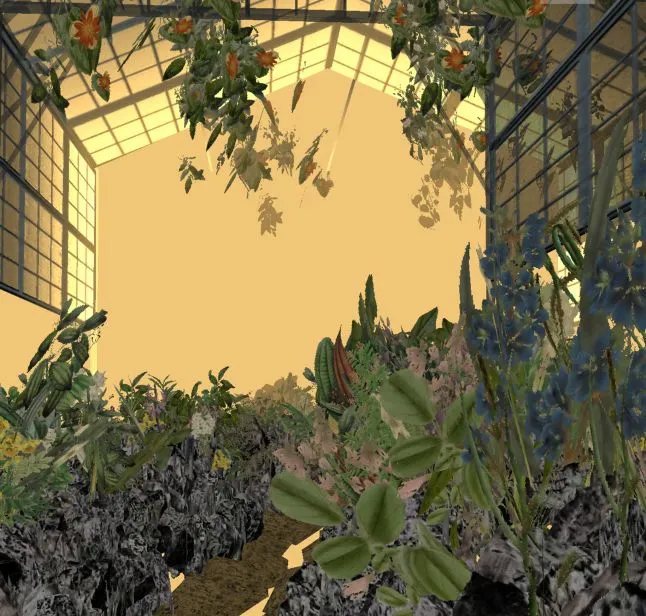 The Worm Room by Katie Rose Pipkin (USA) is a slow, endless journey through a series of generative yet fragmented greenhouses.
Santa Ragione wasn't just playing an oversight role, though, as they managed to slip a bit of creativity into the app's wrapper. The main menu, for example, is an infinite series of procedurally generated posters inspired by architecture sketches. The visual design is the work of Santa Ragione co-founder Nicolò Tedeschi, which was implemented by long-time collaborator Paolo Tajé. The finished look is one that should communicate the idea of the Collection being a museum piece - a gallery of interactive art to be played with.
While that may be the case, it could be argued that a virtual stand-in for a museum exhibit doesn't live up to the value of having a physical installation for people to visit. "There is always the idea that a museum exhibition needs to have a physical space and presence," Righi Riva says, "but I feel that it does not have to be the case with games that use traditional control schemes."
He added that Santa Ragione did consider having a physical gallery for the duration of XXI Triennale where people could play the games, but ended up rejecting the idea. "In the end, we figured that the Collection is much more interesting as a way to bring people to discover the XXI by capturing their attention while they are on their mobile devices, rather than having them spend time with it while they are visiting Milan," Righi Riva says.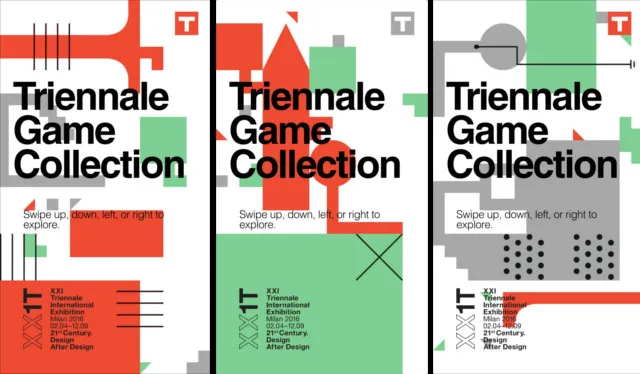 Three examples of the procedurally generated design of the game collection's menu screens.
The museum agreed with Santa Ragione on the matter. "In particular, as well as being accessible to everyone, this form of distribution also perfectly illustrates the constantly evolving nature of videogames," Albertis added.
As to life after the Triennale Game Collection, Santa Ragione will soon be creating a PC version of it that will go through Steam Greenlight to hopefully reach new players. La Triennale will also likely have the PC version available for download too. "It would be interesting to have a permanent display or totem of some kind to make the collection and other game projects available in situ at the Triennale," Righi Riva says.
Since launching, the Triennale Game Collection has passed 160,000 total downloads, which is enough for Santa Ragione to consider it a success. To this, Righi Riva says: "I hope that...this experiment is enough to inspire the museum and other institutions to invest in similar projects in the future."
As to the museum, Albertis says that he's "absolutely satisfied" with the game collection, and would be up for doing something similar in the future, but noted that "there's nothing certain in the cards right now."