Yesterday, Nintendo announced that it's bringing Yo-Kai Watch, Japan's latest blockbuster portable game franchise, West. The games put you in the shoes of a young boy or girl who controls spirits known as yōkai in RPG-style battles.
The series has been a smash in Japan, where it's sold in the millions; it's spawned an animated TV series, a movie, comics, and piles and piles of toys. But what is it? Who makes it? And now that the game, show, comic, and toys are set to be released globally, what are its chances of Western success?
Read on.
What the game is
The series sprang from games developed by Level-5, creators of the Professor Layton series and developer of Dragon Quest IX for Square Enix.
Though the first game won't hit the West until 2016, in Japan, there are two installments of the franchise already. Level-5 released the latest, Yo-Kai Watch 2: Shin'uchi, on December 14th last year. Like Pokémon, the games come in multiple iterations; Shin'uchi is the third version of the second game in the franchise. The very first game was released in 2013.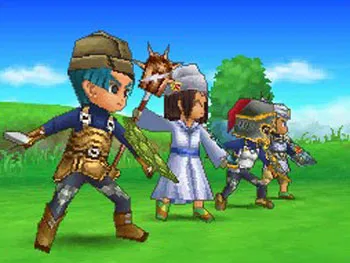 2009's Dragon Quest IX
The word "yo-kai" (more often Romanized as youkai or yōkai) refers to traditional Japanese spirits that spring from the country's folklore; the designs in the game are clearly based on those, but many have cute or humorous twists.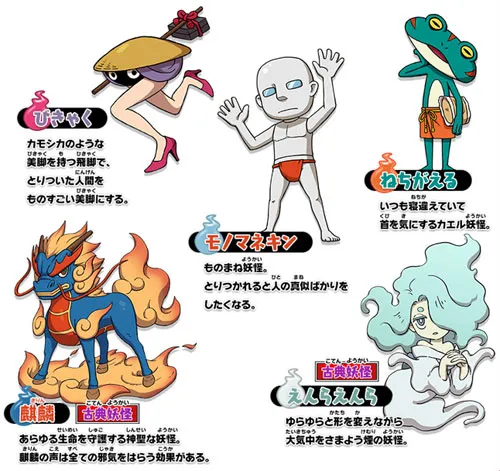 Much like Pokémon, the game is an exploration and battle RPG where you recruit a large variety characters that lurk in the world, waiting to be discovered. As a boy or girl character, you'll explore the town, hunt for yōkai, and battle to progress through the game's story.
Why it's not just Pokémon
Sounds like Pokémon, right? But it's not precisely the same. The game's theme is the key difference. If you understand a little bit about Japanese culture, that difference is significant.
Unlike Pokémon, the game is set in the real world; lurking in that world are spirits called yōkai, which are invisible to the naked eye. As the main character, you'll be gifted with a watch that lets you see and capture these spirits. Aside from the funky watch, the concept actually directly derives from Japanese folklore.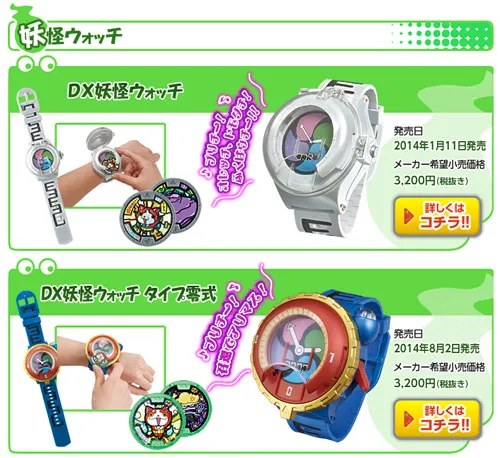 In Japan, you can buy your own Yo-Kai Watch from Bandai
This is how the official press release announcing the comic's U.S. publication puts it: "Yo-kai, inspired by the yokai of Japanese folklore, are not ghosts or monsters or creatures. They can't be seen by the human eye, but they're everywhere, and whether they're phantoms or everyday objects discovering their higher purpose, Yo-kai personalities are distinctly humanlike!"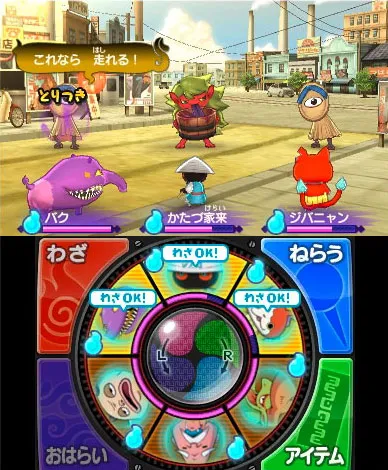 Yo-Kai Watch 2
As far as the game itself -- yeah, it does look rather similar to Pokémon in execution. But we all know that subtle changes to mechanics, theme, and feel often result in extremely different games; Level-5 has a lot of experience in the RPG genre and has, no doubt, put its own twists on the JRPG format.
This video, produced by the developer Level-5, should give you an idea what the first game in the series is like -- even if it's in Japanese.
Who made this game?
We have good reason to expect the game itself is solid: Yo-Kai Watch was made (and in Japan, published) by Level-5, developer behind well-known franchises Professor Layton and Inazuma Eleven, as well as Ni no Kuni and Fantasy Life, two well-liked RPGs from the PlayStation 3 and the Nintendo 3DS, respectively. The company has a history that stretches back to the early PlayStation 2 days, and has a number of notable critical and commercial successes under its belt.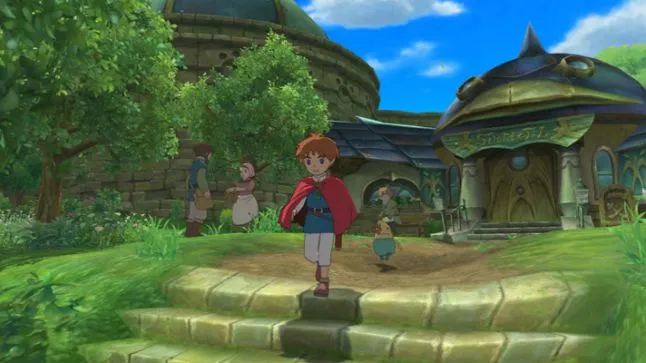 Ni no Kuni
Nintendo will be publishing the game in the West. It has had a close relationship with Level-5 for years -- having published Professor Layton, Inazuma Eleven, and Fantasy Life outside Japan.
Will it work in the West?
Nobody thought Pokémon would take off when it launched in 1998; in fact, quite the opposite. Nintendo was even advised to redesign the IP and its (now, iconic) characters to appeal to American kids.
If anything, today's kids are much more used to anime aesthetics, and lots of Japanese toy lines show up on Western shelves. On the other hand, that means that the games (and other media) will actually have to be good enough to catch their interest -- since the basic idea isn't intrinsically novel.
In the end, it's hard to predict if the IP will really appeal to Western children -- and if enough of them already have or want 3DSes, and if their parents will buy them.
However, what's clear is that the franchise will be a big priority for the companies involved in bringing it West, which certainly can't hurt. Generally, popular Japanese franchises languish unless they get a serious push. Very often, their backers aren't big enough to do that in the West. But this one has the backing of Hasbro and Nintendo so far -- both major forces in consumer marketing. If a big TV network gets on board for the cartoon, Yo-Kai Watch's chances of success will also be boosted.
Who else is involved?
In Japan, a major franchise like this will typically be coordinated across multiple companies; that means a TV network for the show (in this case, TV Tokyo) as well as Bandai for the toys; there's also a big manga publisher for the comic (Shogakukan), and of course Level-5 releasing the games.
As stated above, heavy-hitters are involved here, too. Of course, Nintendo is publishing the game, and will likely put a lot of weight behind it. Notably, Hasbro has nailed down the toy license. What you might forget is that the company was a big contributor to the success of Pokémon during its heyday.
The first Yo-Kai Watch product to hit the West will be the boys' comic adaptation, published by Viz Media this September. Viz is the largest manga publisher in the West, and is a joint venture between Shogakukan (which publishes the Yo-Kai Watch manga in Japan, among many other popular series) and Shueisha, creators of Shonen Jump -- Japan's most popular manga magazine, and home to franchises like Naruto and One Piece.
A product of a Japanese-style transmedia strategy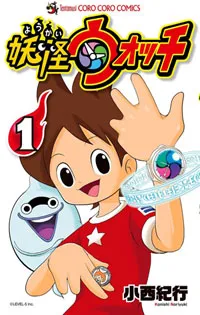 In Japan, the games are backed up by an animated television series and several, concurrent comic series, as well as an onslaught of extremely popular toys. In the U.S., we'd use the word "transmedia" to describe a franchise with multiple tendrils; Japan calls this "media mix," and thanks to the way marketing and content work over there, the execution tends to be a bit different.
In Japan, companies work very closely on timing and promotion so that multiple iterations of a franchise (the comic and the game, for example) back each other up (a comic magazine might run a special chapter or a contest the same week that the next game in a franchise is released, for example.)
In the 1980s, content like this was integral in the popularization of Dragon Quest, one of Japan's biggest domestic game franchises, and tie-ups have been an important strategy since that time.
Japanese magazines often print information that Westerners would consider advertisements as editorial in Japan, and their editorial departments work very closely with content producers.
Right now, there are separate Yo-Kai Watch comics aimed at girls and boys being serialized in Japan, as well as a comic strip. While the popularity of comics periodicals has slid in recent years, they still reach a lot of Japanese kids -- and are a huge part of a franchise like this.
To give you an idea how much kids like the franchise (or how much it's being shoved down their throats) check out this image from the website for comics anthology CoroCoro Comic Special. It's drenched in Yo-Kai Watch: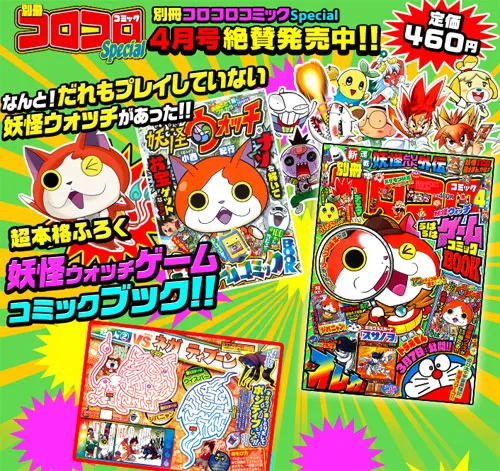 Some of this isn't directly relevant to Western markets, of course -- but it does go to show what a wealth of Yo-Kai Watch content there already is to draw from.
Sales and success
The series has been immensely successful in Japan thus far. Nintendo went so far as to call out the popularity of Yo-Kai Watch 2 in its last financial results meeting.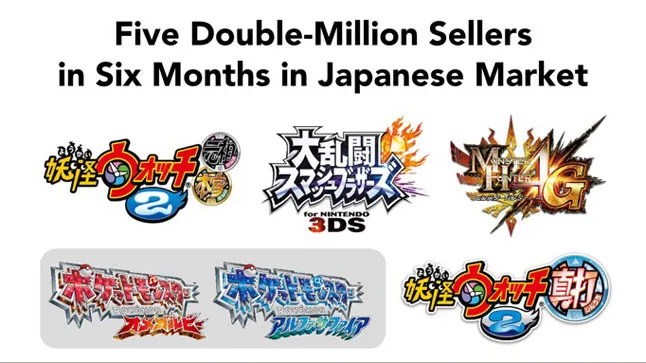 A slide from Nintendo's latest results meeting.
Yo-Kai Watch 2 makes it on there for both its initial release and re-release.
The latest numbers for sell-through from Japanese analyst firm Media Create peg retail sales of the most recent version of Yo-Kai Watch 2, Shin'uchi, at over 2.5 million; that doesn't count digital download numbers. On April 3, Level-5 announced that Yo-Kai Watch 2 had shipped over 6 million copies in Japan across its three iterations.

For its part, Level-5 has long pursued a strategy of incrementally increasing the popularity of its franchises, and more often than not, it's worked; president and CEO Akihiro Hino outlined that strategy at GDC 2009, and on Gamasutra, you can read about the company's dogged pursuit of success.
The franchise is so popular that Bandai Namco's stock has risen solely on the back of the success of toy sales (it has nothing to do with the games); so has that of the anime's broadcaster, TV Tokyo.
During the course of writing the article, it's become clear that the phenomenon is multigenerational; the video below, which shows off the Busters mode in Yo-Kai Watch 2 (which will soon be broken out into its own game) quickly illustrates how families can play the game together.
It's not far-fetched; the NES generation has kids, now, and in Japan the NES was synonymous with Dragon Quest. Level-5 developed Dragon Quest IX, the Nintendo DS iteration of the game, for Square Enix. That game saw parents and children playing together thanks to its local multiplayer mode, and there's no doubt the company learned a lot from that.
Popular anime and comics, too
We've already touched on the existence of the Yo-Kai Watch anime and comics; it's merely left to note that, just like the games, they're very popular. The show currently ranks among Japan's top 10 animated programs ratings-wise. It also spawned the 20th best-selling manga series in comics-obsessed Japan for all of 2014, and DVDs of the show are selling, too. The franchise's first movie broke its distributor's record for advance ticket sales -- and after debuting at number one at the box office, made millions of dollars on release.
The TV show's opening. The show has boosted TV Tokyo's ratings.
And popular toys: Why Hasbro wants in
Bandai, whose Yo-Kai Watch success we've already discussed, produces a huge variety of toys for the franchise, and they sell, sell, sell. The Yo-Kai Pad, a tablet-like device, sold out within two days of its initial release. That's nothing new for the franchise, however. Here's a toy from the franchise being sold for five times its original price at a Japanese used-goods store: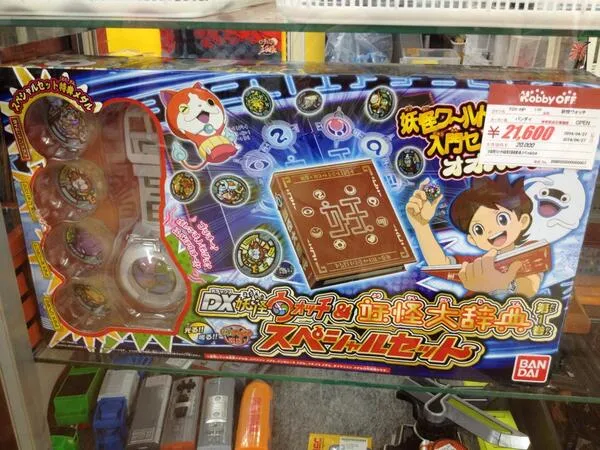 ¥21,600 is is almost $180 at today's exchange rates. According to Bandai's site, that set originally retailed for ¥4,400, or less than $37. Image from @sprsk.
It's no surprise that Yo-Kai Watch toy releases equal big lines in Tokyo, then:

A Yo-Kai Watch toy's release-day queue in Japan. Image from @sprsk.
It's obvious why Hasbro's interested. The massive global toy-maker sees the franchise's potential. And there's important history there, too: At the height of the Pokémon craze, when Hasbro had the toy license in the West, the company's earnings were boosted by its massive popularity.
Besides the main game, what else?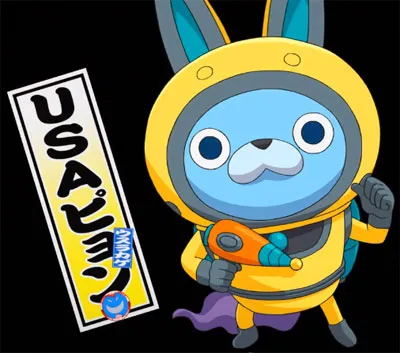 Of course, a franchise with this popularity can only expand. Yesterday, Level-5 held an event in Tokyo to show off its upcoming lineup; besides the Western release of the original Yo-Kai Watch (via Nintendo), the company also announced three more Yo-Kai Watch games for the 3DS.
The first is, of course, Yo-Kai Watch 3, which is set in the U.S. and which stars the punningly named yōkai "USApyon," shown above. ("Usagi" is Japanese for rabbit. Get it?)
Then there's Yo-Kai Watch Busters, an online multiplayer iteration of the franchise, and finally Yo-Kai Watch: Romance of the Three Kingdoms, a Koei Tecmo-developed crossover with the venerable strategy game franchise. There are, of course, a couple of mobile spinoffs in the works, too: an encyclopedia of the series' yōkai and a puzzle game.
Or maybe it's all because of this video
Who really knows what makes for a successful franchise? For all we know, this video is the root of everything:
Of course, that's obviously not true -- but at the very least, it illustrates that the franchise has its heart in mainstream Japanese pop culture, rather than being a niche phenomenon, which goes a little ways toward explaining its success.