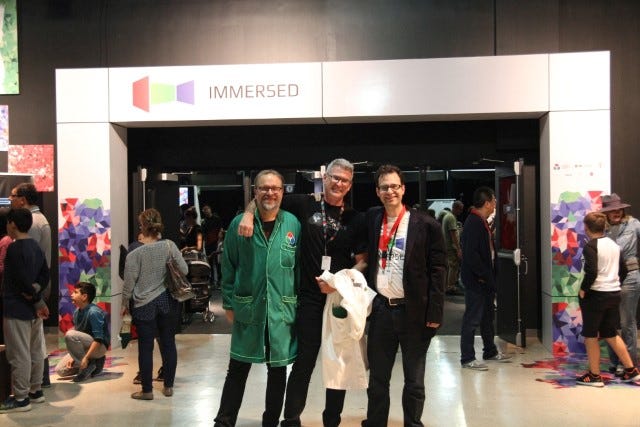 L-R: Martin Timusk, Kevin Von Appen, Neil Schneider at Immersed 2016
Ever since Immersed 2016 when I had the opportunity to witness the incredibly positive reaction to virtual reality from the general public as they tried the technology for the first time, I felt energized in that I saw a new path for our market to grow, and my mind has been buzzing with opportunities and ideas since.
As a follow-up, I've been heavily researching the market; not just from the point of view of product sales or what's readily available - I wanted to understand the customer experience so that a side project I've been working on would hit its mark. Is it enough to have an amazing product? Is the barrier of entry price? How can we bridge the gap between the magic of virtual reality and having consumers buy in as much or even more so than we have? What are the challenges and how can our industry overcome them? These are the questions I wanted answered, and I made some difficult discoveries along the way.
Based on what I've researched and seen with retail virtual reality customer policies, I'm concerned that the holiday VR sales will be handicapped, and I wrote this article to take proactive action to explain why before the analysts, critics and pundits dismiss virtual reality without having a grasp of the core issues. The handicap has little to nothing to do with demand, price, quality, ease of use, or availability. This is nearly 100% about how the retail virtual reality experience is inadvertently designed to fail, and I'm hoping that what is shared here will result in positive reforms in how VR is marketed through customer channels.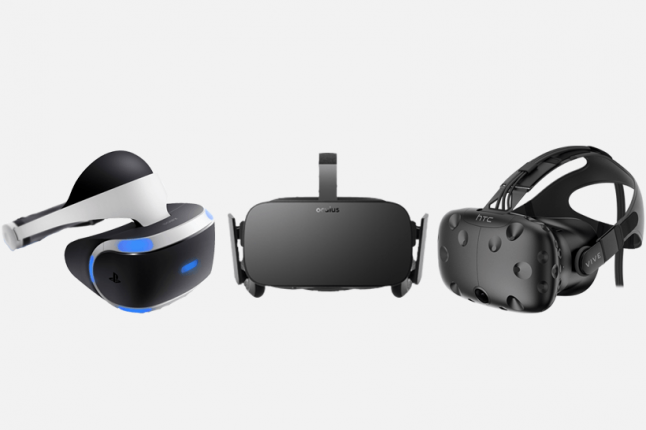 L-R: Sony PSVR, Oculus Rift, HTC Vive (Source: Animeinferno)
The 2016 virtual reality season is dependent on Facebook's Oculus Rift, the Sony PlayStation VR HMD, the HTC Vive, and possibly future devices by Microsoft. Samsung Gear VR less so because of their exploding Note 7 woes, and Google's Daydream VR has promise in the mobile space, though I think its release is too current to make a big dent this holiday season. It's the top level product lines that everyone is counting on for the proof of concept needed to raise further investment or sell enough product.
Customers living in the USA are in pretty good shape. There are several EB Games (Gamestop) shops showcasing the Sony PlayStation 4 for limited hours each day, and with the exception of opened software, you can return what you don't like (and really, why wouldn't you like VR?!?).
Facebook's Oculus also has demos running at several Best Buys across the USA, and again, Best Buy has a solid return policy in the off chance that there is a dissatisfied customer.
The HTC Vive is being showcased at Microsoft Stores - no problem there. Same customer satisfaction plan.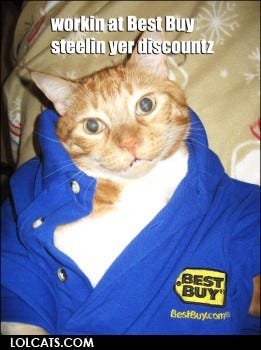 Unfortunately, just north of the border in Canada, things fall short in more ways than one. First, product demonstrations are not easy to come by. I live just outside of Toronto, North America's fourth largest city, and out of all the Best Buys in the province of Ontario, only two have Oculus Rift demonstration stations - and they are each in the outskirts of Toronto (Etobicoke and Oakville, Ontario). Quebec has a single Oculus Best Buy demo in Laval (where I grew up), yet not in the far more well known city of Montreal just a hop, skip, and a jump away.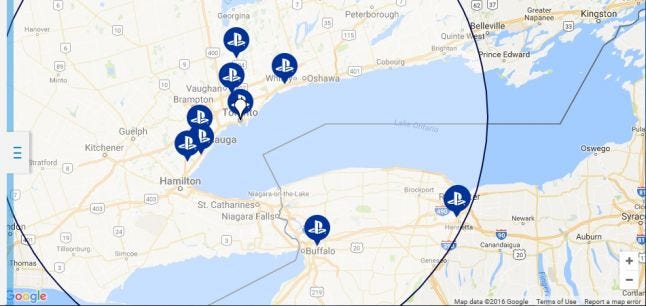 PSVR Demos Within 100 Miles of Toronto, Canada
In the case of Sony PlayStation VR, there are about 35 demonstration stations for PSVR in a 100 mile radius in the USA versus just 10 for a similarly populous area in Canada.
Having enough demonstrations isn't enough to turn the tide though. Even if there was a demo station in every single store in the world, and even if the hours of operation weren't so limited (they really are limited), this represents just one helpful ingredient for completing the consumer purchase.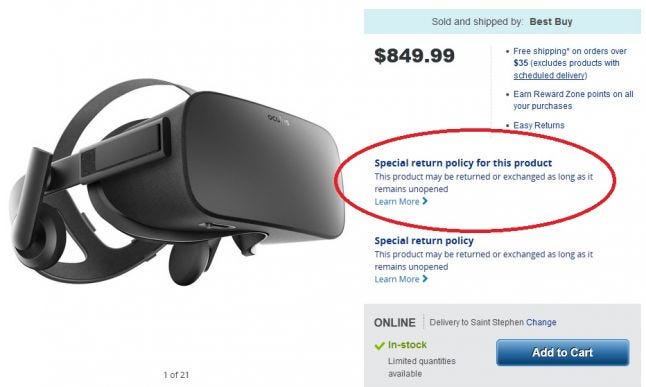 Here's the clincher: Best Buy and EB Games (Gamestop) will not accept product returns for opened virtual reality products in Canada . This means that if you buy a Sony PlayStation VR HMD or Oculus Rift and you are dissatisfied with it, you can't return it.
As pictured above, this isn't some obscure hard to find condition that only I know about. Best Buy Canada and EB Games effectively slap you across the face with it when you look at VR products on their websites which is one of the reasons I found it so concerning.

Found on EB Games PSVR Purchase Page
I reached out to the Best Buy, Gamestop, Oculus, and Sony PlayStation media relations teams for comment and/or explanation as to why VR devices have a unique policy compared to their other product lines in Canada. Only Best Buy responded with the following statement:
"The health and safety of our customers is our number one priority. To that end, we can only accept returns on unopened virtual reality headsets within 30 days of purchase. For more information on our return policy please visit our website." - Christine Tam, Best Buy Canada spokesperson
When asked to elaborate, Best Buy continued:
"Similar to our policy for headphones, earphones and 3D glasses, virtual reality headsets fall under this policy for hygienic reasons. " - Christine Tam, Best Buy Canada spokesperson
Best Buy did not explain why their return policies are different from their US counterpart, and I can't reconcile how they have public demonstrations to so many people, and yet they have this unusual return policy for VR equipment. Incidentally, the Oculus Touch hand controllers also can't be returned after being opened, though other game controllers can.
I did some Googling to see if other customers had product return difficulties, and they are indeed happening in other parts of the world too. In the case of Oculus, their standard return policy is stipulated in their international Terms and Conditions:
4.4 Your Right to Cancel or Return Physical Goods. You may cancel your order or pre-order of physical goods at any time prior to shipping and Order Acceptance. After shipping the goods to you, you have the right, within 30 days from the date of your receipt of the goods, to cancel our contract with you and return the goods. This right does not apply to any goods that have been used, or are stated by us to be non-returnable, including any items or goods that have been personalized or modified in accordance with your instructions. The goods must be fully returned in the original packaging with the applicable proof of purchase and you will be responsible for the cost of returning the goods to us. If, on return to us, it is determined that the goods have been used, damaged, are missing components, or is not in a resalable condition we may charge a 15% restocking fee, or otherwise reduce the amount of your refund to take account of this damage, use, or missing components.
In other words, you can only return the item if it is unopened. If it is opened, don't try to return it. If you do try to return it, and you get caught with a used item, you will be charged a 15% restocking fee.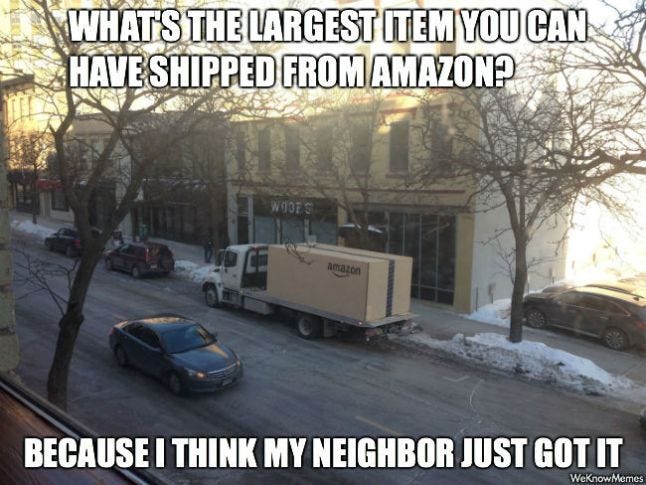 One of the only retailers marketing the Sony PSVR and Oculus Rift outside the USA is Amazon. Their written general return policy stipulates that opened products can't be returned:
You may return most new, unopened items sold and fulfilled by Amazon within 30 days of delivery for a full refund. During the holidays, items shipped by Amazon between November 1st and December 31st can be returned until January 31st.
I contacted Amazon directly through online chat and phone call as a prospective customer to see what the practice is with the Oculus Rift and Sony Playstation VR devices. After some research time, the online representative said that the items could be returned even if opened. In the case of the phone representative, they said that situations like this are handled on a case by case basis, and it's possible that the customer would not get the full refund for the opened item (e.g. they would have to at least pay the return shipping fee). In my opinion, the Amazon return policy for opened items such as the Oculus Rift and Sony PSVR is a negotiation.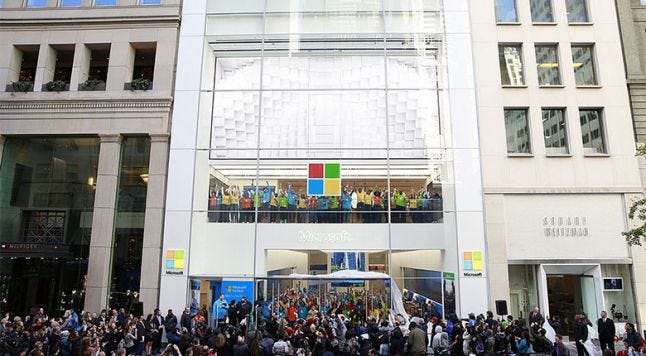 Flagship Microsoft Store in New York (Source: Microsoft)
The exception to this development are the HTC Vives that are sold via the Microsoft Store. I've spoken with two separate Microsoft stores in Canada, and not only do they demonstrate the device to customers, they will accept returned items that are opened without question.
By now you are probably wondering why a huge virtual reality advocate like myself is so concerned about easy product returns. If VR is so great, why is this a big deal?
The big deal is that between having limited opportunities for consumers to try the technologies before they buy, and the relatively high price for experiential products that are sight unseen (Rift is $849.99 Canadian Funds, PSVR is $549.99 Canadian funds), the return policy is the only thing maintaining the customers' trust so they can buy with confidence. I'm very concerned that this unusual retail policy is going to seriously hamper virtual reality sales, and this has little to nothing to do with customer demand.
I completely appreciate why the retailers are implementing these closed box return policies if it has nothing to do with VR hygiene. There is a practice called "showboating" where consumers buy a TV for the weekend to watch the Super Bowl or they buy expensive camping equipment on a Thursday that gets returned the following Monday all muddy with use - I get it. However, this sealed box return policy is unusual for the likes of Best Buy and EB Games in Canada - it practically goes against their brand.
Oculus has part of the solution in that they have a 15% restocking fee (when forced). I suspect most would be ok with an up-front restocking fee given the hygienic nature of virtual reality devices. I do think that it's important that there be more demo stations so consumers can try before they buy, though I know that having all customers try first is unrealistic. Ever see a mad store rush from a retailer's perspective? Those sales need to be closed quickly or you won't be able to satisfy all the customers. There's no time for demos! Sell! Sell! Sell!
How do you handle a scenario where someone bought a VR device as a gift, and the person on the receiving end doesn't like it once opened? Things happen.
As I still don't understand why the policy is different between the American Best Buy and American EB Games and their Canadian equivalents, I'm interested to learn how returns are handled in other parts of the world.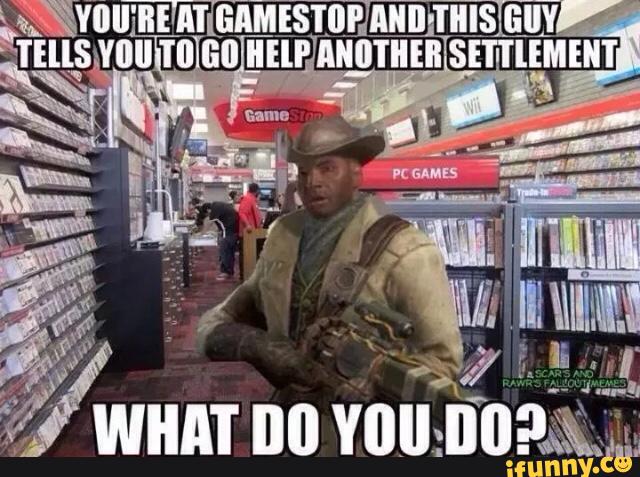 The silver lining in my research is that when I went to visit the local EB Games to see how virtual reality was being represented, the store manager received a call from a prospective customer inquiring about the Sony PlayStation VR HMD. He expressed that the Sony PSVR bundle was sold out, though they have the solo HMD units readily available. So the customer interest and demand is there; it just sucks that when that prospective consumer arrives at the door, he will be questioning himself as to how big a financial risk he wants to take with this purchase all because of the store policy.
According to Donna Ball, the Store Supervisor at the Yorkdale Mall Microsoft Store location in Toronto, the HTC Vive units are selling well and they've had very few returns. She explained that the primary reason for the product coming back is that people buy the unit without having an adequate computer waiting at home.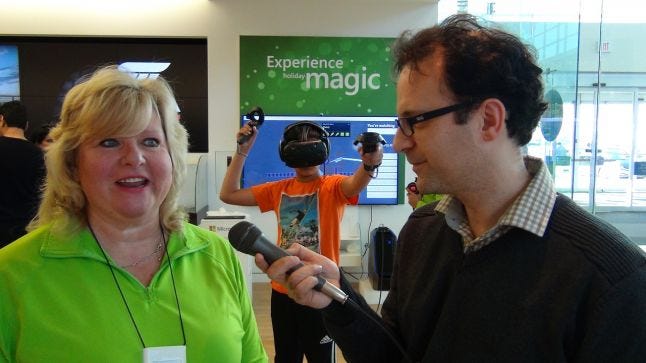 Donna Ball, Store Supervisor, Microsoft Store (left), Neil Schneider (right)
I was very impressed by the positive energy showcased in the Microsoft store, the pride in the VR product, the ecstatic reaction from the public, and the effort being invested to show others what all the excitement is about with modern virtual reality. Just having knowledgeable staff showing people - SELLING to people - made all the difference for me. The Microsoft Store was the exception to the rule in more ways than one, and I was so thrilled with their work, I drove in special to interview them for a pre-Black Friday shopping guide for consumers that I'm having published at the end of the week. I tried to do the same thing for Best Buy so people would see how they could try the tech out for themselves, but that didn't come to fruition because Best Buy couldn't schedule anything before Friday, and I never heard back from EB Games.
I very much want the holiday season to be a success for all vendors, and the best way for that to happen is for all retailers to firm up their customer satisfaction process and give more opportunities for customers to try VR before they buy - or at least let them return what they don't like.
For now, the Microsoft Store showed me how it's done with salespeople that care, round the clock demonstrations, and a customer satisfaction program that reflects our industry's confidence and trust. I thoroughly enjoy virtual reality, I'm certain customers will be happy with it, and it's a worthwhile investment. Everyone needs to play the part - especially the retailers.
This Friday, I'm publishing a consumer-focused shoppers guide on Meant to be Seen and the ITA website. It's not for you! It's for the customers. Let's all start thinking about the customers.