Lots of readers in the video game industry are familiar with Virtuos, the external development studio that's supported titles ranging from Star Wars Jedi: Survivor to Marvel's Midnight Suns. It and other external contractors have been essential for finishing the development of triple-A game releases, to say nothing of the support it provides to smaller developers like Ember Lab, the studio behind Kena: Bridge of Spirits.
So I was surprised in March to receive word from the Virtuos team that the studio wanted to talk about a new initiative at the company called Virtuos Originals. It's a project inside the company headed up by Olivier Masclef that enables some of the company's many studios to jump on the other side of the business line, and start developing their own games.
Such a move seems to go against the company's priorities. Its very robust business has been built on providing services to clients, not generating revenue from players. Wouldn't moving into the market of selling games open it to the risks it was constructed to avoid?
Apparently not. Games division managing director Phillipe Angely explained to me on a recent call that the initiative is constructed with two goals in mind: first, it frees the developers at its subsidiaries to experiment on new game ideas, and lets them flex their creativity between work on other major projects.
And second, the games only enter full production if the company is able to secure a publishing partner that can co-produce them.
Angely's explanation of Virtuos Originals shined a little more light on how the multinational companies' operations are evolving to meet with the times. The program may also be a glimpse at how a new reservoir of game development talent will make itself known to the world.
Virtuos Originals is built on a robust greenlighting process
Game developers at Virtuos often have experience designing and implementing features thanks to their partnerships with the company's clients. With senior members of several teams beginning to approach management with questions about making their own games, the company decided to embrace that creative spirit instead of outright rejecting it.
Developers pitching games to Virtuos Originals' 10-person committee are tasked with not only coming up with a strong gameplay pitch, but also providing answers to key questions early on. First, they're asked to identify a client they'd want to work on the game with. Next, they're asked to examine the team they're working with, and determine if it has enough experience working on this type of game.
And finally, they're tasked with doing a little market research, to ensure they aren't pitching a game in a too-niche genre—and that it can showcase the high-quality graphics the studio is "known for" producing in its third-party work.
"We're famous for [creating] beautiful graphics, and we want to make games which represent us well," Angely said.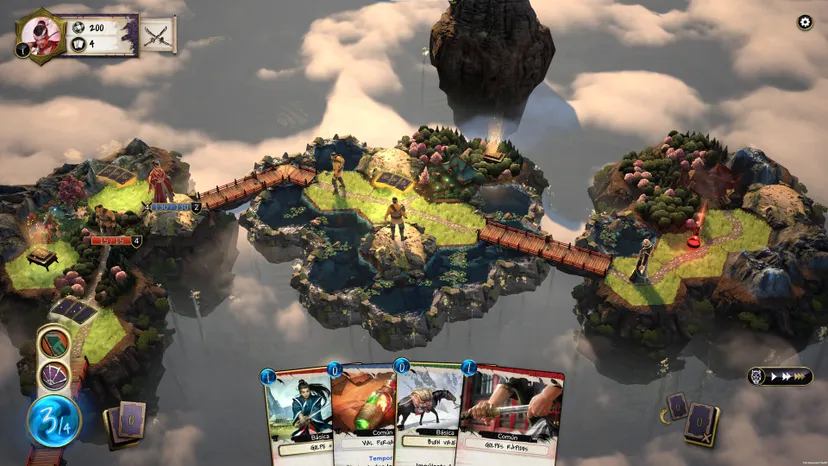 In order to pitch a title, the developer must have been working in the video game industry (not necessarily at Virtuos) for 10 years. If the pitch is accepted, Virtuos funds six months of prototyping, with the aim of producing a demo that can be pitched to prospective publishing partners.
The first game to make it through this gauntlet (and the ensuing challenges of game development) was strategy deckbuilder Mahokenshi, published in partnership with Iceberg Interactive.
According to Angely, one in five pitches put before the committee make it to the prototyping phase. He said the greenlit games are a very small fraction of the approximately 40 projects the company is working on at any given time.
Virtuos is fielding game pitches to help retain talent
Virtuos' Jake DiGennaro previously told Game Developer that the company has long placed a high priority on recruiting and retaining talented developers—especially from underrepresented regions. Angely echoed that sentiment, and said that retention is a key goal with Virtuos Originals.
"We want to retain talent—we don't want them to leave with a pitch under their arm, approaching another big publisher saying 'hey, are you interested?'" he said, calling the process a "compromise" with the company's core business goals.
What was interesting about Angely's explanation was that it didn't sound like making highly profitable games was a key requirement for the company. Virtuos is still privately held, which means its leadership can spin up programs like this without promising a huge return for public investors.
Angely explained that the studio deliberately selects prototypes for games that don't require a ton of risk to bring to market. Comparing it to R&D "training," he said that subsidiary studios are given guidelines for how much of their annual profits on such projects.
Developers at Virtuos across the globe are apparently taking up this opportunity to pitch original games with gusto. Angely said that there's been an exceptional interest from teams in different regions who have worked on large triple-A titles, but haven't seen any that resemble the art and culture of their homeland. "It's fun to see the variety of pitches we're seeing coming from studios in Shanghai and Chengdu," he said. "They're specialized in triple-A, European and American games. They've been working for ten years in big franchises."
He said those teams are pitching "double-A" games with art direction influenced by East Asian cultures, targeted at consoles. Developers from those studios apparently see a gap in the market, since the games most popular in the region are primarily mobile free-to-play titles.
Angely and Virtuos' pitch for "Virtuos Originals" is interesting. It speaks to the fact that developers at eternal and co-development studios are just as hungry to make their own games as at other companies.
Virtuos' decision to not go all-in on original games makes sense since the point of the company's existence is to counterbalance a need for massive overhead paid for by (frequently unstable) video game sales.