Unity Technologies' Unite Los Angeles developer conference is happening this week, and amid the brouhaha and product announcements there's at least one clear theme: Unity wants developers to be more deeply immersed in its systems, whether those be actual game dev tools or the broader Unity dev ecosystem.
Most notably, Unity has announced it will debut an open beta of its virtual reality game dev tool, EditorVR, in December -- and Unity says it will be open-source.
"At launch, the build will be completely open-source and feature an open API to easily expand, adapt and customize tooling to suit individual needs," Unity CMO Clive Downie (pictured) recently told Gamasutra. "This is kind of an unprecedented first for Unity, in terms of our ability to offer open API and a level of open-source to our toolset so that our customers can build this tool with us and get the most out of it from day one."
This is potentially the biggest Unity tool to be open-sourced since Unity began its open-source initiative in 2014. Downie says the move is less about a commitment to open-source ideals than a need for developer aid: Unity has spent a significant amount of time tinkering with how to design a game dev tool that can be used in VR, but it still has a long way to go -- and it's counting on devs to help it along.
"One of the reasons why there's an open API, and we're making components of the VR editor open-source, is because we don't know everything," says Downie. "We found some things out about the creation process in VR that allows us to get to the offering that people are going to see. But we know that we can accelerate the development of it far faster if we allow people to do that with us."
Like so many game developers, Unity is still figuring out exactly what works (and what doesn't) in VR. "We found out that there's a lot of learning to do, and probably too much learning for us to kind of commit into a regular update cycle," says Downie. "Hence the reason why we're making it open."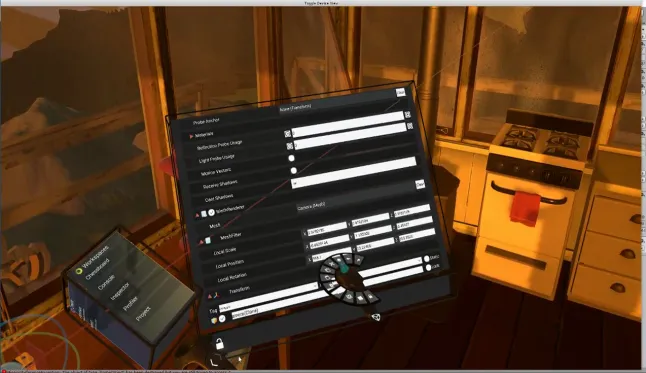 But unlike many game developers, Unity doesn't have a lot of competition in this space to study -- really it's only Epic, with its Unreal Engine VR editor, though Crytek is working on something similar for CryEngine. Among the unique challenges of trying to create a game dev toolset that works in VR, Downie says one of the biggest was the same one so many VR game devs are dealing with: How to make a great user interface.
"We learned a lot about the UI and how UI plays an immense role when you're in a scene and you're choosing assets from an asset picker, and you're manipulating your assets because it can become -- we found in testing that it could become a messy, frustrating process for people to navigate seamlessly and project their ideas down quickly into VR, to test the scene," he says. "Which is really what it's all about. All we wanted to do is create the scene, play through the scene, be able to iterate quickly, and so UI we've been really refining a lot. So that the user experience doesn't get in the way of [going from] idea down to scene."
It's critical for Unity to immerse VR-curious devs in its VR editor without turning them off because, according to Downey, the engine drives roughly 70 percent of the VR games and apps in the market -- and the company doesn't want to lose that lead.
"Our share of VR, as created or in production, [is] around 70 percent in aggregate across all platforms," says Downie. "We're in that humble, luxurious position of really being the foundation of VR development. And we want to stay there, and build on that."
To immerse VR devs in its toolset (literally, in the case of the VR editor) Unity is going to integrate a "fully featured" version of OctaneRender, bolster its 360-degree video player with support for 4K video, and emphasize graphical power upgrades in its ongoing engine updates.
In a broader sense, it's interesting to look at where Unity sees itself in the emerging VR dev industry: moving out of a "pioneer" phase and trying to get devs on its platform to a place where they can build fully fleshed-out VR games.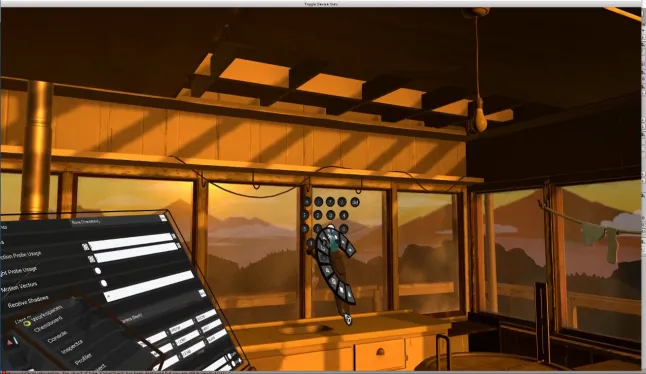 "Last year was about the pioneering phase, getting the developers to really explore the early phases of what VR could do," says Downie. "We feel we're moving through that pioneering phase and really into kind of the bona fide-y first generation of production proper, and we want to shore that up with some new technology and authoring tools."
Given that Unity claims to power the majority of experiences across its supported VR platforms, VR market watchers might appreciate knowing exactly which VR headsets Unity devs are targeting. The most recent GDC State of the Industry survey revealed that the majority of VR devs were (at the time) targeting the Oculus Rift; Unity's data shows similar dev preferences.
"In the Unity developer ecosystem, I think it kind of follows the trend, largely, of release timing. The Rift had the largest, not saying the majority, but the largest number of apps, both launched and in development. Closely followed by the Vive, and then PSVR," says Downie, being careful to note that his data is about a month and a half old. "It seems to me that it just follows the launch timing. I'd expect Rift to have a bit more than Vive, bearing in mind that it launched SDKs and launched the hardware a bit earlier."