This morning, Unity releases Unity 5, the latest version of its incredibly popular multiplatform engine.
It comes in two flavors:
Unity 5 Professional, which adds a number of features new to the latest iteration of the engine (notably, its Cloud Build service package) and its analytics packages, as well as its Team License tools for larger studios.

Unity 5 Personal, which is completely free to developers with revenue or funding less than $100,000 a year, and which includes the full engine (but no advanced services package.)
The only platform (of the 21 which Unity supports) that Personal can't build to out of the box is the Xbox 360. (Developers will also, of course, need valid licenses to publish to the consoles the engine supports.)
This graphic, provided by Unity, will help make things clear: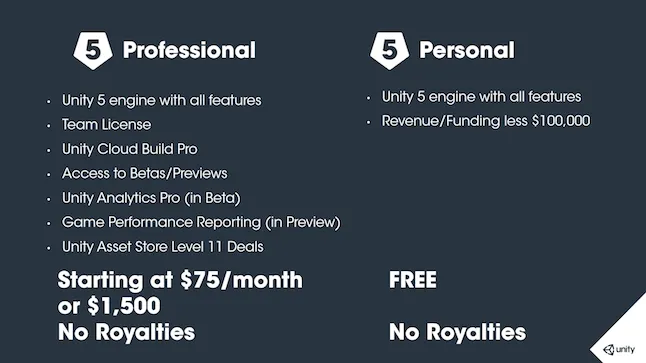 In light of the news out of Epic Games yesterday -- that Unreal Engine will be going free-to-download, but charge a 5 percent royalty on games that gross over $3,000 a quarter -- Unity's decision to stick with a more traditional pricing structure will raise eyebrows. It's $75 a month, or $1,500 up-front -- but no royalty will ever be charged.
Where the company hopes to differentiate more significantly from its competition is in its services offering: Cloud Build is chief among them, but the analytics and reporting packages are also significant (if not final, as of today) and those aren't the only ones the company is cooking up.
And this time around, its free version is much more robust than with Unity 4, the company says. It's the same engine, minus the service-based frills (an increasing focus of the tech, it should be noted.)
Gamasutra had a chance to speak to Unity's recently installed CEO, John Riccitiello, about the news, the engine, and the competition.
What about Epic?
First up: What about Epic? What's Unity's reaction to the news? "Technically, absolutely nothing, because we're not changing anything. We sort of expected it. Their pricing model apparently wasn't working, so they changed."
Shots fired by Riccitiello! But they ring somewhat hollow; Epic's Tim Sweeney told Gamasutra about the tenfold explosion in Unreal signups since the engine went subscription a year ago, and it's obvious that our audience is paying increased attention to the tool.
Still, Unity is entrenched, beloved, and will be hard to shake free of its perch at the top of the mobile game space.
This point has more salience: "It's really just something that's not quite like what we do, so we don't necessarily view them as direct competition."
Certainly, the development community does; but if you're in the flip-a-coin, choose-an-engine scenario, the fact that Unity does not take that five percent royalty off your gross revenue does help justify its cost.
That's not changing for Unity 5, and it pits the two engines against each other in a unique way: Which business model makes the most sense for your project?
Of course, what helps mitigate any issues is the fact that the Personal Edition of Unity 5 is a fully fleshed-out game creation with very few restrictions. Unity 5 Personal and Professional are "the same core Unity product," says Riccitiello; he recognizes there was a large difference between Unity 4's free and paid versions.
In light of that, the CEO calls it "the most principled pricing plan that anyone can imagine" -- it's up to you to decide if you agree.
What Unity 5 can do
The upgrades to the engine are substantial -- beyond the service package that comes with Professional. The way it handles graphics has been revamped -- shading, global illumination, and reflection probes (more on all that in this Unity blog post).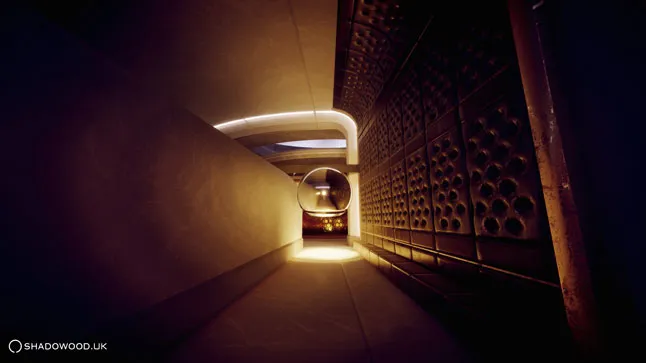 A Unity 5 graphics demo image, provided by Unity
The company has also added a fully integrated audio engine to Unity 5, which it maintains strips out the need to deal with audio middleware.
Of course, the company announced the new version of the engine at last GDC, and with it a host of improvements -- you can catch up on that news if you've forgotten the details. Notable, also, is WebGL being one of the engine's target platforms this time around.
Overall, Riccitiello calls Unity 5 "the biggest step forward in the history of our company," contrasting it against all prior full-version leaps; and he's also keen to talk up how the company's huge engineering staff is pushing the engine forward by leaps and bounds.
Unity: Big investments in engineering
"What we're doing now is recognizing the massive influence and position we have in the market and backing it up with the best technology available," he says.
"We're investing heavily in the core engineering of the company and new services people want. We're aspiring to be the best engineering company by far in the industry, and bring that skillset to all developers that aspire to do great things."
The company already has a much bigger team than Epic, and it's set to grow.
"We're investing more in [engineering] because I want Unity to continue to be the very definition of the best engineering in gaming can be," Riccitiello says. His plan since he became CEO is not to change the company -- he says he loves the company's culture -- but instead it's "taking the best parts of Unity and amplifying" them.
"I think what you'll see over time is what I am trying to do is concentrate Unity's brilliant insights and principles into adapting faster into what our customers are doing and where they're going."
He says that he's been particularly struck by Unity's devotion to its core principles of democratizing game development (the company's mantra for the last decade, "which means putting powerful tools in the hands of developers whether they can afford them or not") and its drive to "solve hard problems so our developers don't have to."
"We believe we'll be profitable by doing these things really, really well -- but it's about the principles," he says.