As part of my regular writing here at Gamasutra, I try to get as much sales data as I can from around the world. One of the more interesting markets, to me, is the UK where we regularly get a lot of software information including hard figures and weekly sales rankings. The biggest missing piece, regrettably, is hardware -- but even software gives us a window into which platforms are probably selling well.

In the past few weeks, I've put together UK data (reported through MCV UK) on retail software sales for the first quarter of 2013. The story is pretty much encapsulated by the picture below: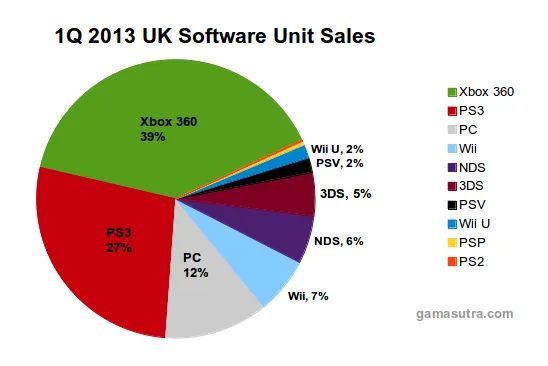 As I've come to expect over the past couple of years, the Xbox 360 is completely dominating software sales, with 12 point lead over the PlayStation 3. With a few notable exceptions, games that release on both the PlayStation 3 and Xbox 360 tend to favor the latter.

The strength of the packaged PC market often surprises people. Given that it is still a factor at retail, it is probably extremely strong when other services like Steam and Origin are factored in.

Nintendo's two older platforms, the Wii and Nintendo DS are each still moving more software, on a unit basis, than is the newer Nintendo 3DS. However, when revenue is taken into account, the higher average price for 3DS software puts is well ahead of those platforms individually.

And, even though both the Wii U and PlayStation Vita are struggling in the UK, the PSV did edge out the Wii U by nearly 10,000 units. The picture is reversed, of course, if we count revenue because PSV titles are priced much lower, on average. With an average price £35 per unit sold, revenue from Wii U software was almost precisely a million pounds ahead of PSV software in the first quarter.