British games industry trade body UKIE has published an extensive 'State of Play' report looking into the impact of Brexit on the country's games sector, and it makes for nervous reading.
UKIE based its findings on an industry wide confidential survey, to which over 75 games businesses responded, and roundtable meetings it held with over 70 businesses spread across 11 cities around the UK.
The resulting report reveals a significant number of developers expect Brexit to have a negative impact on the UK games industry, which was the 6th largest games market in the world in 2016.
For instance, only 51 percent of developers said they would definitely stay in the UK post-Brexit, with 40 percent revealing they're considering relocating at least part of their business to pastures new.
Out of that 40 percent, a further 23 percent said they have already received relocation offers from other countries including Germany, Canada, Spain, Ireland, Finland, France, and Australia.
The remaining 9 percent of games businesses explained they don't know how they'll move forward as a result of Brexit, casting even more doubt on the UK games industry's future.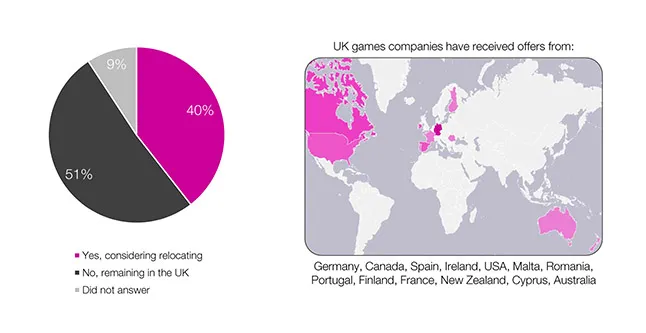 What's more, since the EU Referendum 37 percent of games business have reported a negative impact on their ability to attract investment.
The effects have been more pronounced on smaller companies, with 48 percent of businesses with less than 50 employees claiming they've already been negatively impacted by Britain's decision to leave the EU.
The referendum result also seems to be negatively impacting the British industry's ability to attract top talent, with the current political climate seemingly discouraging workers from coming to the UK.
For example, 38 percent of respondents said they're currently struggling to attract and retain global workers, with the EU referendum damaging the perception of the UK as a prime destination for EU and international candidates.
Larger companies -- so those with 50 employees or more -- seem to be bearing the brunt this time around, with 60 percent of those businesses saying their recruitment strategies are already being affected by Brexit.
While 38 percent might not seem like a huge number, it's worth pointing out that only 2 percent of businesses actually claimed to have experienced any sort of positive impact off the back of Brexit.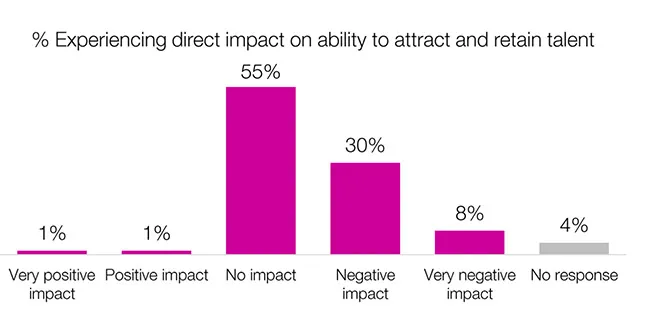 "The damaging uncertainty caused by Brexit to our EU employees, and not having open access to the brightest and best European talent, some of whom are now refusing to resettle in the UK, is forcing us to assess whether it will be possible to produce our future games in this country," said Henrique Olifiers, co-founder and CEO of Surgeon Simulator and I Am Bread creator, Bossa Studios, offering boots-on-the-ground insight.
Some of that uncertainty stems from the lack of clarity over the rights of EU citizens currently residing in the UK. The British government has refused to confirm whether EU nationals working in the country will have the right to remain here, suggesting they could be used as a bargaining chip during the upcoming Brexit negotiations.
Out of the 63 games companies quizzed at UKIE's Guildford roundtable, 98 percent believe EU citizens should be given a blanket right to live and work in the UK, explaining "it's vital we receive clarity from the Government so we can stop bearing the cost of this uncertainty."
Beyond that, most also believe the UK immigration system is in serious need of reform, with the majority of devs branding it "outdated, slow, and complicated." So, with Brexit an absolute certainty at this point, a lot of businesses are asking for the Visa application process to be streamlined to make recruitment easier once the process is complete.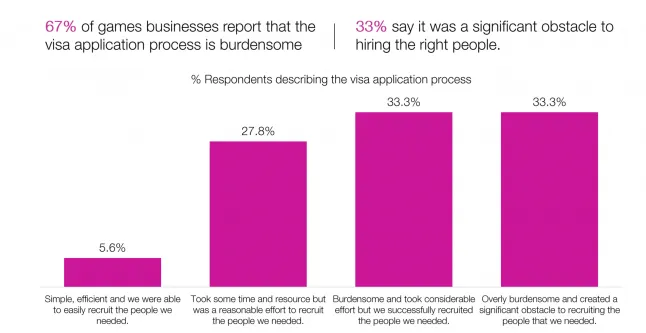 While those are some of the key points worrying UK game companies, they are by no means the only concerns, with the uncertainty surrounding market access and funding also causing plenty of companies to sweat.
Naturally, that concern isn't universal, and UKIE is keen to point out that Brexit could offer a chance to implement wide-ranging reforms that will secure a "21st century globally competitive future."
After all, as it stands the worries expressed above have arisen because the British games industry is currently staring into the unknown. Until negotiations begin and a Brexit deal is finalized, we won't know with any degree of certainty how the British games industry will be affected.
For a more insights and analysis on the UK games industry's reaction to Brexit, you can read the full 54 page report right here [PDF].