At its TwitchCon event in San Diego, Twitch announced plans today to allow broadcasters to upload videos to the platform, a la YouTube, and confirmed a new premium tie-in with the Amazon Prime subscription service called Twitch Prime.
Game devs who use Twitch on a regular basis will likely appreciate the ability to upload videos to their Twitch channels, as it potentially allows you to keep a steady stream of new stuff appearing on your channel while you're unable to (or uninterested in) doing a livestream.
The Uploads feature is currently in open beta, and you can find more details about it over on Twitch's new video upload guide.
Devs who don't broadcast on Twitch regularly should still be aware of the service's new Twitch Prime offering (free to all Amazon Prime subscribers), as it encompasses special game offerings for Twitch Prime members -- and Amazon will presumably be looking to cut deals with devs to promote their games via Prime.
Boston-based Proletariat Inc., for example, is offering a free copy of its $20 (and currently on Steam's Early Access service) multiplayer game Streamline to Twitch Prime members, as well as some extra in-game content. Proletariat has been working closely with Twitch to develop Streamline as a "stream first" game, and is also selling copies of it directly via the channels of Twitch partners who are playing it (with a cut of the proceeds going to the streamer and, presumably, to Twitch).
Twitch is also debuting a (beta) version of its own standalone launcher program, and it appears Twitch Prime members will have to install the launcher and use it to play some games acquired via Twitch Prime.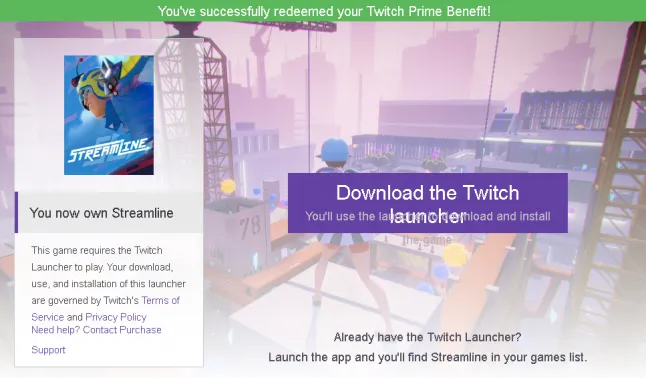 And if you operate a Twitch channel, this new Twitch Prime offering may potentially help boost your paid subscriber numbers: Twitch Prime members will be given a "free channel subscription" every 30 days, and if they use that to subscribe to your channel you'll still get paid as though they were a paying subscriber.
This also seems to spell the end for Twitch's "Turbo" premium service, which it rolled out back in 2013. While it's not doing away with Turbo entirely -- all current Turbo members will retain their Turbo status for as long as they continue to pay, and Turbo membership will continue to be sold in regions where Twitch Prime is not (yet) available -- it will stop selling Turbo subscriptions in regions where Twitch Prime is available.
These changes seem to be part of a continuing effort on Amazon's part to unite the disparate wings of its games business and cross-promote them wherever possible. Earlier today, the company's game development arm Amazon Game Studios announced three new game projects that rely heavily on Amazon tech like its Lumberyard game engine and Twitch's streaming capabilities.