Microsoft is sunsetting its streaming platform Mixer and transitioning its streamers and audience to Facebook Gaming as part of a new partnership. The service originally launched in January 2016 as Beam, but was acquired by Microsoft and renamed Mixer in 2017. It will shut down on July 22.
Development of a streaming proposition involves multiple stakeholders and challenges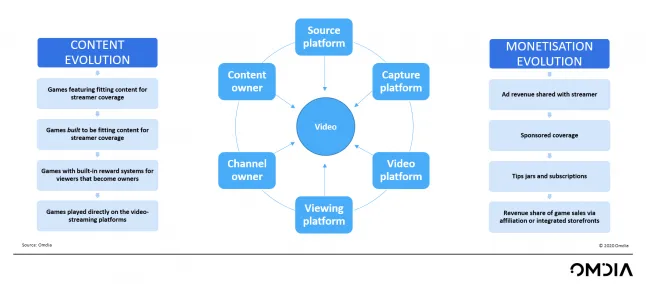 This graphic demonstrates the complexity of the streaming landscape, and emphasises the many moving parts which contribute to the whole. Time and investment are needed to create and sustain a streaming service at the highest level, and the statement from Microsoft regarding the closure of Mixer suggests that the company was almost wholly driven by the desire for greater xCloud exposure – perhaps neglecting the intricacies of building a self-sustaining platform in the process.
Microsoft wanted to rapidly establish a huge audience within its own ecosystem. It could then capitalize on this captive audience, launch a dominant cloud gaming service, and maintain ownership of both the value chain and the user experience.
Games companies are precariously positioned to challenge in the streaming market
Twitch has been ten long years in the making, and is a third party in the gaming world. It is exempt from the Sony/Microsoft/Nintendo console wars, and so spectator platform loyalties fail to really make an imprint. Mixer has probably suffered from this to some extent: its intrinsic ties to the Xbox brand may be off-putting to fans of PlayStation, or simply not a natural extension of their daily engagement with games. In this instance, being a first-party content provider is something of a detriment: Xbox IP could not realistically be leveraged on Mixer via exclusivity.
Mixer's failure to exploit a niche led to broad but static content and coverage
While Twitch leads live streaming and YouTube has become a hub for mobile gamers, Mixer did not have a strong point of differentiation. Why would a spectator choose Mixer over the market leaders? Many fans of Mixer emphasised a lack of toxicity compared with communities on competitor platforms. This was partially due to its small size, though, and is an element that would likely have been compromised if the platform had ever managed to substantially size up. Ultimately, even multimillion-dollar exclusivity contracts with top streamers like Ninja and Shroud could not grow the Mixer audience in any meaningful way, and the appointment of these two influencers exposes broader issues around strategy and direction.
Ninja and Shroud represented very different gaming communities. Ninja is primarily a Fortnite player with a more mainstream, youthful following; Shroud, on the other hand, is more grounded in hardcore PC gaming and technical skill – he was previously a professional CS:GO player, and focused more on gritty shooters like PUBG or Escape from Tarkov.
Mixer signing up these two influencers in quick succession perhaps reflects the platform's lack of clear direction. Twitch and YouTube adopted their positions in the streaming market organically: the Twitch audience prioritised live-streaming, and the platform subsequently leaned in to this. Similarly, YouTube's prominence in mobile-first games markets such as India, Latin America and Southeast Asia triggered an influx of content aimed at mobile gamers, and the tastes of its spectators naturally followed.
Facebook Gaming remains the only large streaming platform without a clearly defined cloud gaming offering
Microsoft's head of gaming, Phil Spencer, has highlighted the importance of Facebook's huge reach in terms of xCloud exposure. Microsoft has stated that Facebook Gaming will at some stage be used as a vehicle for streaming Project xCloud gameplay. Google and Amazon have existing cloud gaming services – Stadia and Project Tempo – which will undoubtedly be integrated into YouTube and Twitch. As such, Facebook Gaming was the only logical option for Microsoft, as it so far lacks a substantial cloud gaming solution beyond the acquisition of Spanish provider PlayGiga.
Mixer was primarily a springboard for xCloud, and this focus contributed to its dismantling
The emphasis on xCloud following the closure of Mixer suggests that the platform was primarily intended as a vehicle for cloud gaming, and Microsoft was unwilling to wait for organic growth in its quest to push xCloud into the market. The result is that the company has to piggyback off Facebook's existing platform and audience, as it is the only viable major partner in the streaming landscape. In fact, Microsoft has already shown that it is open to collaboration: the company previously established a strategic partnership over cloud solutions with rival Sony, and so we should expect Microsoft to engage in further collaborative endeavours in the future.
However, in partnering with Facebook Gaming, Microsoft is unable to maintain its walled-garden approach and preserve users within its gaming ecosystem. There are already concerns in the Xbox community around the integration of Facebook into the Microsoft platform, and the partnership may drive some users to alternative providers. There is a possibility that Facebook Gaming will become part of the new Xbox Series X user interface, but this is yet to be confirmed.
Potential for collaboration around VR and Microsoft-exclusive IP
Virtual reality company Oculus is a division of Facebook, and is behind numerous headsets including the recent standalone offering, the Oculus Quest. Xbox has so far chosen not to invest in VR, but it has strong IP such as Halo which could translate to desirable VR content. Valve's decision to launch Half-Life: Alyx as a VR title was well-received, and had a hugely positive impact on the VR scene more broadly. Its effects could potentially be replicated by other companies choosing to capitalise on classic, highly popular IP. It remains to be seen whether Xbox and Oculus will collaborate in the future.
Xbox and Facebook cater to disparate audiences, but there are clear opportunities for both
Mixer's exit has further solidified Twitch and YouTube's dominance of the streaming market, but Facebook's unmatched global reach, vast resources and growing ambitions in gaming should not be underestimated (see: Facebook Launches Facebook Gaming Mobile App to Compete with Streaming Giants). According to the company, every month, more than 700 million people play a game, watch a gaming video or interact in a gaming group on Facebook.
Since 2018, Microsoft has talked about its eventual goal of reaching 2 billion gamers, with xCloud playing a big role in achieving it. Referring to this new partnership, Xbox's Phil Spencer stated: "we know it's going be critically important that our services find large audiences and Facebook clearly gives us that opportunity". Facebook can enable Xbox to reach huge number of potential gamers in Latin America, Africa and Southeast Asia who have the desire to play the latest console and PC games, but limited means to purchase the required hardware.
On the other hand, Microsoft may enable Facebook to recapture a younger, core gamer audience. Whilst teenagers have flocked to the likes of TikTok and Snapchat, Facebook has grown popular amongst older people, and has become synonymous with casual, mobile gaming. Access to traditional console and PC gaming IP via Microsoft may contribute to the revival of Facebook amongst the coveted Gen Z, millennial and core gamer demographics.