[In this in-depth Gamasutra analysis, casual game veteran Gril looks at the state and evolution of independent gaming, from PC to console, from Desktop Tower Defense to fl0w and beyond...]
Independent development is one of the hottest trends right now within the game industry. And fortunately the public is responding well (but not necessarily responding to an "indie" trend, as we'll see below). N+ is a success on Xbox 360. Kongregate's traffic is growing steadily. Pixeljunk Monsters and particularly flOw are doing well on PS3. If things continue this way, by the end of 2008 most innovation in gaming is going to happen in independent games.
But are they a viable venue for developers? Leaving aside the fact that for every N+ there are a lot of failures (that happens everywhere else and it's a redundant point) in order to make a game that finds its audience you need to be careful about the platform the game is targeted to. Let's look at the market analytically.
But wait -- what is an indie game?
There is a big discrepancy right now in the definition of an indie game. On one hand, you've got those who think that the word "independent" means "independent funding". In other words, the development is financed by the developer. On the other hand, you've got those who think that the word "independent" means "independent thought", which means those games where the design was not dictated by middle managers.
I'm more inclined for the latter definition, as the truth is that in most cases you will need a significant chunk of money to create an independent game, and regardless where you get that money from, what matters is that the game was created following a creative-led game design idea.
Here is then my own definition of an independent game:
An independent game is above all trying to innovate and provide a new experience for the player. It is not just filling a publisher's portfolio need. It has not been invented at a marketing department. And it has not been designed by a committee.
Please also note that I have taken out of the definition any references to the team's size. Even though today most independent games have been done by small teams, that doesn't mean it's going to be the case in the future.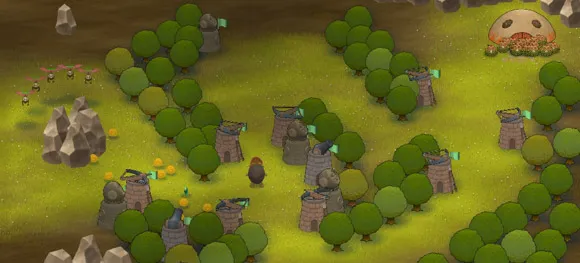 Q-Games' PixelJunk Monsters
Who is the audience?
A good starting point to discuss the opportunities is to try to identify who the audience buying independent games is. In most cases, and based on my research, independent game players can be categorized in one or more of these categories:
The Cult Gamer. This type of gamer is an active hardcore gamer, who is very well-informed about games and trends in games, and is always looking for games that are different and not part of what the masses play. The cult gamer may be also looking for a lightweight experience for a change (in let's say Halo 3 breaks).
The Casual Video Gamer. This type of gamer plays games on the web, and maybe some downloads on PC or console. His/her first exposure to video games was when he/she was young, so it differentiates from the Solitaire/Bejeweled/Diner Dash/Mystery Case Files type of player in that the latter in general has started playing games in the late '90s or later.
The Ex-Hardcore Gamer. The ex-hardcore gamer is generally 25 or older, and has played a lot of games. He may have a family and only 15 to 30 minutes to play games per sitting. The ex-hardcore gamer is aware of the new trends in gaming, although he rarely plays most of the new retail games, unless it's a party game such as Wii Sports.
Game Industry Professional or Academic Gamer: That's some of us reading this article, and the smallest portion of the audience. Game professionals or academics need to be very impressed by the gameplay of a game in order to add it to their roster. We are a hardcore version of the cult gamer.
---
The Platforms
Each of these categories uses different platforms on a daily basis. But the types of games that they can play in each particular platform may differ. It's important to keep this in mind, as a really good game can be a financial failure if it was done for the wrong platform. Let's look at them in detail.
PC Downloads
The platform where independent gaming started is the platform of biggest revenue for casual games.
But casual games downloads are going through a crisis. There is a number of good studios cranking out a far higher number of good games than the audience can consume, creating a glut of good titles and reducing the shelf life of every title.
This crisis is accentuated by the fact that portals haven't turned out to an Amazon or Netflix model; instead, they pushing the same top 10 to every user, regardless of the user's tastes.
This has forced portals to look only for titles that appeal to the vast majority of people. Genres like time management, hidden object, lightweight adventure, puzzle, and simulation are well accepted by the audience, and if you can innovate in these genres then you have a good opportunity.
Just keep in mind that in order to make your money back you need to stay a good number of weeks in the top 10 of the major portals, and that means that you need to reach at least top five in most of them to have enough momentum.
Every other genre is likely to be rejected by the mainstream portals. And it's because it's a chicken and an egg situation: with their "one top 10 for everybody formula" they have only been able to convert their original audience to paying customers: 35+ females.
It's not that males aren't playing casual games; in fact, the Casual Games Association, in their last market report, showed that 48% of casual gamers are male -- but 76% of casual gamers who pay for a downloadable game are female. Well, d'oh.
Most males I know won't be willing to pay for a product that isn't designed for them in the first place. Imagine what Wal-Mart's revenues would be if the only thing they have is stuff for your mom.
There are always exceptions for everything. Studios like PopCap, Hipsoft, Last Day of Work and Introversion, among others, have found their audiences and keep cranking innovative and interesting games out there.
And a very interesting opportunity is Steam, the home of Portal, among other good games. There are no direct links for developers to submit their wares, but if you go into Valve's web site you'll find an email address. According to this discussion at IndieGamer, Valve is listening.
Russell Carroll, of GameTunnel, was interviewed by IndieGames.com and had more to say about the subject. Then Russell, myself and other people had a discussion of the problem at IndieGamer. And some other great sites to follow what's going on in the scene are Game Tunnel and TIGSource.
---
The Web
Some people may disagree with this statement, but frankly if there is one platform where most of the radical innovation in video game design is happening, that platform is the World Wide Web. For every innovative Wii game in the market, there are dozens of innovative Flash games.
It's not only because the barriers of entry and the production costs are lower, it's also a platform open for experimentation. You can throw something out there, discover that you wanted to change something, change it on your server, and boom, it's available for everybody else.
If you were at the Experimental Workshop at GDC, you probably have seen that a lot of the games shown in the workshop were made for the web.
It's pretty tricky to monetize those games, though. But there are some ways of paying the bills. Some people are going the way of non-exclusive licenses. Sites such as Miniclip, Addicting Games, and others have been paying for one-time fees for licensing games. Sometimes they'll ask for exclusivity, and they are willing to pay a premium for that.
Some developers such as Nitrome and Paul Preece (creator of Desktop Tower Defense) have been able to license out their content while keeping it on their web sites. They have amassed a good number of players per month on their own web site, and they run various kinds of ads around and before their games start. So, in other words, by licensing the game out they cover most of the development costs, and they also make money from their own audience.
Some of the tools to use to put ads in your games are Google AdSense, 24/7 Real Media, and MochiAds. Here is a nice integration of Google Video Ads in a game. With most of these services, you won't make tons of money unless you get a lot of traffic (and I'm putting a lot of emphasis in a lot).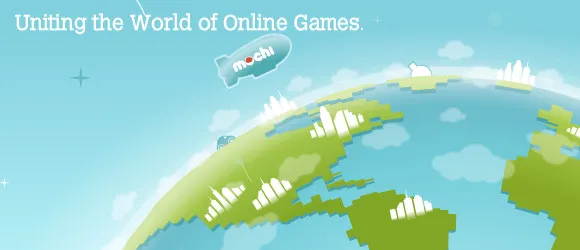 MochiAds is probably the one to keep a close eye on. The technology allows you to embed your ad inside your game, so regardless if someone takes your game off your site and puts it somewhere else, it will still print ads from MochiAds inside your game, and you will still make money. They also provide MochiBot, a technology that lets you track all kinds of things, from where your game is played from, to how many people reached level nine.
Developers should also keep an eye on sites like Kongregate, which have been sharing ad revenue. Their traffic has already surpassed two million monthly visitors. Two projects to also have in your radar are Whirled and ourWorld. Three Rings, creators of Puzzle Pirates, is behind Whirled. It's a virtual world with social networking features, and I believe it will be a very solid platform, as those guys have been working on online games for years. ourWorld is made by FlowPlay. They have a great avatar and virtual world technology, and they were one of the few companies to be selected in the TechCrunch 40.
I'm also going to include Facebook and the other social networks in this category. Even though a lot of people will consider them a different beast, they are still games on the web. And I'm going to partly agree with those who are not that optimistic about this.
I believe that social networking is proving one thing: that casual gamers want to play against their friends (something that a lot of casual gaming veterans doubted), and that the shelf life of a successful social networked game is much higher due to its viral effect that helps it to keep momentum.
But if you are a game developer and you tie your game to just one social network, you are shooting yourself in the foot, as you are losing a lot of the potential audience that uses the other networks. Your best bet is to see how can you create a web game that can be either be accessed from inside a social network and out of it, and make use of the features a social network has...
...which is what companies like Zynga and Mytopia are doing. Zynga has created almost a dozen games that run on Facebook. But today in their Texas Hold'em game a Facebook user can play against a MySpace user. They have also created a "social bar" that any developer can add to their game. This bar sits on top of every game in the Zynga Network and tells a player what games his/her friends are playing. It's a good way of promoting games, as it's likely that you will play games your friends play.
In the case of Mytopia, they claim to have eight games (mostly parlor games) that run on the three major social networks, but at the time of this writing we couldn't check it out for ourselves as our access account has not been validated.
---
Xbox 360
The Xbox console was the first console to bring to market the modern version of downloadable games for a platform other than PC (the first "downloadable" system was actually the PlayCable for the Intellivision console). The Xbox Live Arcade business model is pretty similar to the try-and-buy systems found on PC portals.
However, the system has a lot of features that most PC portals don't have with their download offerings:
Most trials have been set up as feature-based, instead of time based. Players can play all they want of that limited version of the game. I believe this form of trial is more effective than time-based trials, as it's a better enticement.
Achievements. Their success has been talked a lot, so I won't waste bytes on it. Needless to say it's a must to think your game design around them.
Matchmaking support through Xbox Live.
There have been a lot of bad vibes towards XBLA recently, with issues in terms of getting your game in there (tough) to the fact that there are a lot of remakes. It's true -- getting your game on XBLA is today the hardest of all the platforms mentioned in this article, but the rewards can be the highest. Yes, there are a lot of remakes, but in the past few months games as N+ and Rez HD have done really well in the service, so that means that there is an audience for non-mainstream games.
Take this with a grain of salt, but one way of tracking an approximate of how XBLA games are doing is to follow the XBLA ranking at VGChartz. There has been a lot of discussion on the accuracy of VGChartz (in fact, there is a good thread here, and an analysis on how VGC compares to NPD here), and the way that XBLA sales is calculated can be off as well (it's explained in the comments thread of this article).
If the sales trends are right, though, that means that on one hand, good innovative games are being successful on XBLA. But on the other hand, the shelf-life of every new title is getting significantly reduced from previous years.
So is XBLA a good opportunity? It depends on your budget and your revenue share. Let's assume that you plan to sell your title at $9.99 and you plan to invest $200,000 in making it.
| | | |
| --- | --- | --- |
| Revenue Share | Sales | Revenue |
| 70% | 28,601 | 200,006.79 |
| 55% | 36,401 | 200,005.29 |
| 35% | 57,201 | 200,003.29 |
I'm not going to get in the controversy if Microsoft deserves 30% or 65% for every game they sell. I'm just pointing out that you will need to sell twice the amount of games if you get 35% instead of 70% of revenue. And if the VGChartz numbers are close, that means that N+ is making a profit (as they stated they spent $214,000 in their postmortem). Triggerheart Exelica is almost there.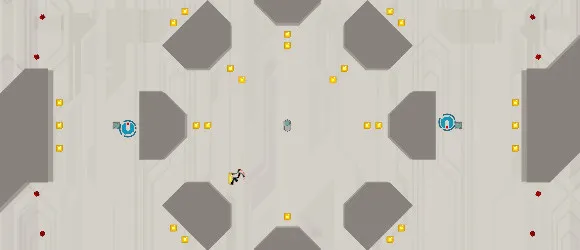 Metanet Entertainment and Slick Entertainment's N+
But on the other hand Rocketmen: Axis of Evil, and Commander: Attack of the Genos may have a tough time breaking even. You can't throw anything at XBLA anymore, so be careful and study the trends.
And what's working in XBLA? It's a platform that definitely appeals to more traditional gamers than the PC platform. But the games that are most successful have one thing in common: they require a far smaller time commitment than most retail games.
One bit of advice, though: unless the number of titles released per week reduces, spend less than $200,000 making an XBLA game.
---
PlayStation 3
The PS3 is the platform that is catching up, and some interesting trends are emerging on it. Let's take a look at the top 10 sales in downloads in 2007 (revealed by Sony at GDC):
1. flOw
2. Mortal Kombat II
3. Tekken 5
4. Pain
5. Warhawk
6. High Velocity Bowling
7. Super Stardust HD
8. Calling All Cars
9. Aquatopia
10. Everyday Shooter
Many of the games in this list can be considered "indie". Does this mean that PS3 owners are more interested in original experiences? I'm not sure if we can claim that. Look at MK II and Tekken 5 up there in the list. If the PS3 would have had 100 more retro games, would this ranking be different? Time will tell.
One thing is for sure: there is less competition in PS3 right now (very few titles released per month), and if you hit it with a successful game there, you can get pretty good exposure. It seems that for now you still need to be individually picked by them as a first-party published indie game to get the most exposure. Also, if there isn't a group set up to take games worldwide, the submission process will be more cumbersome than in other platforms.
One problem that may arise in the future is the fact that Sony doesn't have plans to restrict the number of games they will release every Thursday. You'd better save some money for marketing, then. Offer a demo of the game (Sony encourages it). Use the web, create a blog, be smart in making awareness of your game before you release it.
One potentially good thing about PS3 development right now is that with Sony's development of the Phyre Engine, in theory you won't need a dev kit - as you can test things out on PCs and use the debug kits to test out your game in Sony's hardware.
At $1,200 for each debug kit, it's the cheapest development hardware you can get for a next-generation platform. I'm not that convinced of the "bring your own multiplayer platform" approach, though. If you are a small company, it's one additional component that you have to deal with.
WiiWare
Will Wright said the Wii was the only next-generation console, and he has a point. The platform that is bringing a new group of gamers of all ages may not be the most advanced technologically, but it's the simplest and the easiest to operate.
And with the fact that more than half of the Wii consoles connect to the internet every week, there will be a lot of users who can be potential buyers of WiiWare games.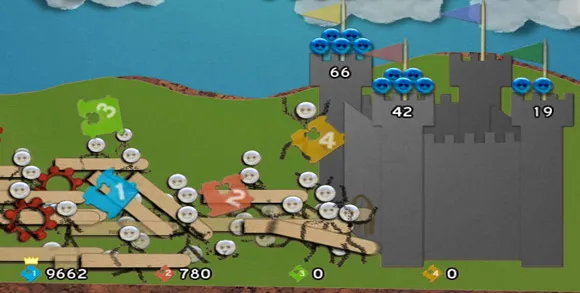 XGen Studios' WiiWare title Defend Your Castle
As May 12th approaches, and with the launch of WiiWare in Japan a more than a month ago, there is a lot of excitement around this platform. One concern is that WiiWare games won't have trials, and many small studios would feel that's a deal breaker for them (as the trials is what put us on the map when we compete against something like EA's marketing budget).
But if Nintendo is right, and the games sales perform better because of that, then the better for all of us. If it doesn't work they can always backtrack, whereas the other way around would create a huge backlash among their users.
And frankly, the jury is out about what online features will matter the most. Again, this article may make you feel that the Wii can't compete. How many readers keep the mic on while playing on Xbox Live? If you want to regress your mind 10 to 20 years, then sure.
But frankly the most effective communications and leaderboard features in games right now are not available on any next-generation platform -- it's Facebook's. And WiiConnect24 is the closest thing to it.
---
Challenges Ahead
Until recently, I thought that we could look at the history of independent film as a way of looking at what our future could be. There are some similarities, and it's good that we look at it for future reference.
One thing we can learn from is financing: we are only using very few financing models in games. Project financing is rare to hear about in our industry, since most of our investment comes from publishers or venture capital firms.
The latter, especially, is troublesome, as they have a model similar to software development firms that I believe is not compatible with creative environments.
Even though the public is responding well, they don't necessarily play a game because it comes from an independent studio. In fact, most of them don't know what independent games are. Is this really a problem?
I believe that besides being creative, one of the reasons why independent films are now 15% of the U.S. box office revenues is because there is a significant portion of the audience supporting independent film makers.
We still have open channels on most platforms, but there is nothing that can prevent those channels being closed to independents in the future. The Sundance Film Festival, among others, select films based on merit, and merit only. The media covers them and creates mainstream excitement around those films. Distributors then are forced to pay a premium to get the exclusive distribution rights. Everybody pays their bills, and then some.
How many good independent games have you seen that don't make money? I can count dozens every year. Adding more salt to the wound, if there would a "Big Publisher" push towards the channels independent game makers are using today to get their wares out, it's just going to be even harder to compete.
We need to find a way to create an effective ecosystem to make sure that the good talent finds a way to economic success - including more and more public independent games festivals that have wider remits.
Independent games can also help to the evolution of games as an art form. Games are not accepted as an art form in intellectual circles, because the only games they know about are what are covered in mainstream media.
And mainstream media only focuses on the big violent blockbusters. If intellectual circles start accepting games, the media will start looking at them differently -- as many media editors are part of those intellectual circles -- and then the mainstream will follow.
If we can solve all these issues, the recognition will guarantee the exposure and the distribution for good talent.