This year could be the one for African game developers to make their mark on the world. Grassroots indie development scenes have sprung up in several African nations over the past decade or so to complement Ubisoft Casablanca's mobile and handheld Rayman games as well as the modest successes of South Africa's long-lived but small indie scene. Now indies across the continent — especially in Nigeria, Kenya, Cameroon, Morocco, South Africa, and Ghana — are pushing hard to establish an Africa-wide games industry.
I spoke to several developers from around Africa about the state of development in the region and the challenges they've been facing in forming local game industries in their own countries and across the whole continent.
A mobile ecosystem
Nigerian studio Maliyo Games co-founder Hugo Obi says that his team has recently shifted from web and Facebook games to Android. He notes that the mobile ecosystem in Africa is balanced very differently to North America. Smartphone ownership is growing rapidly, but it still lags behind feature phones. Most smartphones there are cheap Chinese Android devices that cost less than $50 and have limited processing and storage capacity — barely enough to hold even 10 simple games at a time. And in-app purchases are relatively rare. Instead, developers make money through subscriptions.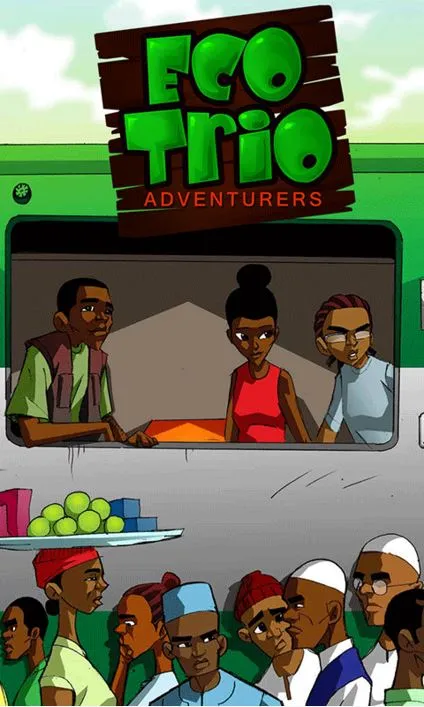 "There are telcos where people can actually pay for air time," explains Obi. "That is not integrated into the in-app component; it's just the subscription-based model. So you pay for access to the game for a period of time." Much of the resistance to in-app spending comes from widespread credit card fraud, which has made people in Africa scared to use their credit cards online.
To leverage this model, developers need to put their games on multiple stores — one for every telecommunications operator, plus Google Play alternatives such as the Opera Mobile Store. Meanwhile, Google Play and the App Store are reserved mostly for targeting the international market, and as such, versions posted there tend to utilize in-app purchases.
Monetization isn't the only challenge in making games for the local market. Much of the difficulty lies in figuring out what the local tastes are. "We don't have access to data that enables us to make informed decisions," says Obi. "The dataset is too small for us to categorically say this is the direction to go." As a result, they're left guessing.
"We have a strategy-based game," Obi continues. "We have arcade games. We have scenario-based games. We're trying to identify if there's a particular genre that Nigerians are more interested in over others and then focus more on releasing titles in the genre."
Kenyan studio Black Division Games is also experimenting with mobile games for the African market. The studio's latest game is an African-themed Flappy Bird-style game called KukuSama, which company founder Andrew Kaggia says has been well received, but they're better known for last year's PC and Android first-person shooter Nairobi X. "The idea is basically an alien invasion in the city of Nairobi," Kaggia explains.
As one of only a handful of African-made 3D games, Nairobi X generated huge buzz and media discussion across the continent. Kaggia hopes to follow it up with similar games set in other African cities. "That's kind of our long-term idea that we're planning, so you can have the whole of Africa in one massive game because alien invasions rarely happen in Africa [in popular media]."
Success is a relative term
Maliyo Games has had lots of press too, as have Cameroonian newcomers Kiro'o Games and Leti Arts — which has offices in Ghana and Kenya. Besides African media, mainstream Western publications like Fast Company, BBC, and Buzzfeed as well as gaming press like Polygon and Kotaku have all championed these African gaming pioneers that are trying to bring a touch of African culture to video games.
But despite the breathless comparisons to the likes of Rovio and Zynga, none of this press has yet translated into major success — Maliyo's most popular game has around 50,000 active monthly players, Leti pays the bills with consulting work for non-government organizations, and Kiro'o Games is still working hard on its debut project Aurion: Legacy of the Kori-Odan after a modest crowdfunding success last year.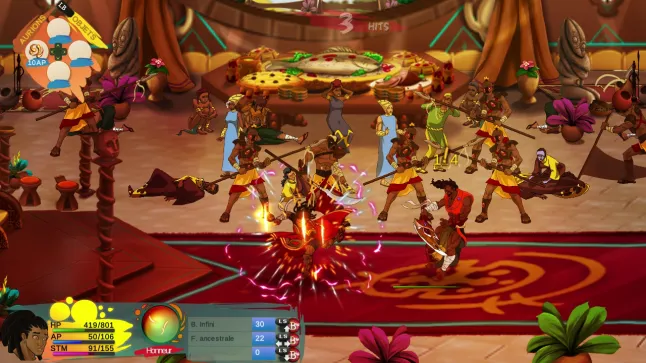 The biggest African-made success stories so far have in fact been games made with no recognizable African origin — games like Rayman Fiesta Run, Desktop Dungeons, and Broforce. Members of Broforce developer Free Lives describe a South African development scene that is at once similar to and very, very different from what their peers in Kenya and Nigeria are working in.
"As white South Africans, our culture is Western," says programmer Ruan Rothmann. "It's not like we have a unique and segregated white South African culture that's isolated from America or Europe. We watch the same movies, listen to the same music, speak the same language." Most other South African indies are the same. "South African game development is something like 92 percent white male or something along those lines," adds studio director Evan Greenwood.
And with 11 official languages coupled with a majority-black population and many of the same problems with mobile monetization, the local indie scene is hesitant to make games aimed squarely at local audiences.
While white South African culture may not match up with the rest of Africa, however, Free Lives have found most of the same pros and cons of building a studio as everyone else in the region. Government funding for games is rare across the whole continent, and in South Africa it's available only through a loophole that involves tricking the authorities into thinking your game is a film. Educational pathways are improving, but have been poor for a long time. Internet speeds are slow and unreliable, the electricity sometimes gets cut off, and other services have problems too.
But while most game developers in African countries struggle with bad infrastructure, they also benefit from a low cost of living. Rothmann says that minimum wage in the UK is equivalent to a comfortable salary in South Africa, and the seven-strong Free Lives team lives together for the equivalent rent to a two or three bedroom place in San Francisco in what Greenwood describes as a mansion — it has a sauna, jacuzzi, swimming pool, kitchen, a big garden, and space for all of them to live and work "more than comfortably."
This low cost of living is what allows African-based indies to survive and possibly thrive. Kiro'o Games has had 19 people working full time for the best part of two years on its debut role-playing game Aurion, with funds raised through investment and crowdfunding of around a quarter of a million dollars (money that needs to pay for far more than just salaries). Having a larger team has been critical to the Cameroonian studio chasing founder Olivier Madiba's dream of a role-playing game with mechanics inspired by Japanese games and manga but a story and art style drawn from African mythology.
Money talks
Multiple developers interviewed for this story believe that investment in the region from major game publishers would help the local industries grow faster. They argue it would push more people into the field, force governments into action on improving infrastructure and grant support, train more local talent, and show the African public that games are a viable and respectable career — which is a cultural stumbling block that Tawia says pulls some young developers out of the industry. Technology giants such as Google, Amazon, and Microsoft have offices in Africa, so Rothmann suggests that "it might just be a matter of time before a large game studio comes to the same conclusion that it's a good idea."
Kaggia and Obi note that even simple partnerships with other developers to exchange ideas and people and to collaborate on projects would go a long way towards both growing the profile of African developers and building a larger talent pool. Tawia is actively campaigning with large mobile studios such as Supercell and Rovio to set up satellite offices in Africa, but he's found that most big games companies are currently looking at expanding into Asia and don't even have Africa on their radar.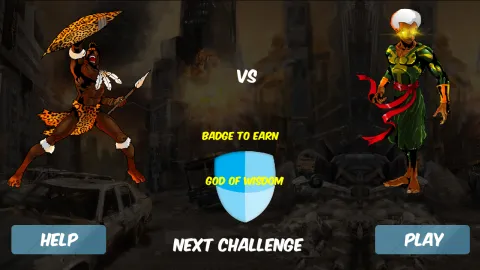 "Some also said they are willing to support personally, and we should keep them posted on anything we do," he says. "But the underlying thing is that these big companies are not thinking about Africa yet."
Former Ubisoft Casablanca designer Yassine Arif has a different perspective on the big games companies investing in Africa. There was no games industry in Morocco when Ubisoft set up shop there in 1998, and now the publisher employs around 60 people in its Casablanca studio. But Arif says there is little else. Most Moroccan developers trained at Ubisoft end up moving overseas. Scant few stay to build their own studios at home. Having Ubisoft around lulls people into a false sense of security about the well-being of Moroccan development.
Starting from scratch
Arif and Osama Hussein — another former Ubisoft developer — co-founded the Moroccan Game Developers Association in 2012 in a bid to stir up a local indie scene. This year, he thinks, we'll begin to see the results, with multiple Moroccan indie releases.
It's still tough there to get things moving. Even with Ubisoft around, the ecosystem for games in Morocco is lacking. "When I was in the Nordic, it was much easier to create a indie game company because you had the ecosystem already, and you had all the people there" says Arif.
"But in Morocco when I quit Ubisoft I felt that I need to start everything," he says. "If I want to convince investors — if I want to convince people — I have to explain what is the game industry, what is the opportunity to create the game industry. And things are going well because people believe in it and they like it. But we have to do everything from the start. Not just creating a company but making a communication about game development. Talking about the game industry. Talking about the indie game scene." Having the Ubisoft connection barely does more than get him in the door.
It's much the same for developers in other African countries, though after several years of work Tawia says that business and public attitudes are changing. Games are beginning to excite people, especially at the grassroots level. Leti Arts gets over 30 intern applications per quarter without advertising any positions. Tunisian Game Developers association co-founder Houssem Ben Amor says that the Global Game Jam Tunisian chapter had 170 participants last year and an expected 210 this year. Indies are popping up all around the continent to bolster the ranks of African developers.
All for one and one for all
Everyone consulted for this article stressed that, despite the massive diversity across the continent in terms of language and local customs, success for one African developer is good for all of them. Tawia and Kiro'o Games' Madiba especially feel the pressure to carry the nascent African games industry into the global market and establish it as a major development region — a feat they hope to accomplish with Leti's upcoming flagship title Africa's Legends, which is in the fundraising phase now, and Kiro'o's Aurion.

Africa has a rich history and mythology and a vibrant melting pot of cultures, but this rarely makes it into the games space (or popular film or music, for that matter) — and when it does the portrayal tends to be negative (like the black zombies in Resident Evil 5 or the noble savages of Far Cry 3). African game developers hold a deep-rooted and shared belief — honed by frustration with these negative portrayals of Africa as poverty stricken and primitive — that they can change video games and in the process recast black people in entertainment media.
They dream of African heroes and mythical beings getting embraced by people around the world — whatever their ethnicity — in the same way they've embraced the likes of Thor and Amaterasu. Tawia, Obi, Kaggia, Madiba, and many other African developers are all convinced that people around the world will connect with a good game that has African themes and influences. They've bet their lives and careers on it, and they're sure that not only will the first such game come soon but that in the next decade Africa will rise to become a major player in global game development.