When one thinks of the traditional video game arcade, they may think of a narrow dimly lit neon room, crowded with an array of playable stand-up units, Skee-Ball, dollar-to-quarter changers, and an overall interior atmosphere that tries to look appealing so that younger audiences will be lured in. You'll occasionally see a crowd gather around a Dance Dance Revolution machine where experienced players will get a few minutes of fame in the shopping mall spotlight. A generic mix of aromas from the adjacent food court and sounds of pumped-in Kenny G mall muzak make their way into the arcade. A look at the arcade game selection makes a visitor ask, "Why aren't there any new games?" or "Can't I play this on my home console?"
Enter the revamped GameWorks, a chain of indoor amusement facilities that was originally founded by Sega, Dreamworks SKG and Universal Studios in 1996. However, the chain was wholly acquired last year by the Sega-Sammy Group, and the company is trying once again to take the stereotypical image of the U.S. arcade and completely change it. GameWorks has taken its seventeen facilities in the U.S. and added millions of dollars worth of new arcade games and expanded food and beverage offerings with its Arena Sports Bar & Grill concept.
GameWorks operates as a subsidiary of Sega Entertainment U.S.A. Inc. (SEUI), based in Glendale, California. Its sister company and content partner, Sega Amusements USA, is in a new facility located in Elk Grove Village, Illinois. Sega Amusements has partnered up with GameWorks to use its facilities as testing grounds for new games from Japan, (the trading-card Mushiking and Love & Berry games, as well as UFO Catcher machines, among many).

Gamasutra caught up with GameWorks vice-president of sales and marketing Clint Manny to find out what GameWorks has been up to, and how Sega has given the amusement chain a whole direction and breath of creative fresh air since its chapter 11 reorganization. Manny reveals how GameWorks caught the attention of Bill Gates at its Seattle location for a Microsoft company event, and how games such as Extreme Hunting 2 Tournament Edition will be utilizing Sega's new All.net system starting this month.
Gamasutra first reported Sega's acquisition of GameWorks last November (http://www.gamasutra.com/php-bin/news_index.php?story=7061), and how Sega was going to deploy their Mushiking and Derby Owners Club games into locations. So it seemed fitting to start off the interview asking Manny if the Mushiking game would generate any other new offerings:
Gamasutra: In Japan, the Mushiking franchise has been a merchandising boom for Sega, a Gameboy Advance game released, an animated TV series was aired on TV Tokyo, toys, trading cards, and even tournaments have been held. Has there been any Mushiking merchandising planned for North America? Or is the market for Mushiking still being tested?
Clint Manny: We actually have, through Sega Amusements USA (SAU), they have folks who are now dedicated to the card-playing games, and working on the selling of those which would include any of the merchending and the materials that go along with it.
We have through our redemption counters and for sale at our sites, we do have a limited number of Mushiking items: the neck-holder that carries the cards that you're playing, we do have portfolios that guests can purchase to store and hold their cards. So there are limited supplies, certainly not to the breadth of items you can find in Japan. It is certainly an area of focus for Sega and again through SAU, they have dedicated people there working on sales of Mushiking, and other card-playing games.
GS: One of Sega of Japan's other trading card games has been (Oshare Majo) Love & Berry. While Mushiking appears to be aimed at boys, Love & Berry appears to be aimed at young girls. The appeal of the game for young girls is the ability to win trading cards that will have a new outfit of clothing or hairstyle that the player can apply to the CG character on screen. Has Sega thought of bringing this Love & Berry game into GameWorks to test its reception?
CM: We have and we will be doing that in the coming months. As far as the manufacturing, distributing, and all the R&D that goes into converting, Sega Amusement will be handling that.
GS: Let's switch gears for a moment and talk about the present state of arcades here in the United States. In your opinion, has GameWorks been trying to change the declining arcade scene here in North America?
CM: I don't know if we're trying to single-handedly change the arcade business in the U.S. I think what GameWorks has done has recognized where our opportunities are, and through our relationship with Sega – hopefully we're starting to see innovations back on the arcade side that bring a new and different environment and experience that people can't get at home.
If you're familiar with House of the Dead 4 and the graphics that are a part of that, it's now starting to be back to having an appeal, starting to see some of that impact back on the arcade-side where you can't play in front of a 52-inch screen and have all of the very vibrant color and animation that's part of it – you can't just do that at home.
Then the socialization of what those game brings as more and more games (Derby Owners Club a few years ago) where it's a social environment and you're playing a horse racing game and you're sitting there and you can have cocktails and food, and really get into this game. It's bringing that social entertainment environment back to the users.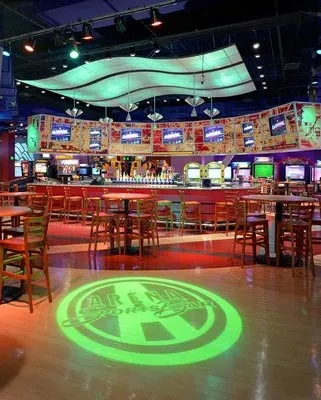 What we've questioned in recognizing that is how to create these games in a social environment, in a social setting, whether it be for kids, teens, adults and offer them something where it's a constant changing of the programming that's available. That's where we started with the Arena Sports Bar & Grill (left).
The Arena Sports Bar & Grill has so much synergy between the gaming and the action and the environment that's created on the arcade side – taking that to a bar and grill environment where you've still got that energy and excitement – there's so much synergy between those two.
Regardless of what GameWorks does, or what you do, or what I do, I can tell you that the World Series and Major League Baseball playoffs, it's going to be in October, it does not matter what I do (laughs) it's going to happen. Super Bowl? End of January, beginning of February, somewhere in that time frame it's going to happen. What it does is, bringing those sports and that excitement and the enthusiasm that's behind all of that – that's built-in programming. People can come for different reasons. Now they're coming for NBA playoffs coming up, NHL playoffs coming up, we've got the Super Bowl and all these different things. (They) can now go out and play NFL Blitz, Major League Baseball, hey let's go compete at half-time, between innings.
There is that synergy between the game floor and back-and-forth in a social environment where you're not sitting at home in front of a screen with two friends playing a game. Now you can compete, be the star, really shine, but you can also be there watching the latest and greatest on the flat-screens that we have which works really well on the gaming side.
GS: What kind of people do you think visit arcades now?
CM: I think there are degrees of "arcades". There are certainly arcades that appeal to a younger demographic, and those primarily that don't have the food and beverage component. They don't have the bars - they don't have the restaurants. They probably have generic arcade games, no real special attractions, and then the other side of it where you do have more special attractions and bigger, new games in that entertainment setting.
It's probably much more diverse than what people would think from the outside, and I think once people experience it and can experience either a personal experience or an event experience at any of the locations that are more glorified than just the standard arcade. I think that they can see themselves in that experience, let me give you an example:
We do a huge focus in our group sale component. We do many parties, hundreds, thousands, of parties a year with corporations. Either for holiday parties, for the entire family of different businesses will bring all their employees and families for a great summer event. Or an incentive program: 'Hey, if we reach this target goal, we're all going to GameWorks, we're going to eat, we're going to play games, we're blowing the afternoon off.' Our corporate business is huge. It's anywhere from, depending on locations, over 20% of our overall business is through group sales. That continues to grow year over year.
We've created a great "team-building" program in corporate America now, where you can actually go and be with your boss to talk about your sales goals and initiatives for the year, and planning for the quarter – all of those things. Then you can go out on teams and compete against each other and it really brings the team together. We've built great team-building programs where some of the bigger corporations in the country, we deal with Microsoft, Toyota, Limited Brands in Ohio. We deal with tons of major corporations and they love that competitive and fun environment that gets you out of that mundane day-to-day conference room at the hotel having a quarterly meeting. You can blow some steam off and go have a great time and you can still accomplish what you need on the business side. We still have the internet access, the big screens for the presentations, then you can go out and have great food and go play games.
GS: GameWorks has introduced the Sports Bar & Grill concept across many of its locations, which allow a mix of patrons into its facility, from families looking to enjoy time together on the weekends by playing video games, to sports fans that'll want to watch a game in the sports bar. Overall, how does GameWorks market itself as a facility for both families who will want to play games and adults who will want to enjoy drinks after work?
CM: It's a very interesting question and continues to be, anyone that can answer that question deserves a lot of money (laughs).
That's the age old question: How do you know outdoor advertising or billboard advertising works to drive traffic to your store? You can tell me how many people drive by the board, and all I can tell if our traffic went up or did our sales go up. When you're looking at the product specific and GameWorks with the food/beverage component and the gaming component, and then take into account age policies and typical day-in-the-life of a family, versus day-in-the-life of a teen, versus day-in-the-life an adult and merge those together.
A lot of it is, is media has become so segmented, I can target specifically kids and families through internet, their cable advertising, through programming of what the majority of those audiences are watching at home. I can really segment that, where if that's a spot about "Host your best 12th birthday party at GameWorks", it's not going to be a cross-over with ESPN running "Hey come watch the NBA finals at GameWorks" - two completely separate audiences. We're not trying to be all to everyone, we're not Jim's local sports bar that's down in the neighborhood that every guy goes to because it's a tavern and they are serving just beer.
What we're trying to do is create an environment where physically within our locations there is enough segmentation that you can have a great sports bar audience that's controlled in being able to literally, at every seat regardless of which direction you've turned your head, is going to see flat-screen programming – and the kids can still be on the game floor having a great time in a safe, clean environment. Not many places can do that. We really look at segmenting that.
We understand that we're not trying to be all to everyone, but what we are is as the generation grows, you and I grew up where we could go to the convenience stores and play Pac-Man and Asteroids. Then later we started getting into other games and we understand gaming.
I'll still go in with my ten-year old girl and my seven-year old girl and my wife and I'll play the games. I'll also wander over and have a beer and check out the score of the college football games. That's a nice environment for me.
GS: Do you strategically place your GameWorks locations next to other key locations like movie theaters and shopping malls? Do you carefully choose those locations?
CM: Unfortunately, what we refer to as Old Co (the old GameWorks company and owner), it was not as strategic. The growth plan was very aggressive, and through that aggressiveness lost a little of the strategy. What we're doing now in any of our future locations, we want to grow that (The Arena Sports Bar & Grill franchise) into a stand-alone franchise and brand, where GameWorks is one brand that is Sega Entertainment USA Inc, and the Arena Sports Bar & Grill is another brand and have stand-alone locations as soon as the next twelve to eighteen months.
We just converted five locations to include the Arena Sports Bar & Grill and we've got plans for three more this year. We're making all of that happen. As far as strategically going forward where we're locating these you're absolutely right, these are entertainment districts where you've got great restaurants and we're not afraid of competing on the restaurant front. So we can go by nature of volume, if you've got five great restaurants that are all in one location you're all going to benefit from the traffic that's driven to five great locations, and we want to be one of those five, with either the GameWorks location for the entertainment, or the Arena Sports Bar & Grill concept for the enjoyment of sports viewing and entertainment.
GS: With Sega-Sammy's acquisition of GameWorks and because Sega is a well- known name in terms of video gaming and entertainment, has there been any thought of placing the Sega logo on GameWorks locations to lure in more people?
CM: Yeah, it's a pretty protected brand. We have certainly talked about it a lot. You'll see more and more as the year roles out, you'll see more and more included in that. It has (the Sega logo) started to be used in some of the advertising, with Sega logos and characters being included. We do have a focus to continue growing the Sega brand in the U.S., and we're working together to do that.
---
GS: GameWorks advertises itself as a facility that can host anything, from birthday parties, corporate events, business meetings, sports team parties, and so on. Which one of these hosting categories have been the most successful for GameWorks?
CM: It depends on who is judging success. Ask a ten-year old if his birthday party was successful last Saturday at GameWorks, I'm going to bet he's going to say "yes". Ask Bill Gates if he's had great parties at our Seattle location and he's going to tell you "yes". We did over 13,000 birthday parties last year, that's quite a few. We didn't do that number of corporate events, but the size of those and the number of buyouts continues to grow each year.
I think we're finding our bigger success on the corporate side, because by nature what a facility offers, we get those youth events, but by no way are ignoring them, but we can really cater to them. We are looking at new and innovative ways to grow the business to different audiences. When we can get 45-year-old corporate males/females in there to have a great time with all of their co-workers, and they go home and bring their 14/15 year-old kids in over the weekend and they have a great time as a family then we've won.
Now that's a success. A good safe, fun, environment for the families, and for the corporations.
[Originally founded in 1997, GameWorks was co-developed and operated by DreamWorks SKG, Steven Spielberg and Universal Studios, with its first location being in Seattle. As time went on, DreamWorks SKG began to scale back its many different business ventures, selling its music division and even scrapping plans for construction of a new high-tech studio. GameWorks entered a period of reorganization, and found itself with a new owner in May of 2005: The Sega-Sammy Group. Sega-Sammy is well known for operating its own chain of amusement facilities in its home country of Japan, most notably, the Sega Joypolis.]
GS: GameWorks appears to have gone through its own turbulent times as a company; it filed for strategic Chapter 11 bankruptcy in 2004. The joint venture between DreamWorks and Universal has since ended, and it's been over a year since the Sega-Sammy Group of Japan acquired GameWorks. How has Sega-Sammy been treating GameWorks overall since its acquisition?
CM: A couple things happened in that whole time frame. One, it was a strategic filing of chapter 11. A lot of companies strategically do that, what we were able to do is go back and re-negotiate a lot of leases and a lot of contracts that were signed in that 96 to 99 timeframe, where the business, mall, and entertainment environment is much different now than it was then. That was the strategic part of being able to go through that where we can't single-handedly deal with 14 different landlords and try to put 14 different deals together. This gave us the ability to go back with a clean slate and really negotiate the leases but our overall contract of where we are since then. It was effective last May when the actual acquisition took place from Sega Corporation.
It's been great, last year we spent over $3 million for new games. GameWorks hadn't done that in years. It was bits and pieces of trying to stay up on what all the latest and greatest games were.
When you operate over 500 of these places in Japan, and you've got places the size of Joypolis in Japan, you can really see the benefits of running this business well. They [Sega] breathe so much more life into this company. We went back, from May, and we did re-designs of our restaurants in five locations. We put over $3 million dollars in games in these locations. We cleaned and polished them up, we've got management that's excited to work there. We had a turnaround last year, we saw a double-digit turnaround in where the business was trending to where we ended up. So seeing that kind of growth, it really did breath a lot of life into GameWorks.
What you can see what Sega is doing in the resurgence of Sonic as a character for the Sega of America through the home console. That's exciting for us, we're part of that family now. We get to inherently digest some of that excitement of what you get from the Sega brand.
It's been great, the technology, just understanding what new games are coming from Japan. A better understanding of the industry, the arcade industry, and you know how they operate the facilities in Japan, it's really for those that involved in it – it's really an exciting time.
[Also, two experienced amusement industry employees arrived at the Glendale offices of Sega Entertainment with Sega-Sammy's acquisition of GameWorks. Akitoshi Ogawa was appointed executive vice-president of operations and marketing. Takashi Uchijima was appointed senior vice-president of strategic planning. Both had previously served as general manager of Sega Joypolis in Tokyo, and notably Ogawa has been with the company for eighteen years directing sales, marketing and promotion for Sega's 460 arcades across Japan. Ogawa is now specifically in charge of coordinating the expansion of overseas entertainment for Sega Entertainment.]
GS: As you say, Sega-Sammy has brought in its own industry veterans, Akitoshi Ogawa and Takashi Uchijima from Sega of Japan. Both have had a long experience managing Sega's own Joypolis amusement center in Tokyo. In your opinion, what kind of knowledge and experience do they bring from a Japanese arcade culture, to an American arcade culture?
CM: I report to Akitoshi. I am fortunate enough to deal with them every day. I probably have a different perspective from what others might.
They bring a flavor to the gaming industry in the U.S. that hadn't, in my opinion, previously existed. They look at it from so many different angles, than what we do. Some of its based on volume, some of it's based on experience, but what's been able to happen in Japan, they have a lot of tournament based games where you can play and compete in tournaments and it creates a new environment that's exciting. We didn't do anything different, we have the same games, but now we're doing tournaments on it. It might be a niche group of people, but that's pretty cool for that niche group of people. We can do it on Derby Owners Club, but can turn around and do it on Daytona 2, and that's an entirely different audience and group of people. Now we can go over and do it on House of the Dead. We can create weekly tournaments, monthly tournaments, we can do different things. That's a big thing in Japan, what they do. So they bring that knowledge and experience.
They will be the first ones to say, "This isn't Japan, things are done differently in the U.S., we need to understand that," and the nice thing for me is, them saying that and understanding that, we're working together on all that stuff.
It's not them coming over and saying "This is how it's going to be done." It's saying "Hey, let's figure out this" or "Let's take a look at this" or "What do you think about this?" It's that sort of environment so it's been really nice.
GS: In terms of locations, and the games you mentioned Derby Owners Club, is that a game that's installed in select locations?
CM: We currently have that in all of our locations either as a four or eight player game, depending on that location.
GS: How has that networked game, Derby Owners Club, been performing?
CM: It started as a test, but it is a staple. It's a game that's going to be there. It has such a broad appeal. When we talk about that socialization, that game, it really applies to that. You can sit there and have a cocktail and play the game, or you can be a kid with a soda and sandwich and play that game. It's fun for so many different audiences, to build your own horse and to follow that through the ranks, people just have fun with it, it's a very interactive game.
GS: Some arcades have brought in video games that are networked together to allow a more competitive atmosphere. Arcade chains has even gone so far as to install networked PC's with first-person shooting games so that it can bring in customers. Do you think the strategy of bringing in networked games, is that bringing more repeat customers?
CM: I think it builds that audience. There are far less people aware of doing that that are out there versus just a common user. We pick up a lot of traffic consisting of people looking for entertainment, in an entertainment environment. Those people that are network gamers and they're playing Doom against their friends and doing that at home, there is certainly a huge audience. Don't get me wrong, I know that console gaming is huge and that's why you've got Xbox Live and everything else that's happening.
I think what we're starting to see is more and more of that integration, and taking that and putting it in a social environment and setting. Most people are not going to be able to sit at home and play on their flat-screen with great-surround sound in a leather chair and be playing latest and greatest console gaming.
We do test and do different games. We bring in other game manufacturers and console gaming. We do stuff with Xbox and tournaments with Xbox from time-to-time.
GS: You do bring in Xbox consoles to GameWorks?
CM: Yes, we work with GMR Marketing, they work with Xbox, they have a number of clients and we do different console tests and programs and tournaments that we run at our places. There is a shared audience that's there.
If you're familiar with the All-Net system in Japan, that's Sega, Konami is part of that. It's a gaming platform where you're linking all the sites together to compete on the games. Sega's getting ready to launch that here in the U.S. in the next couple of months where it starts with one game, let's work the bugs out and get that up and running here. Now you're networking GameWorks facilities.
That's one thing GameWorks is able to offer Sega, which is a test platform, where we're not afraid to test it. Not everything we do will be successful, let's figure it out and then let's make it successful. That applies to the industry in the U.S.. That put us as a leader in the industry, and that's where we want to be with the Sega affiliation.
GS: Which GameWorks locations have been chosen for these game tournaments?
CM: We recently did a Seagate tour, where Seagate partnered with a couple manufacturers, hardware and software, and brought platform units into every GameWorks locations - we did it across the country. Not many people understand or know what Seagate is in the gaming industry, but as far as what they offer with their hardware component in these consoles. The memory function of Xbox, it's all the latest and greatest PC games run by their hardware. It was kind of an education tool for them.


Sega's Crazy Taxi: High Roller
GS: Do you personally play a role in selecting what kind of entertainment will be featured in a GameWorks facility?
CM: Yes. The acquisition of GameWorks by Sega-Sammy opens up a brand new door of partnerships and connections with other Sega companies, Sega Amusements USA being one of them.
[Sega Amusements USA moved to a new 70,000 square foot office and warehouse complex in Elk Grove Village, Illinois this past March and celebrated the event with visiting Sega executives at an open house event.
Several games were put on display at the open house to mark the new distribution efforts by the company, among the games on display were Metal Slug 6, Virtua Tennis 3, Derby Owners Club - World Edition - EX, House of the Dead 4, Virtua Striker 4 - 2006, SpongeBob Squarepants, along with kids trading card games MushiKing, Dinosaur King, and Love & Berry.
Over 300 attending guests at the open house even were also treated to a sneak preview of three new gaming attractions: Extreme Hunting 2 Tournament Edition (linked by ALL.Net), Sega UFO Catcher crane game, and House ofthe Dead 4 – Special, all slated for release this Summer.]
GS: How does GameWorks work with Sega Amusement USA in choosing unique arcade games? Do both companies have a close relationship with one another?
CM: I don't think it's different than anyone else in the industry. I can have frank conversations and I know that they are working on their own programming, what that they are doing on a title, and GameWorks has nothing to do with it. It's not a "Keep it in the family." They've got their goals and initiatives of growing their business and we've got ours, where we can ask for collateral and ask for material and different content like we're going to ask any other operator.
We try to work with them if they've got a game they want to test, if it makes sense for our audience and our business then we want to be involved. If it doesn't then we're the first ones to say "You know what, we're probably not right," because we've got to protect our businesses as much as we want to help.
I think it's a good working relationship. I don't think it's anything out of the ordinary in the industry. We would offer suggestions to any of the game manufacturers as far as, "Hey, we need more collateral, we need to support it like this. We saw this at a game show."
[Sega Amusements] talks about what they're bringing over from Japan in advance, and they roll it out at AMOA. A lot of the manufacturers and distributors have representation in Japan, and so we'll go to gaming trade shows outside of the U.S. by nature of being involved with Sega, but to see what's out there. It's allowed us the ability to be more informed of the industry. That's the biggest piece that it's done for us, is we can be in front of, or at least on top of what's out there and what exists. What is in Korea, Japan, or China that is offered, is different than what we have in the U.S. Some things apply and some things don't. So it allows us to be on top of it and really understand whether or not it will work in the U.S.
GS: Sega Amusements USA just opened up a brand new facility in Elk Grove, Illinois, and announced Extreme Hunting Tournament Edition and SEGA UFO Catcher, which will both be released this summer. Will these new machines be introduced into GameWorks facilities?
CM: Yes. Extreme Hunting 2 is the All.net version. That will be the first title with the live networking. Eventually it will go in all GameWorks facilities.

[Extreme Hunting 2, a game franchise originally developed by Sammy, has already been introduced to GameWorks locations this month (June) utilizing the new ALL.Net online network, which allows players to compete with each other across the nation at select installed locations.
GameWorks has launched a "GameWorks Bison & Rifle Tournament" promotional campaign in association with Buckmasters Limited. Six GameWorks locations across the U.S. are hosting a tournament June 3rd to the 18th for GameWorks customers to compete against each other for an array of prizes. Future tournaments will continue to be announced on the Extreme Hunting 2 website (http://www.extremehunting.net/).


A product of the Disney partnership.
ALL.Net already utilizes 7 other titles titles, 45,000 linked boards, and 2800 locations in Japan.
Extreme Hunting 2 joins a line of titles already featured at GameWorks such as House of the Dead 4, Dinosaur King, and Initial D Version 3.
Sega Amusements USA was also proud to announce their new licensing partnership with Disney Consumer Products (left) to provide plush and plastic toys for its new UFO Catcher crane games that will also be introduced this summer at GameWorks. The announcement for the U.S. market came this month, and follows an established licensing partnership between Disney and Sega that began in Japan ten years ago. The UFO Catcher crane games debuted at the ASI Show in Chicago last March to a positive reception.]
GS: Can you talk about any specific expansion plans that GameWorks has in-store for the future?
CM: We have some, we're going to grow, some of it starts internally where we're doing these retro-fits and these changes of adding sports bars to a number of our locations, we'll be announcing those in the next few months. As far as additional facilities, we continue to look at those opportunities, and there will be growth there as well. We'll be announcing a couple of those here in the next three or four months.
Sega Entertainment is looking at expanding the U.S. market, that's what our focus and vision is. We will work with Sega of Japan, we're going to work with them on taking GameWorks abroad as the opportunities present themselves. Right now we're working on the U.S. and making GameWorks as big as we can.