[In 2008, Michigan introduced a tax credit that would reimburse qualified film and digital productions 42 percent of production related expenses if they did business in the state -- but so far, the game industry hasn't seen much of the money. Why not? Gamasutra investigates.]
In 2008, Michigan Governor Jennifer Granholm signed a tax credit into law that would reimburse qualified film and digital productions 42 percent of production related expenses if they did business in the state. The bill was designed to employ displaced autoworkers and help alleviate "brain drain" -- young people who leave the state immediately after graduating college.
While the film industry has enjoyed great success in Michigan, the game industry has had its share of problems getting a foothold and taking advantage of this tax incentive program. From April 2008 to December 2010, the Michigan Film Office has paid out over $223 million dollars in tax breaks for 136 completed film projects. In stark comparison, only $486,766 has been paid out to the game industry -- for one project, Pixofactor Entertainment's Ben Hogan's Five Lessons.
"We've only received a handful of applications; it's not like we've been turning down apps left and right," said the Michigan Film Office's Michelle Begnoche.
In order for a film or digital project to receive approval, applicants must submit a detailed report of where the work will be done, how many Michigan hires are planned, a timeline, and proof of financing. "It's a pretty extensive application and review process," said Begnoche.
Some in the Michigan development community have said it's a little too extensive, and that the Film Office doesn't understand the video game industry -- thus the low amount of approvals. To date there have been seven total applications for video game projects, with three pending, three denied and one approved.
"I think the committee (that approves incentive requests) or the organization doesn't quite understand the industry, and it doesn't understand how the industry fits into this program," Matt Toschlog, president of Ann Arbor-based Reactor Zero told the West Michigan Business Review in 2008.
He applied for the tax breaks for his studio's work on the PC port of THQ's Red Faction: Guerrilla. He was told that only THQ could apply for the credit, as they owned the intellectual property and funded the project.
It wasn't appropriate for Reactor Zero to apply because they only did the work, which makes sense given that a costume designer doesn't apply for tax credits on a movie -- the production company does. "I don't think the law is written that way; it's a little unclear. But that's the way the Treasury department interpreted it," Toschlog said.
The application itself is written explicitly with the film industry in mind. The only mention of video games is in the portion where it asks the applicant to pick from a series of checkboxes what type of project the work falls under.
Even then, there are separate boxes for "interactive games" and "video games." Elsewhere are mentions of directors of photography, casting directors, camera operators, and grips. Commonplace in on a movie set, sure, but video games use none of these. Video games were obviously an afterthought.
Stardock Systems, Michigan's largest developer, applied for the incentives and its application was accepted, but the studio didn't take any of the money because of the surfeit of paperwork that would follow. "The compliance requirements were just way beyond what we were willing to do based on the amount of money we would get," said Stardock CEO Brad Wardell. "The MFO did a great job to make sure no one is bilking the government."
Wardell said Stardock didn't have the time to finish the process because they were in a rush. For a company as small as his where everyone is a specialist, Wardell said the payoff isn't "sufficient enough to justify" working on compliance. Had he finished the process, Wardell said he would have used the incentive money to court senior-level talent -- a rarity in Michigan -- to his studio.
---
Reactor Zero and Stardock are established Michigan developers who were around long before the tax breaks, and neither are going anywhere in the near future. But what about new businesses?
Nathaniel McClure uprooted his family and his business from southern California to take advantage of what have been called the most generous tax breaks in the nation for game developers. After setting up Scientifically Proven, he went to the MFO and the Treasury Department with his application and was denied.
"The whole time I was discussing [my move] with the state and local representatives. You name it, I was talking to them. They said, 'Come up here, it's going to be great. You're exactly what the incentive was made for, to attract companies like yours,'" McClure said.
A project has to be approved before a studio can buy an IP. In Scientifically Proven's case, the project was Man vs. Wild -- based on the TV show. McClure, like Toschlog, was denied tax breaks because he didn't own the IP. "They denied my application based on something that was absolutely contrary to the law itself. It clearly says in the law that IP is an acceptable expense," he stressed.
"I said to the Treasury Department, 'Can we sit down please? I moved here. I moved my family here. I've spent a lot of money, can you just talk to me?' And they wouldn't," said McClure. It was then that he filed a lawsuit against the Michigan Film Office and the Michigan Department of Treasury.
The Michigan Department of Treasury declined the request for a formal interview.
Ten days after McClure filed his lawsuit, he received an email from his lawyer containing a link to the Michigan Business Tax website. In the FAQ section was a topic explaining the film incentive package. "It said essentially, I had to be a publisher. I thought, how did I not see this? Luckily, whoever designed the website made it so the FAQs posted in chronological order. They posted the reason I was denied ten days after I sued them."
Last November McClure was able to finally sit down with the Treasury Department, who told him his problem, fundamentally, was that he had a fully executed deal. "I had a publisher and distribution deal in place -- therefore, I didn't 'own and control' 100 percent of the property," he said.
He asked the Treasury department to walk him through their approval process so he could understand their point of view. McClure questioned what would happen if he had just come to them with a game that was only a concept with funding -- but not a publishing deal -- if he would've been approved. "And they said, 'Yeah, more or less.'"
McClure says this goes against the statute, because the only way to receive approval is to have a project that will absolutely go to market. Scientifically Proven's Man vs. Wild game released in May, while Pixofactor's Ben Hogan's Five Lessons still doesn't have a publisher or distribution agreement. When McClure brought this to the attention of the Treasury Department, they didn't know what to make of it. "They said, 'What are you talking about?' And I said 'Exactly! You don't get how this industry works and you're just making random judgments on stuff!'"
Pixofactor's Sean Hurwitz went into the application process knowing the legislation was "clearly written" for the film industry. He enlisted his lawyer, who spent a year poring over the application, to understand what the state was looking for. "We got feedback from Treasury. We didn't get denied, but it got kicked back, and they needed more information, and they needed this, and they needed that. We understood we were paving a path and setting a precedent. It was pretty rigorous," Hurwitz noted.
He likened the application process to a game of telephone, where the Film Office would work as the liaison between the Treasury Department and the applicant. "Sometimes you get mixed information."
Hurwitz said that with only one application approved -- his -- the program wasn't really selling itself outside of the state, or to other countries. Toschlog agreed, saying he thought once a few projects that used the credits released, people in games would start to pay attention a little more. "Whether or not that's going to happen now, I don't know."
---
When he took office this January, Governor Rick Snyder pledged to do his best to bring Michigan out of its gigantic deficit. In February, he proposed putting a cap on the Film Office tax breaks. Prior to his administration, the Film Office was operating with an open checkbook. Now, however, there's a set limit of $25 million to be shared across all applicants.
"Michigan's economic situation was a concern of the current administration, along with how long we would continue with an open checkbook with no real plan as to when the [film] industry would become sustainable without the incentives," Begnoche told Gamasutra.
Begnoche said that with the new budget, projects are going to be looked at more stringently, and this could benefit the game industry. Although the guidelines have always been in place, the guidelines will be enforced "very rigorously" when looking at new applications.
Each will be judged based on five criteria: use of existing infrastructure, the number of direct jobs that will be created by a project ("jobs in the video game industry tend to be more long term and higher paying and that will be taken into consideration"), estimated expenditures in Michigan, if the company is financially viable, and if the project promotes cities and tourism in the state.
"When you have no limit to what you can approve, versus a finite amount [of money], it changes the dynamics a little bit," she said.
Once the cuts were announced, Michigan started losing large film projects. Production companies began moving to states with viable tax breaks almost immediately, illustrating just how transient the film industry is. The new cap could be a boon to the game industry, offering less competition for the now-limited incentives.
The Film Office tax incentives offer a sizable bargaining chip for Michigan's game developers. As independent developers, being able to offer a 42 percent guaranteed minimal return on a publisher's investment is massive. Now, that bargaining chip is gone. "The Film Office had good intentions, but the incentives didn't get handled in a way that really helped the industry. Maybe they overpromised, or maybe they just weren't clear enough in how things really worked," said Toschlog.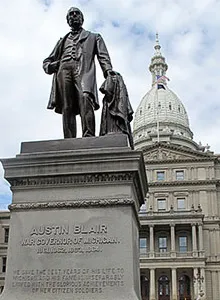 Michigan game developers agreed unanimously that the cap is entirely too low to build an industry in the state, saying to realistically sustain a game industry at least $100 million in appropriations per year would be necessary. At $25 million, the budget is going to be eaten up quickly, said McClure.
Since January, 12 projects have been approved with $19,565,480 in incentives being awarded on $47,038,236 of approved production expenditures for the year.
One film project's application was received on February 14, and it was approved the last week of May. Three game applications have been submitted since January, all of which are still pending. At the rate film projects are being approved, there will be nothing left in the budget for video game projects.
Both Pixofactor and Reactor Zero have been approached by members of the big three third party publishers -- Electronic Arts, Ubisoft, Activision -- but once Gov. Snyder started talking about the cap on tax breaks, those opportunities vanished. To go through the entire application process without a guaranteed approval is just not attractive for publishers.
With the state moving in the current direction, there isn't much reason for new developers to come to Michigan and build an industry like what's seen in Dallas, Los Angeles, San Francisco, or Raleigh. Wardell said if you have one really successful company others will spring up because people will leave a company to start their own.
Dallas' development scene started with id, which gave way to 3D Realms. "It just really grows from there and other companies want to move there because it's really easy to find senior level talent," said Wardell.
"Michigan is way better off throwing their money at the game industry than the film industry because if you had a couple of really successful game studios here, the industry would grow on its own." However, it just doesn't look like that's going to happen.