Nintendo is typically the butt of the joke when it comes to digital storefronts and sales. Developers have routinely lambasted the company's services -- WiiWare, in particular, and DSiWare -- over the past couple of years.
Trent Oster, co-founder of Beamdog Studios, which ported MDK 2 to WiiWare, told Gamasutra earlier this year that Wii (and WiiWare) "isn't a good platform for developers." He also cited problems with how Nintendo handles payments, file size limitations and game certification.
Icon Games released numerous titles for WiiWare -- such as Stunt Cars, Family Games and Soccer Bashi -- and had even harsher words for the digital platform.
"... The WiiWare store is horribly inflexible; so if a title isn't selling you have no options to boost sales," head of development Richard Hill-Whittall wrote on the company's blog. "You can't change the price point, they don't run sales or promotions, you can't update the game once it is on sale unless there is a critical bug found, etc."
While not overly critical of WiiWare, Gordon Midwood, co-founder of one-man game company Different Cloth, which was responsible for Lilt Line, lamented the poor sales his game saw on the service and the console in general.
"It's a shame what happened to the Wii really, given its potential," Midwood told Gamasutra in March 2011.
Even developers with success on WiiWare and DSiWare, like Nicalis, publisher of Cave Story on both services, knew there were major weaknesses, especially for consumers.
"If we look back at WiiWare, that system was broken because it was trying to be fair and feature nothing," said Tyrone Rodriguez, president of Nicalis, in an interview with Destructoid earlier this year. "... In the WiiWare system, all games were created equal, but life's not fair and all games are not made equal. Some suck hard, particularly on WiiWare. However, that doesn't matter much in a system like the WiiWare shop because customers aren't being directed anywhere."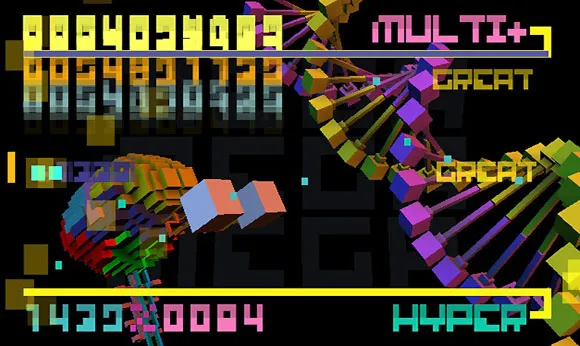 Gaijin Games' Bit.Trip Beat
And Alex Neuse, co-founder of Gaijin Games, which created the critical darling Bit.Trip franchise, points out major problems with WiiWare's user experience.
"With the Wii Shop Channel, I believe there are upward of 18 steps that I have to go through every single time I want to make a purchase," Neuse tells Gamasutra. "I know for a fact that this has discouraged sales. I can't even convince some of my personal friends or family members to buy our games via the WiiWare service because they don't want to deal with the headache of the process."
This is hardly the developer feedback or support Nintendo wants regarding its digital storefronts. The company, however, would not respond to questions or criticisms about WiiWare, DSiWare or eShop for this story, despite repeated requests.
Still, with all of the negative press and complaints, merely chalking up WiiWare and DSiWare as failures is wrong. Many companies thrived on the platforms and found major success. Some even made their living off Nintendo's digital storefronts.
And with improved discoverability, promotions and even game sales on the eShop, Nintendo has overhauled its digital strategy. But is this revamped focus enough to lure old and new developers for another go on 3DS and Wii U?
---
The Success Stories
It's not surprising there are misconceptions about WiiWare and DSiWare, especially with such heavy criticism from developers and publishers. The biggest fallacy, according to Australia-based developer Nnooo, surrounds sales.
"[People believe] that you cannot make money on [WiiWare and DSiWare]," says Nic Watt, creative director of Nnooo.
But that's obviously not the case for Watt and his company, which has thrived via the services. Watt gambled on WiiWare from the onset, developing the original title Pop with his team for the service's launch. The bet paid off.
"WiiWare and DSiWare have allowed us to do exactly what we set out to do -- develop and publish our own self-funded IP," Watt says. "In terms of success, the answer is an overwhelming yes! As a launch title for WiiWare, we sold really well and made enough money in the first six months to approximately double our investment."
With WiiWare success under its belt, Nnooo zeroed in on DSiWare with multiple titles, such as the myLifeCollected applications. Once again, the company reaped the rewards of developing for a Nintendo digital storefront.
"With DSiWare, all of our titles to date have at least broken even and most are well past that," Watt says. "The myNotebook series in particular has sold in the hundreds of thousands across all six versions. Both WiiWare and DSiWare have been profitable for us."
Nnooo also credits its success on Nintendo's digital platforms for enabling the studio to pursue grander projects.
WiiWare and, in particular, DSiWare success "has resulted in really great sales for us (a company of five) and allowed us to develop two new, more ambitious games in Spirit Hunters Inc. and EscapeVektor," says Watt.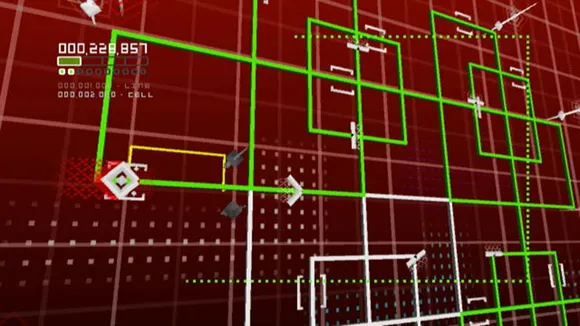 Nnooo's EscapeVektor
But Nnooo hasn't only stuck to Nintendo's digital offerings in the past. EscapeVektor even followed its WiiWare release with 3DS and PlayStation Vita download releases, too. Watt and company have also developed for iOS, which receives much more positive press and word of mouth. However, App Store sales don't even come close to WiiWare and DSiWare sales, Watt said.
"In terms of sales, we have not seen anywhere near the volume of sales for Pop on iOS devices as we have on WiiWare and DSiWare," Watt says.
He mentioned that the main advantages with Nintendo's consoles are consumers are interested in games, first and foremost.
"The main advantage as far as we are concerned is that the people who buy Nintendo platforms actually care about buying and playing games. They are actively engaged in gaming and want new content and experiences," says Watt. "In comparison I feel that too many users of iOS are freeloaders who just want as much as they can get for as little expenditure. They are not looking for quality experiences or for longevity. They just want novelty and cheap prices."
Watt isn't alone in seeing better sales on Nintendo's consoles as compared to Apple and its App Store. Neuse and Gaijin Games experienced similar results with Bit.Trip Beat.
"Bit.Trip Beat is much more successful on WiiWare [as compared to iOS]," Neuse says.
The parallels continue between Nnooo and Gaijin Games, though the latter focused only on WiiWare development for the past few years. Neuse and company hit the WiiWare shop early with Bit.Trip Beat, which resulted in strong performances for the then newborn developer.
"WiiWare started off really strong for us. We hit the Wii Shop with Beat around 10 months after WiiWare's launch," says Mike Roush, co-founder of Gaijin Games.
"... Beat is our flagship and has done the best on WiiWare. Runner is a close second," Roush says. "... Beat made around 10 times the original investment on WiiWare -- not bad for a game that took three months to make on a service that's notoriously difficult for consumers to use."
It's also not bad considering Gaijin Games was relatively unknown prior to the development and release of its Bit.Trip franchise, which, once again, draws comparisons to Nnooo's rise.
Frontier Developments, however, was an established developer when it created the original LostWinds for WiiWare.
"The idea of WiiWare resonated with us very strongly as soon as we heard about it," says David Braben, Frontier's founder. "We viewed it as a route that developers like ourselves could use to develop and release games that were innovative and we believed in, but perhaps would have been viewed by traditional publisher as too risky and not a good match for their processes."
Apparently, WiiWare was a good match for Frontier Developments. While Braben wouldn't divulge specific sales figures for the title, he is pleased with the results. "We are very happy," says Braben.
The strong sales even led the company to create a sequel, LostWinds 2: Winter of the Melodias, a year-and-a-half later for WiiWare, but, once again, Frontier didn't provide data on its financial success.
WayForward didn't need an introduction either when it started focusing on DSiWare development. The studio, known for its 2D art and games like Shantae and Contra 4, found Nintendo's portable digital store a natural fit for its games.
"When you consider that DSiWare basically meant we could make a DS game and didn't have to find a retail publisher, you start to see why it was an obvious move for [WayForward]," CEO John Beck told Gamasutra earlier this year.
Beck further explained that WayForward has had profitable results with DSiWare and looks to continue development for Nintendo's digital services. The company recently announced an enhanced port of Mighty Switch Force for Wii U's eShop.
---
Nintendo's Digital Future
Nintendo faced usability issues and stiff competition with WiiWare and DSiWare, but a few developers still had significant successes on the platforms. And the future looks even brighter, considering the early successes with the 3DS eShop and the positive outlook for Wii U's eShop.
Rodriguez believes the eShop demonstrates a total turnaround for Nintendo's digital fortunes. Nicalis plans to release an updated version of Cave Story for the 3DS eShop, along with a version of its WiiWare and PC title Night Sky.
"The eShop, I feel, has really turned things around for Nintendo on the digital side because the storefront is heavily feature-driven," he said.
Collin van Ginkel of Two Tribes also believes Nintendo has made big leaps forward in the past year and a half, especially between the old shops and new eShop.
"Much has been said about WiiWare and DSiWare, but basically what irks me the most is that [Nintendo] never updated WiiWare based on player and developer feedback," van Ginkel tells Gamasutra. "You can already see that the 3DS eShop is being developed much more actively, and I hope they will continue that for Wii U's online store as well."
Neuse expressed enthusiasm for the Wii U digital storefront. Gaijin Games plans to release Runner 2 near the console's launch, says Neuse. "We have something special with Runner 2... We actually have a multiplatform engine in-house that was possible to make the game for multiple consoles. ... We thought we should hit every market that we can."
He also adds that Nintendo is a great partner to work with on its digital platforms. "Dan Adelman at Nintendo is a champ," Neuse says. "He's reaching out to a lot of indies."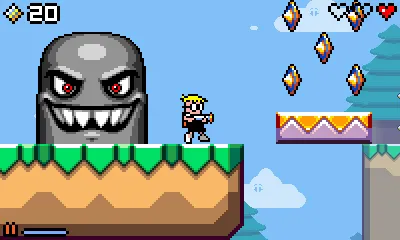 Renegade Kid's Mutant Mudds
Jools Watsham, founder of Renegade Kid, echoes Neuse's sentiments. The developer has created Mutant Mudds and Bomb Monkey for the 3DS eShop, with plans for more titles in the future.
"I think many people think Nintendo is very difficult to work with," Watsham says. "My experience working with them has been great. If I have questions or need something, I contact them and get what I need. And, if they need something from me, they do the same."
The great partnership also gives Watsham hope that Nintendo's digital storefronts can be a major part of Renegade Kid's success in the near future.
"If there are enough people actively purchasing games on the eShop, we might have a chance to rely solely on the eShop as a business model, enabling us to continue developing original content without the constraints typically brought upon us by the broken retail business model," Watsham says. "That would be amazingly awesome."
While the 3DS eShop evolves with retail downloads later this month and the recent introduction of game sales, Nintendo still hasn't pulled back the curtain on Wii U's eShop.
Neuse said developers are mainly still in the dark as well but admits there are some positive-sounding rumors that he hopes come true. For example, there are whispers of developers and publishers having control over running sales of their titles, which would be a major departure from Nintendo's stance with WiiWare and DSiWare.
Enhanced functionality is a boon, but ultimately developers seem enthusiastic because Nintendo is finally throwing major support behind its digital platforms.
"A new powerful platform, a new controller and a Nintendo that's excited about having a digital shop on it," van Ginkel says. "What else could we ask for!"