A few weeks ago I read an article in Chartboost about a very interesting topic (Don't Let Ads Kill Player Retention): the impact of advertising on retention data of a game.
The post argued that, against all odds, in some cases the use of advertising could extend retention in a game and this depends mainly on the type of game. As a hypothesis is amazing, but from my point of view this information is too biased and needs to be analyzed.I have to clarify that I respect Chartboost a great deal and I think it is one of the best services to monetize a game.
Chartboost tells us that the use of advertising in a casual game, where retention rates are usually lower, causing a higher volatility of users (from 41% to 27% the day after the app is installed). As we see the change is brutal.
This decline can be good or bad depending on the business model of your game. If your income is advertising this is not a problem because you're making money from each user that you lead to another game. However, if your business model is based on in-app purchases this is a serious issue for the viability of your business because you're losing potential customers.
What I found really interesting is that then they talk about how it affects the use of advertising in strategy games. In this case they argue that advertising not only reduces the retention in this type of games, but does the opposite, it increases it. Amazing.
Specifically they mention a strategy game with advertising that has a 47% retention of the day after and 26% seven days later. Meanwhile, a game with no advertising has a 36% retention the following day and 12% after 7 days. With this data at hand, you would be crazy if you didn't integrate advertising in a strategy game, right?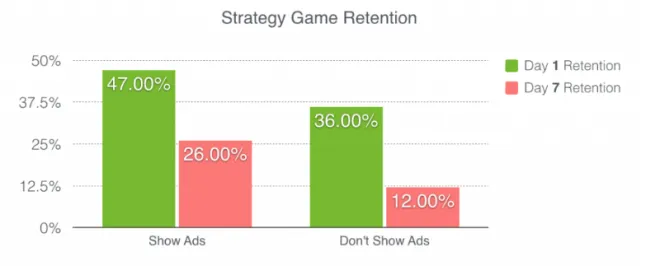 For me, this data is tricky. We have to learn why this occurs. It is very likely that the ads in such games offer incentives, ie, players are rewarded (with virtual currency, levels, power ups…) in exchange for downloading the advertised app.
Therefore, what you is actually increasing retention is not the fact of displaying ads, as they article suggests. Retention increases because these ads offer something, such as virtual currency, levels, powerups … without paying for them, and therefore it is easier for the user to advance in the game. This same effect can be achieved in many other ways.
In my opinion the key is not whether you should display advertising or whether this ads should offer some incentives. Generalizatio is a serious mistake. What really matters is to whom and when you show the ads. Because showing ads to the wrong person at the wrong time can make us lose a lot of money, especially in business models based on in-app purchases.